Filters
Tchaikovsky: Symphony No. 3, Polonaise & Coronation March
Tchaikovsky: Symphony No. 3, Polonaise & Coronation March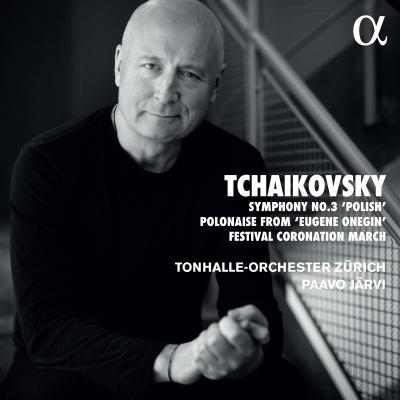 Booklet available for download
Symphony No. 3 in D Major, Op. 29 'Polish': I. Introduzione e Allegro. Moderato assai (Tempo di marcia funebre) - Allegro brillante

Composer(s)

Pyotr Ilyich Tchaikovsky

Artist(s)

Paavo Järvi

Tonhalle-Orchester Zürich

Symphony No. 3 in D Major, Op. 29 'Polish': I. Introduzione e Allegro. Moderato assai (Tempo di marcia funebre) - Allegro brillante

$4.60

Symphony No. 3 in D Major, Op. 29 'Polish': II. Alla tedesca (Allegro moderato e semplice)

Composer(s)

Pyotr Ilyich Tchaikovsky

Artist(s)

Paavo Järvi

Tonhalle-Orchester Zürich

Symphony No. 3 in D Major, Op. 29 'Polish': II. Alla tedesca (Allegro moderato e semplice)

$2.30

Symphony No. 3 in D Major, Op. 29 'Polish': III. Andante elegiaco

Composer(s)

Pyotr Ilyich Tchaikovsky

Artist(s)

Paavo Järvi

Tonhalle-Orchester Zürich

Symphony No. 3 in D Major, Op. 29 'Polish': III. Andante elegiaco

$3.40

Symphony No. 3 in D Major, Op. 29 'Polish': IV. Scherzo (Allegro vivo)

Composer(s)

Pyotr Ilyich Tchaikovsky

Artist(s)

Paavo Järvi

Tonhalle-Orchester Zürich

Symphony No. 3 in D Major, Op. 29 'Polish': IV. Scherzo (Allegro vivo)

$2.30

Symphony No. 3 in D Major, Op. 29 'Polish': V. Finale (Allegro con fuoco - Tempo di polacca)

Composer(s)

Pyotr Ilyich Tchaikovsky

Artist(s)

Paavo Järvi

Tonhalle-Orchester Zürich

Symphony No. 3 in D Major, Op. 29 'Polish': V. Finale (Allegro con fuoco - Tempo di polacca)

$3.40

Eugene Onegin, Op. 24, Act III Scene 1: Allegro moderato (Tempo di polacca)

Composer(s)

Pyotr Ilyich Tchaikovsky

Artist(s)

Paavo Järvi

Tonhalle-Orchester Zürich

Eugene Onegin, Op. 24, Act III Scene 1: Allegro moderato (Tempo di polacca)

$2.30

Festival Coronation March in D Major: Andante molto maestoso

Composer(s)

Pyotr Ilyich Tchaikovsky

Artist(s)

Paavo Järvi

Tonhalle-Orchester Zürich

Festival Coronation March in D Major: Andante molto maestoso

$2.30
Total running time: 53 minutes.
Album information

With the final volume of their pentalogy devoted to Tchaikovsky, Paavo Järvi and the Tonhalle-Orchester Zürich complete their exploration of the Russian composer's symphonies.

The Symphony no.3, also known as the 'Polish' (1875), opens the proceedings. The only symphony Tchaikovsky composed in the major mode, it was written at a steady pace. The composer did not wish to rush his work and regularly took walks in the Ukrainian and Russian countryside to think about it.

It is followed here by another Polish-inspired piece, the Polonaise that opens the third act of Eugene Onegin (1879), his opera based on Alexander Pushkin's eponymous novel in verse. This vast Tchaikovsky cycle ends with a work commissioned by the city of Moscow for the coronation of Tsar Alexander III, the Festival Coronation March (1883).

The final two instalments in Paavo Järvi's Tchaikovsky Symphony Cycle with Tonhalle-Orchester Zürich have been released to coincide with the reopening of the orchestra's concert hall, the prestigious Tonhalle. Situated on the shores of Lake Zurich and inaugurated by Brahms in 1895, this hall, renowned worldwide for its acoustics, is now reborn after several years of renovation. In this exceptional setting, there is no doubt that Paavo Järvi and the Tonhalle-Orchester will write a new chapter in international musical life!
Related Artists