What is a Studio Master?
A Studio Master download is the highest quality music file available anywhere. The files are also known as HD, high definition, hi-res or high resolution. It allows you the listener to hear a recording exactly the way the original artist and producer intended it to sound, before it was altered to fit on a CD or squashed down to MP3 size.
Read on for a bit of the history of the Studio Master and for a more technical insight into what makes it sound so good.
So what's the story behind all this?
When music entered the digital realm the major driving factor behind new technology was convenience. By taking the analogue sound wave that was once pressed into vinyl, slicing it up, and converting it to 1s and 0s allowed it to fit on a small shiny Compact Disc. These were great because they could be played thousands of times without degrading, they weren't so susceptible to scratches and fingerprints, were easier to store and were pretty cheap to manufacture. At the time there was a big hoo-ha that they just didn't sound as good, and lacked all the great qualities of vinyl that music lovers and audiophiles had come accustomed to.
And they were right, when they hit the market, CDs were actually the lowest quality music format - even 8-track tape was capable of holding much more information than this optical media. The dynamic range - the highs and lows in volume and subtleties of the music - as well as the underlying 'noisiness' of the recordings suffered, but to the average listener this didn't really matter, and they were just so convenient that most people didn't seem to care. In fact for a majority it was probably an improvement on worn out cassette tapes! But there were still those that remained firm that vinyl and the original analogue formats just sounded better.
Fast forward ten or fifteen years and welcome the MP3. Suddenly the prospect of having 10,000 songs in your pocket really appealed, and it was even more convenient to be able to buy an album without walking through the rain to the record store - or even better to discover amazing new music through the internet. But this required music to be chopped up in to even fewer 1s and 0s and compressed into even smaller spaces. This is when the music really started to suffer, all that chopping and compressing sacrificed even more dynamic range, squashing the subtleties, and adding noise in the holes where there once was music.
So how do we get back to the place where we left vinyl behind - all that great musicality and almost intangible qualities of the rich analogue sound - but still take the best bits of the new digital world? Step up the Studio Master download.
Why is Studio Master the best quality?
An interesting question to ask when moving music from the analogue to the digital realm is how much of the music we should convert to 1s and 0s? And what happens to all the information in the gaps? Linn have decided that CD quality isn't quite good enough at doing this given recent advances in technology, and doesn't keep enough of the original sound information.
Music on CD is encoded at 16-bit (the bit depth) and at 44.1kHz (the sample rate). The sample rate tells us how many times the original signal has been 'sliced up' and the bit depth tells us how much information has been recorded in each slice. It's the bit depth that, for convenience, is largely referred to as the resolution. In reality the higher the resolution and higher the sample rate the fewer things we have to do to get round all the little errors that occur in the music when it is sliced up and converted from real world sound into digital and back again. Hence the higher the resolution, the closer we get to that lovely, rich, dynamic performance by the artist.
Studio Master files are encoded at 24-bit or higher, and currently up to 192kHz. This is so close to analogue quality that it is virtually impossible for the human ear to perceive any difference. Therefore we feel this is the best format in which to be offering our music. This is the level that most music is recorded at these days, and that is the resolution that we offer it to you, so it doesn't get any better!
Download our Free Test Files
Our free test files are available for you to test which audio format is compatible with your system. You can choose between ALAC, FLAC, CD Quality and MP3 formats and Studio Master (also known as HD, hi-res or high definition) formats from 192kHz, 96kHz and 44.1kHz sample rates.
The tracks in this test file collection are taken from three very diverse but equally beautiful albums. 
Award-winning pianist Ingrid Fliter performs one of Chopin's 3 Ecossaises, the Grammy nominated Dunedin Consort provide Bach's Organ Prelude Vom Himmel kam and we have Meine Rose from the great Schumann song interpretations of James Gilchrist.
Click here to visit the test files album page.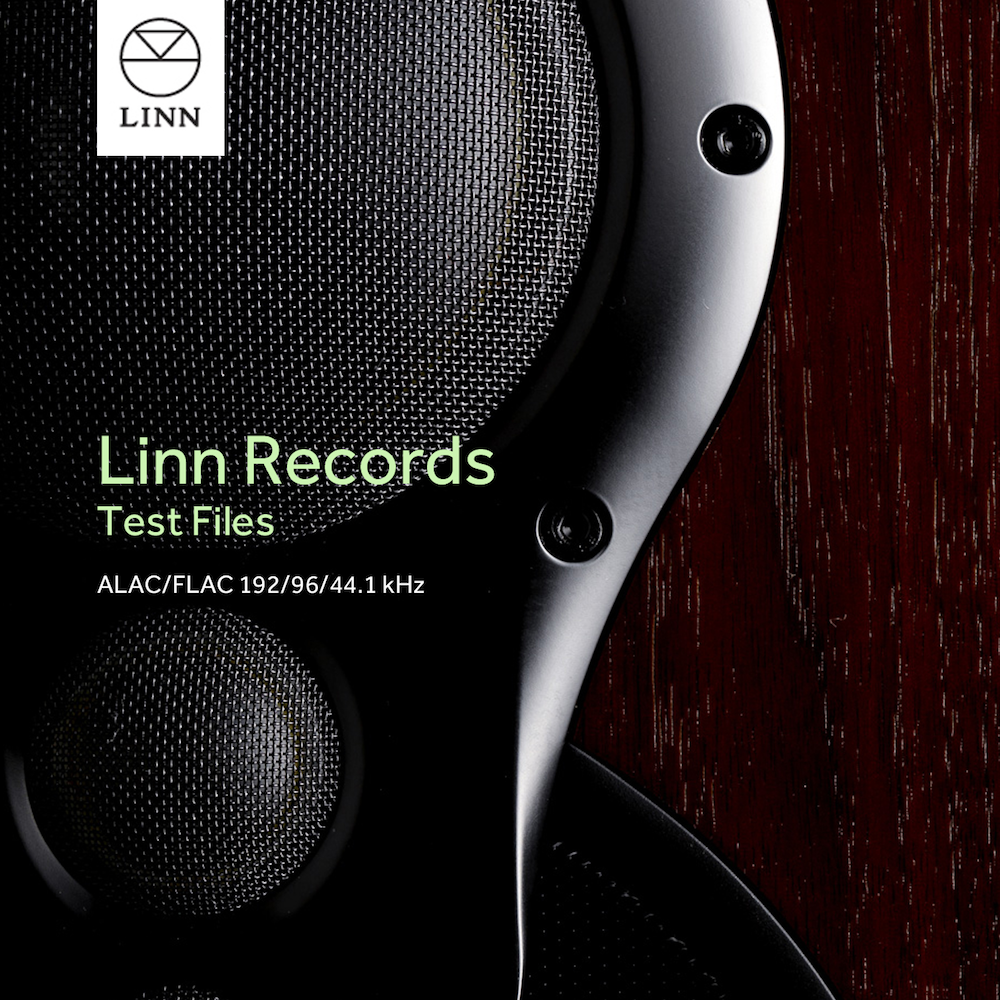 Downloading for Beginners
If you are new to downloading from LinnRecords.com and are unsure which download is best for you then follow this simple step by step guide to find your ideal choice. 
If you can play Studio Master downloads we absolutely recommend you choose this option as the sound is phenomenal.  Over 90% of our customers have made Studio Master their download of choice. 

1. Are you going to play this download on your Linn DS Player?
Yes: You can choose either Studio Master FLAC or Studio Master ALAC as the Linn DS Players can play both.   
No: Go to question 2. 


2. Are you going to play this download on your iPod?
Yes: Choose CD quality ALAC for easy importing into iTunes and compatibility with iPods. 
No: Go to question 3. 


3. Are you going to play this download via iTunes?
Yes: If you have a 24-bit soundcard in your computer you can choose Studio Master ALAC for easy importing into iTunes.  If you do not have a 24-bit soundcard you can choose CD Quality ALAC. 
No: Go to question 4. 


4. Are you going to play this download on your PC?
Yes: If you have a 24-bit soundcard in your computer you can choose Studio Master FLAC which can be played in many media players (such as Songbird) or converted to WMA so you can play via Windows Media Player.  If you do not have a 24-bit soundcard you can choose CD quality FLAC. 
No: Go to question 5. 


5. Are you going to play this download on your Mac?
Yes: If you have a 24-bit soundcard in your computer you can choose Studio Master ALAC which can be played in many media players (such as iTunes).  If you do not have a 24-bit soundcard you can choose CD quality ALAC. 
No: If you have a question about which download is best for you please email us. 
Keywords Explained

MP3
MP3 is what most people associate with downloading as it is the most widely available format and favoured by iTunes.  Linn (and the majority of our customers) prefer digital formats which offer a much, much better experience for the listener such as Studio Master and CD quality.  


Studio Master
Studio Master is the best quality digital format available.  It is the master recording straight from the studio and has not been squashed down like MP3s and CDs.  The result is music which has all the detail and dynamic range of the original recording.  You do need a 24-bit soundcard to play these downloads or your computer will automatically downconvert them to a lesser quality.  They come in two file types ALAC and FLAC.  Read more about Studio Master.


CD quality
CD quality downloads are a great choice if you do not have a 24-bit soundcard.  They are compatible with all computers, can be burnt onto a CD and can be played on your iPod.  Of course they do not have the top quality sound a Studio Master offers but are a great alternative and a vast step up in quality from MP3.  They come in two file types ALAC and FLAC. 


FLAC
FLAC is our most popular file type as it can be played on all computers.  It can be converted to other file types if they are required for your player and can be played via Songbird and Linn DS Players. 


ALAC
ALAC is the best choice for Apple users; whether you play your music in iTunes, on your iPod or on your Mac, ALAC will suit your needs. 
Download FAQs
We have compiled a comprehensive help section dedicated to answering all your questions relating to downloads.
Sample Rates
If an album was recorded at 192k it will give this as an option on the buy dropdown on the album page. 
Since not all players are equipped to play 192k files we also make a 'standard' Studio Master format available for 192k Linn recordings. The 'standard' Studio Master is  24/96k unless listed below.
24/88.2k
'Sixteen Seasons' by Alessandro Quarta, Dino De Palma, Concerto Mediterraneo & Gianna Fratta
'Cycles of Life' by Amy Duncan
'Albéniz Iberia and Granados Goyescas' by Artur Pizarro
'The Complete Works of Ravel Vol. 1' by Artur Pizarro
'The Complete Works of Ravel Vol. 2' by Artur Pizarro
'Rimsky-Korsakov: Piano Duos' by Artur Pizarro and Vita Panomariovaite
'Every Grain of Sand: Barb Jungr Sings Bob Dylan' by Barb Jungr
'Just Like A Woman - Hymn To Nina' by Barb Jungr
'Carmina Celtica' by Canty
'MacMillan: Tenebrae' by Cappella Nova
'Stravinsky: Apollon musagète & Pulcinella Suite' by Chamber Orchestra of Europe
'A Modern Art' by Claire Martin
'Witchcraft' by Claire Martin
'Handel: Acis and Galatea (Original Cannons Performing Version 1718)' by Dunedin Consort and John Butt
'Handel: Messiah (Dublin Version, 1742)' by Dunedin Consort and John Butt
'J.S. Bach: Mass in B Minor - Breitkopf & Härtel Edition, edited by J. Rifkin (2006)' by Dunedin Consort and John Butt
'J.S. Bach: Matthew Passion (Final performing Version, c. 1742)' by Dunedin Consort and John Butt
'Almanac (Deluxe Version)' by Emily Barker and The Red Clay Halo
'Tastes of Europe - Telemann: Trios & Quartets' by Ensemble Meridiana
'Liszt: Sonata & Etudes' by George-Emmanuel Lazaridis
'Poulenc: Concerto For Organ' by Gillian Weir
'Mozart in Vienna' by Gottlieb Wallisch
'Messiaen: Chamber Works' by Hebrides Ensemble
'Lifejacket' by Ian Shaw
'Leighton: Earth, Sweet Earth…(laudes terrae) & Britten: Winter Words' by James Gilchrist
'Vaughan Williams: On Wenlock Edge' by James Gilchrist
'La Trompette Retrouvée' by Jonathan Freeman-Attwood
'Trumpet Masque' by Jonathan Freeman-Attwood and Daniel-Ben Pienaar
'Liebermann Flute Concerto and works by Hüe, Poulenc & Nielsen' by Katherine Bryan, Royal Scottish National Orchestra and Paul Daniel
'Vivaldi: L'Amore per Elvira' by La Serenissima
'All My Sins' by Maeve O'Boyle
'Rogier: Polychoral Works' by Magnificat, Philip Cave and His Majesty's Sagbutts and Cornetts
'Vibraciones del Alma' by Maximiliano Martin
'The Devil's Trill' by Palladians
'Garden of Early Delights' by Pamela Thorby and Andrew Lawrence-King
'The Nightingale and the Butterfly' by Pamela Thorby and Elizabeth Kenny
'J.S. Bach: Sonatas & Partitas for Solo Violin' by Pavlo Beznosiuk
'Schubert: Winterreise' by Peter Harvey and Gary Cooper
'Byrd: Complete Consort Music' by Phantasm
'Ward: Consort Music for 5 & 6 Viols' by Phantasm
'J.S. Bach: Easter & Ascension Oratorios' by Retrospect Ensemble and Matthew Halls
'Purcell: Ten Sonatas in Four Parts' by Retrospect Trio
'Mozart: "Colloredo" Serenade K. 203 & Divertimento K. 251' by Scottish Chamber Orchestra and Alexander Janiczek
'Mozart: Serenades' by Scottish Chamber Orchestra and Alexander Janiczek
'Mozart: Symphonies 29, 31 (Paris), 32, 35 (Haffner) & 36 (Linz)' by Scottish Chamber Orchestra and Charles Mackerras
'Mozart: Symphonies 38 - 41' by Scottish Chamber Orchestra and Charles Mackerras
'Handel: Concerti Grossi Opus 6' by The Avison Ensemble and Pavlo Beznosiuk
'Ned Rorem: On an Echoing Road' by The Prince Consort
'Other Love Songs' by The Prince Consort
'La Guitarra Española - The Music of Santiago de Murcia' by William Carter
'Sor: Early Works' by William Carter
'Sor: Late Works' by William Carter
24/48k
'Celebration of Life in Death' by Anna Prohaska
'Guéthary' by Aurèle Marthan
'Bartók: The Wooden Prince & Dance Suite' by Cristian Măcelaru & WDR Sinfonieorchester
'Dvořák: Legends Op. 59, Czech Suite Op. 39' by Cristian Măcelaru & WDR Sinfonieorchester
'Brahms: Clarinet Quintet' by Fitzwilliam String Quartet
'Couleurs de l'Incendie (Original Motion Picture Soundtrack)' by Guillaume Roussel
'Drawn To All Things' by Ian Shaw
'Songs On Film Live' by Joe Stilgoe
'Britten: The Turn of the Screw' by La Monnaie Chamber Orchestra & Ben Glassberg
'Estonian Premieres' by Paavo Järvi & Estonian Festival Orchestra
'75 (Live at Flagey)' by Philip Catherine
'Dvořák: Violin Concerto in A Minor' by Scottish Chamber Orchestra and Joseph Swensen
24/44.1k
'Lyn's Une' by Alyn Cosker
'Walking In The Sun' by Barb Jungr
'Waterloo Sunset' by Barb Jungr
'Wagstaff: Breathe Freely' by Breathe Freely Ensemble
'Galuppi: Forgotten Arias of a Venetian Master' by Catherine King and Il canto di Orfeo
'Elevate' by Fiona Mackenzie
'Shock!' by Gareth Williams
'With a Song in My Heart' by Gill Manly
'The Unknown Lover' by Gothic Voices
'A Laurel for Landini' by Gothic Voices and Andrew Lawrence-King
'Songs of Muriel Herbert' by James Gilchrist
'Moonlight's Back in Style (Songs by Nicky Campbell)' by Mark Moraghan
'J.S. Bach: Goldberg Variations' by Matthew Halls
'Whisper Me A Tree' by Olivia Gay
'Mozart: Wind Concertos' by Scottish Chamber Orchestra and Alexander Janiczek
'Out of the Silence' by Stéphane Kerecki
'Tavener: Ypakoe' by Various Artists
'My Oracle Lives Uptown' by William Orbit