Filters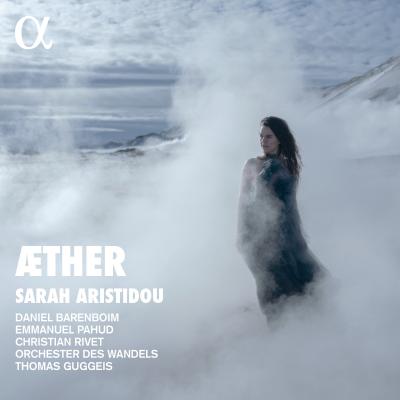 Inlay available for download
Booklet available for download
Un grand sommeil noir

Composer(s)

Edgard Varèse

Artist(s)

Sarah Aristidou

Daniel Barenboim

Un grand sommeil noir

$2.30

Stabat Mater, FP 148: X. Fac ut portem

Composer(s)

Francis Poulenc

Artist(s)

Orchester des Wandels

Sarah Aristidou

Chor der Klangverwaltung

Thomas Guggeis

Stabat Mater, FP 148: X. Fac ut portem

$2.30

Lakmé, Act III: "Sous le ciel étoilé"

Artist(s)

Orchester des Wandels

Sarah Aristidou

Thomas Guggeis

Lakmé, Act III: "Sous le ciel étoilé"

$2.30

Näckens Polska

Artist(s)

Sarah Aristidou

Christian Rivet

Näckens Polska

$2.30

Hamlet : "Le voilà, je crois l'entendre"

Composer(s)

Ambroise Thomas

Artist(s)

Orchester des Wandels

Sarah Aristidou

Chor der Klangverwaltung

Thomas Guggeis

Hamlet : "Le voilà, je crois l'entendre"

$2.30

Labyrinth V, for Soprano a capella

Artist(s)

Sarah Aristidou

Labyrinth V, for Soprano a capella

$3.40

Pelléas et Mélisande, Act III Scene 3: "Mes longs cheveux"

Composer(s)

Claude Debussy

Artist(s)

Orchester des Wandels

Sarah Aristidou

Thomas Guggeis

Pelléas et Mélisande, Act III Scene 3: "Mes longs cheveux"

$2.30

Lakmé, Act II: Chanson de la fille des parias (Air des clochettes)

Artist(s)

Orchester des Wandels

Sarah Aristidou

Thomas Guggeis

Lakmé, Act II: Chanson de la fille des parias (Air des clochettes)

$3.40

The Nightingale: Song of the nightingale

Composer(s)

Igor Stravinsky

Artist(s)

Orchester des Wandels

Sarah Aristidou

Thomas Guggeis

The Nightingale: Song of the nightingale

$2.30

The Tempest, Act I Scene 5: Ariel's song

Artist(s)

Orchester des Wandels

Sarah Aristidou

Thomas Guggeis

The Tempest, Act I Scene 5: Ariel's song

$2.30

Il triomfo del tempo e del disinganno, HWV 46a: "Tu del ciel ministro eletto"

Composer(s)

George Frideric Handel

Artist(s)

Orchester des Wandels

Sarah Aristidou

Thomas Guggeis

Il triomfo del tempo e del disinganno, HWV 46a: "Tu del ciel ministro eletto"

$2.30

Die weiße rose: "Einmal noch einmal"

Composer(s)

Udo Zimmermann

Artist(s)

Sarah Aristidou

Emmanuel Pahud

Die weiße rose: "Einmal noch einmal"

$2.30

Stabat Mater, FP 148: XII. Quando Corpus

Composer(s)

Francis Poulenc

Artist(s)

Orchester des Wandels

Sarah Aristidou

Chor der Klangverwaltung

Thomas Guggeis

Stabat Mater, FP 148: XII. Quando Corpus

$2.30
Total running time: 65 minutes.
Album information

A star in the making, Sarah Aristidou joins Alpha for her debut album, which features guests Daniel Barenboim, Emmanuel Pahud and the unique Orchester des Wandels (Orchestra of Change). This album was nominated for a 2023 BBC Music Magazine Newcomer Award.

Combining classical (Debussy, Délibes, Handel) and modern repertoire (Thomas Adès, Udo Zimmermann and a Jörg Widmann premiere) the French-Cypriot soprano explores the very essence of Æther and celebrates the natural world.

Twice named 'Best Newcomer' by Opernwelt for two contemporary creations, she is a favourite interpreter of Jörg Widmann who has already written two works for her, and has sung under the direction of Daniel Barenboim, Sir Simon Rattle and François-Xavier Roth. Barenboim opened the doors of Berlin to her and the Orchester des Wandels (Orchestra of Change), a group of musicians from several German orchestras, including the Staatskapelle Berlin, who have set themselves the objective of practising their art in a way that protects the planet: limiting the carbon footprint in all their activities, including this album. In addition to the encounter between the young singer and the unique orchestra, this project is also the result of Sarah's passion for Iceland (the land of Aether par excellence?). 
Related Artists
Reviews