Filters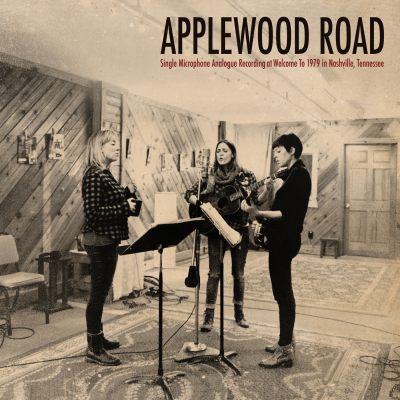 Applewood Road

Composer(s)

Emily Barker, Amber Rubarth, Amy Speace

Emily Barker

Applewood Road

$2.30

To The Stars

Composer(s)

Adam Levy, Amber Rubarth

To The Stars

$2.30

Old Time Country Song

Composer(s)

Amber Rubarth

Old Time Country Song

$2.30

Honey Won't You

Composer(s)

Adrianne Gonzales, Amber Rubarth, Garrison Starr

Honey Won't You

$2.30

Give Me Love

Composer(s)

Robby Hecht, Amy Speace

Give Me Love

$2.30

Lovin' Eyes

Composer(s)

Amber Rubarth

Lovin' Eyes

$2.30

I'm Not Afraid Anymore

Composer(s)

Emily Barker, Robby Hecht

Emily Barker

I'm Not Afraid Anymore

$2.30

Bring The Car Round

$2.30

Row Boat

Composer(s)

Josh Day, Amber Rubarth

Row Boat

$2.30

My Love Grows

Composer(s)

Amber Rubarth

My Love Grows

$2.30
Total running time: 35 minutes.
Album information

This self-titled debut album, by all-female trio Applewood Road, is a testament to the prolific songwriting talents of Emily Barker, Amber Rubarth and Amy Speace. Featuring some of Nashville's finest session musicians, Applewood Road was recorded around a single microphone live to tape at Nashville's all analogue studio, Welcome to 1979, and mastered at London's Gearbox Records.

In September 2014, three songwriters met for the first time in a cafe in East Nashville. Two hours later the trio (Emily Barker, Amber Rubarth and Amy Speace) had written the song they called Applewood Road.

They booked studio time at Nashville's super cool analogue studio Welcome To 1979 and the following week recorded the song live to tape with just double bass as accompaniment.

So excited were they by the song, they decided to expand the idea into a whole album. So, six months later, they reconvened in Nashville to write, rehearse and record twelve more songs with both the project and album called Applewood Road.

The album features guitarist Aaron Lee Tasjan, Fats Kaplin on accordion, Telisha Williams on upright bass, Jabe Beyer on harmonica and drummer Josh Day.
Related Artists
Reviews