Filters
Bach: Magnificat - Handel: Dixit Dominus
Bach: Magnificat - Handel: Dixit Dominus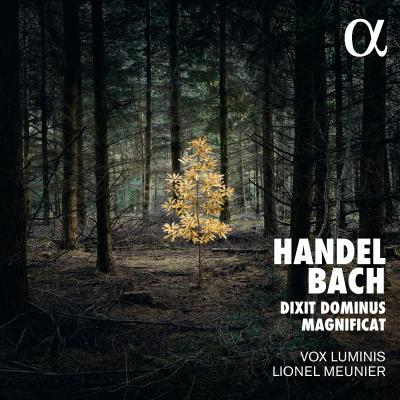 Booklet available for download
Magnificat in D Major, BWV 243: Chorus 'Magnificat anima mea'

Composer(s)

Johann Sebastian Bach

Artist(s)

Lionel Meunier

Vox Luminis

Magnificat in D Major, BWV 243: Chorus 'Magnificat anima mea'

$2.30

Magnificat in D Major, BWV 243: II. Aria "Et exultavit"

Composer(s)

Johann Sebastian Bach

Artist(s)

Lionel Meunier

Vox Luminis

Magnificat in D Major, BWV 243: II. Aria "Et exultavit"

$2.30

Magnificat in D Major, BWV 243: III. Aria "Quia respexit"

Composer(s)

Johann Sebastian Bach

Artist(s)

Lionel Meunier

Vox Luminis

Magnificat in D Major, BWV 243: III. Aria "Quia respexit"

$2.30

Magnificat in D Major, BWV 243: IV. Chorus "Omne generationes"

Composer(s)

Johann Sebastian Bach

Artist(s)

Lionel Meunier

Vox Luminis

Magnificat in D Major, BWV 243: IV. Chorus "Omne generationes"

$2.30

Magnificat in D Major, BWV 243: V. Aria "Quia fecit mihi magna"

Composer(s)

Johann Sebastian Bach

Artist(s)

Lionel Meunier

Vox Luminis

Magnificat in D Major, BWV 243: V. Aria "Quia fecit mihi magna"

$2.30

Magnificat in D Major, BWV 243: VI. Aria (Duetto) "Et misericordia"

Composer(s)

Johann Sebastian Bach

Artist(s)

Lionel Meunier

Vox Luminis

Magnificat in D Major, BWV 243: VI. Aria (Duetto) "Et misericordia"

$2.30

Magnificat in D Major, BWV 243: VII. Chorus "Fecit potentiam"

Composer(s)

Johann Sebastian Bach

Artist(s)

Lionel Meunier

Vox Luminis

Magnificat in D Major, BWV 243: VII. Chorus "Fecit potentiam"

$2.30

Magnificat in D Major, BWV 243: VIII. Aria "Deposuit potentes"

Composer(s)

Johann Sebastian Bach

Artist(s)

Lionel Meunier

Vox Luminis

Magnificat in D Major, BWV 243: VIII. Aria "Deposuit potentes"

$2.30

Magnificat in D Major, BWV 243: IX. Aria "Esurientes implevit bonis"

Composer(s)

Johann Sebastian Bach

Artist(s)

Lionel Meunier

Vox Luminis

Magnificat in D Major, BWV 243: IX. Aria "Esurientes implevit bonis"

$2.30

Magnificat in D Major, BWV 243: X. Aria (Terzetto) "Suscepit Israel"

Composer(s)

Johann Sebastian Bach

Artist(s)

Lionel Meunier

Vox Luminis

Magnificat in D Major, BWV 243: X. Aria (Terzetto) "Suscepit Israel"

$2.30

Magnificat in D Major, BWV 243: XI. Chorus "Sicut locutus"

Composer(s)

Johann Sebastian Bach

Artist(s)

Lionel Meunier

Vox Luminis

Magnificat in D Major, BWV 243: XI. Chorus "Sicut locutus"

$2.30

Magnificat in D Major, BWV 243: XII. Chorus "Gloria patri"

Composer(s)

Johann Sebastian Bach

Artist(s)

Lionel Meunier

Vox Luminis

Magnificat in D Major, BWV 243: XII. Chorus "Gloria patri"

$2.30

Dixit Dominus, HWV 232: Chorus 'Dixit Dominus Domino meo'

Composer(s)

George Frideric Handel

Artist(s)

Lionel Meunier

Vox Luminis

Dixit Dominus, HWV 232: Chorus 'Dixit Dominus Domino meo'

$2.30

Dixit Dominus, HWV 232: II. Aria "Virgam virturis tuae"

Composer(s)

George Frideric Handel

Artist(s)

Lionel Meunier

Vox Luminis

Dixit Dominus, HWV 232: II. Aria "Virgam virturis tuae"

$2.30

Dixit Dominus, HWV 232: III. Aria "Tecum principium in die virtutis"

Composer(s)

George Frideric Handel

Artist(s)

Lionel Meunier

Vox Luminis

Dixit Dominus, HWV 232: III. Aria "Tecum principium in die virtutis"

$2.30

Dixit Dominus, HWV 232: IV. Chorus "Juravit Dominus"

Composer(s)

George Frideric Handel

Artist(s)

Lionel Meunier

Vox Luminis

Dixit Dominus, HWV 232: IV. Chorus "Juravit Dominus"

$2.30

Dixit Dominus, HWV 232: V. Chorus "Tu es sacerdos in aeternum"

Composer(s)

George Frideric Handel

Artist(s)

Lionel Meunier

Vox Luminis

Dixit Dominus, HWV 232: V. Chorus "Tu es sacerdos in aeternum"

$2.30

Dixit Dominus, HWV 232: VI. Chorus "Dominus a dextris tuis"

Composer(s)

George Frideric Handel

Artist(s)

Lionel Meunier

Vox Luminis

Dixit Dominus, HWV 232: VI. Chorus "Dominus a dextris tuis"

$2.30

Dixit Dominus, HWV 232: VII. Chorus "Judicabit in nationibus"

Composer(s)

George Frideric Handel

Artist(s)

Lionel Meunier

Vox Luminis

Dixit Dominus, HWV 232: VII. Chorus "Judicabit in nationibus"

$2.30

Dixit Dominus, HWV 232: VIII. Chorus "Conquassabit capita"

Composer(s)

George Frideric Handel

Artist(s)

Lionel Meunier

Vox Luminis

Dixit Dominus, HWV 232: VIII. Chorus "Conquassabit capita"

$2.30

Dixit Dominus, HWV 232: IX. Duetto & Chorus "De torrente in via bibet"

Composer(s)

George Frideric Handel

Artist(s)

Lionel Meunier

Vox Luminis

Dixit Dominus, HWV 232: IX. Duetto & Chorus "De torrente in via bibet"

$2.30

Dixit Dominus, HWV 232: X. Chorus "Gloria patri et filio"

Composer(s)

George Frideric Handel

Artist(s)

Lionel Meunier

Vox Luminis

Dixit Dominus, HWV 232: X. Chorus "Gloria patri et filio"

$2.30
Total running time: 61 minutes.

Album information

Lionel Meunier and his ensemble Vox Luminis devote this new project to two showpieces by Handel and Bach.

Of these two composers born in 1685, the first travelled to Italy in 1707 and made a powerful impression in Rome with the creation of his Dixit Dominus, while the second produced one of his finest compositional tours de force in the Magnificat of 1723/32-35. Two works from the core repertoire of the Belgian ensemble, here fielding combined vocal and instrumental forces, which is perfectly versed in the style and expression of Baroque rhetoric.
Related Artists
Reviews