Filters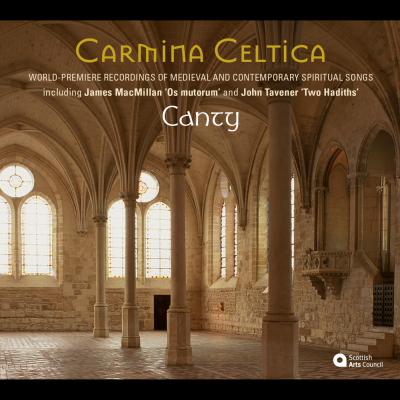 Inlay available for download
Booklet available for download
Salve splendor

Composer(s)

Inchcolm Antiphoner

Artist(s)

William Taylor - harp

Canty

Salve splendor

$2.30

Os mutorum

Composer(s)

James MacMillan

Artist(s)

William Taylor - harp

Canty

Os mutorum

$2.30

Confessor Dei

Composer(s)

Inchcolm Antiphoner

Artist(s)

William Taylor - harp

Canty

Confessor Dei

$2.30

O quam mirabilis

Artist(s)

William Taylor - harp

Canty

O quam mirabilis

$2.30

Green grow the rushes

Composer(s)

17th/18th century Scottish sources

Artist(s)

William Taylor - harp

Green grow the rushes

$2.30

Lorica

Composer(s)

Michael McGlynn

Artist(s)

William Taylor - harp

Canty

Lorica

$2.30

Flower Garland

Artist(s)

William Taylor - harp

Canty

Flower Garland

$2.30

Five Lauds Antiphons

Composer(s)

Office for St Brigit

Artist(s)

William Taylor - harp

Canty

Five Lauds Antiphons

$2.30

Inviolata, integra et casta es, Maria

Composer(s)

W1 / St Andrews Music Book

Artist(s)

William Taylor - harp

Canty

Inviolata, integra et casta es, Maria

$2.30

Through the wood, laddie

Composer(s)

17th/18th century Scottish sources

Artist(s)

William Taylor - harp

Through the wood, laddie

$2.30

Shining Light

Composer(s)

Joanne Metcalf

Artist(s)

William Taylor - harp

Canty

Shining Light

$2.30

Beatus Gallus

Artist(s)

William Taylor - harp

Canty

Beatus Gallus

$2.30

There is nothing brighter than the sun

Artist(s)

William Taylor - harp

Canty

There is nothing brighter than the sun

$2.30

A solis occasu

Artist(s)

William Taylor - harp

Canty

A solis occasu

$2.30

Ubi flumen praesulis

Composer(s)

Gabriel Jackson

Artist(s)

William Taylor - harp

Canty

Ubi flumen praesulis

$2.30

Sacrosanctam Kentegernus

Composer(s)

Sprouston Breviary

Artist(s)

William Taylor - harp

Canty

Sacrosanctam Kentegernus

$2.30

The Stars in their Courses

Composer(s)

James McCarthy

Artist(s)

William Taylor - harp

Canty

The Stars in their Courses

$2.30

Two Hadiths

Artist(s)

William Taylor - harp

Canty

Two Hadiths

$3.40
Total running time: 66 minutes.

Album information

World-premiere recordings of medieval and contemporary spritual songs including James MacMillan Os mutorum and John Tavener Two Hadiths.

Carmina Celtica features the world premiere of nine contemporary works commissioned over a decade by Canty, Scotland's own Anonymous 4. The Ensemble blend contemporary works by Sir John Tavener and James MacMillan alongside haunting Medieval chant to create the unique and beautiful soundworld for which it is renowned. Described by The Times as "among the very best creative talents of his generation", Sir John Tavener wrote Two Hadiths specially for Canty in 2007. Two Hadiths explores the sitar-like sonorities of the bray harp in meditative settings of the poetic sayings of the Prophet Mohammed.

James MacMillan is the pre-eminent Scottish composer of his generation. Commissioned for Canty in 2008, Os mutorum is both moving and expressive. Ivan Moody has set the words of Hildegard of Bingen in his contribution O quam mirabilis. The Telegraph calls his music "powerfully expressive" and this 2006 work showcases the emotive power of female choral singing.

Michael McGlynn, in addition to directing successful Irish choir Anúna, is a "most accomplished contemporary choral composer" (All Music Guide). He describes Lorica as accentuating "the sonic purity of Canty and harkens back to an age of delicate vocal timbre and set, but fluid musical constraints".
Related Artists
Reviews