Filters
A Christmas Festival (Digital Deluxe Version)
A Christmas Festival (Digital Deluxe Version)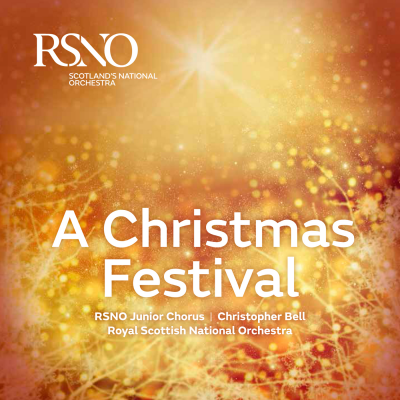 The Holly And The Ivy, Fantasy On Christmas Carols

Composer(s)

Malcolm Arnold

Artist(s)

Christopher Bell

Royal Scottish National Orchestra

The Holly And The Ivy, Fantasy On Christmas Carols

$3.40

Christmas Carol Fantasy

Artist(s)

Christopher Bell

Royal Scottish National Orchestra, RSNO Junior Chorus

Christmas Carol Fantasy

$2.30

Mid-Winter

Composer(s)

Bob Chilcott

Christina Rossetti

Artist(s)

Christopher Bell

Royal Scottish National Orchestra, RSNO Junior Chorus

Mid-Winter

$2.30

Ring The Bells

Composer(s)

Libby Larsen

M. K. Dean

Artist(s)

Christopher Bell

Royal Scottish National Orchestra, RSNO Junior Chorus

Ring The Bells

$2.30

Taladh Chriosta "Christ Child's Lullaby"

Artist(s)

Christopher Bell

Royal Scottish National Orchestra, RSNO Junior Chorus

Taladh Chriosta "Christ Child's Lullaby"

$2.30

A Classical Christmas Suite: Little Bolero Boy

Composer(s)

Katherine Kennicott Davis, Henry Onorati

Katherine Kennicott Davis

Artist(s)

Christopher Bell

Royal Scottish National Orchestra

A Classical Christmas Suite: Little Bolero Boy

$2.30

Walking In The Air (From "The Snowman")

Artist(s)

Christopher Bell

Royal Scottish National Orchestra, RSNO Junior Chorus

Walking In The Air (From "The Snowman")

$2.30

Somewhere A Star Shines For Everyone

Artist(s)

Christopher Bell

Royal Scottish National Orchestra, RSNO Junior Chorus

Somewhere A Star Shines For Everyone

$2.30

Christmas Spirit

Composer(s)

Matthew Curtis

Katherine Kennicott Davis

Artist(s)

Christopher Bell

Royal Scottish National Orchestra

Christmas Spirit

$2.30

I Pray

Artist(s)

Christopher Bell

Royal Scottish National Orchestra, RSNO Junior Chorus

I Pray

$2.30

Jingle Bells

Composer(s)

James Lord Pierpont

Artist(s)

Christopher Bell

Royal Scottish National Orchestra, RSNO Junior Chorus

Jingle Bells

$2.30

Jolly Old Saint Nicholas "Christmas Time"

Composer(s)

Traditional

traditional

Artist(s)

Christopher Bell

Royal Scottish National Orchestra, RSNO Junior Chorus

Jolly Old Saint Nicholas "Christmas Time"

$2.30

(I'm Gettin') Nuttin' For Christmas

Composer(s)

Sid Tepper, Roy C. Bennett

Artist(s)

Christopher Bell

Royal Scottish National Orchestra, RSNO Junior Chorus

(I'm Gettin') Nuttin' For Christmas

$2.30

Up On The Housetop

Composer(s)

Benjamin Hanby

Artist(s)

Christopher Bell

Royal Scottish National Orchestra, RSNO Junior Chorus

Up On The Housetop

$2.30

A Christmas Carnival

Composer(s)

Richard Bissill

Artist(s)

Christopher Bell

Royal Scottish National Orchestra

A Christmas Carnival

$3.40

Johnny Marks Medley

Artist(s)

Christopher Bell

Royal Scottish National Orchestra, RSNO Junior Chorus

Johnny Marks Medley

$2.30

In A Cottage In A Wood

Artist(s)

Christopher Bell

Royal Scottish National Orchestra, RSNO Junior Chorus

In A Cottage In A Wood

$2.30

A Young Austrian Went Yodelling

Artist(s)

Christopher Bell

Royal Scottish National Orchestra, RSNO Junior Chorus

A Young Austrian Went Yodelling

$2.30

Schneewalzer

Composer(s)

Thomas Koschat

Artist(s)

Christopher Bell

Royal Scottish National Orchestra, RSNO Junior Chorus

Schneewalzer

$2.30

Maria Wiegenlied "The Virgin's Slumber Song"

Composer(s)

Max Reger

Martin Boelitz

Artist(s)

Christopher Bell

Royal Scottish National Orchestra, RSNO Junior Chorus

Maria Wiegenlied "The Virgin's Slumber Song"

$0.00

Little Road To Bethlehem

Composer(s)

Michael Head

Margaret Rose

Artist(s)

Christopher Bell

Royal Scottish National Orchestra, RSNO Junior Chorus

Little Road To Bethlehem

$0.00
Total running time: 79 minutes.
Album information

This new recording captures the magic of the season as the RSNO and its Junior Chorus deliver a perfect selection of classic festive favourites in A Christmas Festival.

These charming performances show why their joyous, fun-packed Christmas concerts, conducted by the inimitable Christopher Bell, are always a highlight of the Scottish seasonal calendar. The well-chosen programme finds traditional favourites, such as 'Jingle Bells', 'In A Cottage In A Wood' and 'Jolly Old Saint Nicholas', sitting harmoniously alongside contemporary tunes from Michael Head and Howard Blake (The Snowman, The Bear).

An unexpected but brilliant instrumental mash-up up of 'The Little Dummer Boy' with Ravel's Bolero gives centre-stage to the award-winning RSNO. Two fantastic medleys provide a one stop shop of Christmas tunes both old and new which you'll be hard pressed not to join in with!

At turns rousing, sentimental, cheering and familiar this is the perfect present this Christmas.
Related Artists
Reviews