Filters
Copland & Chávez: Pan-American Reflections
Copland & Chávez: Pan-American Reflections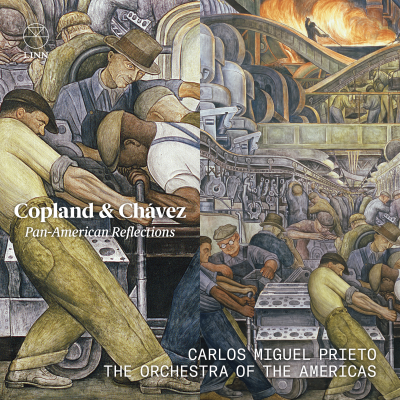 Inlay available for download
Booklet available for download
Symphony No. 3: I. Molto moderato, with Simple Expression

Composer(s)

Aaron Copland

Artist(s)

Carlos Miguel Prieto

The Orchestra of the Americas

Symphony No. 3: I. Molto moderato, with Simple Expression

$4.00

Symphony No. 3: II. Allegro molto

Composer(s)

Aaron Copland

Artist(s)

Carlos Miguel Prieto

The Orchestra of the Americas

Symphony No. 3: II. Allegro molto

$4.00

Symphony No. 3: III. Andantino quasi allegretto

Composer(s)

Aaron Copland

Artist(s)

Carlos Miguel Prieto

The Orchestra of the Americas

Symphony No. 3: III. Andantino quasi allegretto

$4.00

Symphony No. 3: IV. Molto deliberato

Composer(s)

Aaron Copland

Artist(s)

Carlos Miguel Prieto

The Orchestra of the Americas

Symphony No. 3: IV. Molto deliberato

$6.00

Symphony No. 2 "Sinfonía india"

Composer(s)

Carlos Chávez

Artist(s)

Carlos Miguel Prieto

The Orchestra of the Americas

Symphony No. 2 "Sinfonía india"

$4.00
Total running time: 52 minutes.
Album information

The Orchestra of the Americas performs Aaron Copland's euphoric Third Symphony and Mexican composer Carlos Chávez's rousing Sinfonía india in a thrilling Linn debut.

Carlos Miguel Prieto, known for his charismatic conducting and dynamic, expressive interpretations, directs the orchestra. The Orchestra of the Americas performed both works at the 2018 Edinburgh Festival as part of a European tour, which saw the orchestra perform at the Rheingau Festival, the Elbphilharmonie and the Krzysztof Penderecki European Centre for Music.

Full of hope, heroism and joyful optimism Copland's Third Symphony is considered the 'Great American Symphony'; it is perhaps most famous for its finale in which Copland incorporates his Fanfare for the Common Man, an exhilarating conclusion that leaves listeners uplifted.

With scintillating indigenous melodies, complex rhythms and highly percussive orchestration, Chávez's Sinfonía india is the perfect piece to end the programme and showcase this passionate, flamboyant and brilliantly incisive orchestra.
Related Artists
Reviews