Filters
"Dear Mademoiselle": A Tribute to Nadia Boulanger
"Dear Mademoiselle": A Tribute to Nadia Boulanger
Artist
Nathanaël Gouin
Daniel Barenboim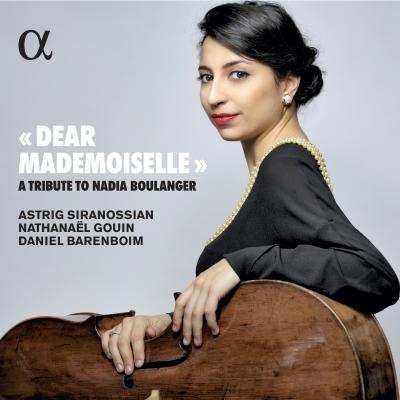 Inlay available for download
Booklet available for download
Le Grand Tango

Composer(s)

Astor Piazzolla

Artist(s)

Astrig Siranossian

Nathanaël Gouin

Le Grand Tango

$3.40

Suite italienne (arranged by Gregor Piatigorsky): I. Introduzione

Composer(s)

Igor Stravinsky

Artist(s)

Astrig Siranossian

Nathanaël Gouin

Suite italienne (arranged by Gregor Piatigorsky): I. Introduzione

$2.30

Suite italienne (arranged by Gregor Piatigorsky): II. Serenata

Composer(s)

Igor Stravinsky

Artist(s)

Astrig Siranossian

Nathanaël Gouin

Suite italienne (arranged by Gregor Piatigorsky): II. Serenata

$2.30

Suite italienne (arranged by Gregor Piatigorsky): III. Aria

Composer(s)

Igor Stravinsky

Artist(s)

Astrig Siranossian

Nathanaël Gouin

Suite italienne (arranged by Gregor Piatigorsky): III. Aria

$2.30

Suite italienne (arranged by Gregor Piatigorsky): IV. Tarantella

Composer(s)

Igor Stravinsky

Artist(s)

Astrig Siranossian

Nathanaël Gouin

Suite italienne (arranged by Gregor Piatigorsky): IV. Tarantella

$2.30

Suite italienne (arranged by Gregor Piatigorsky): V. Minuetto & Finale

Composer(s)

Igor Stravinsky

Artist(s)

Astrig Siranossian

Nathanaël Gouin

Suite italienne (arranged by Gregor Piatigorsky): V. Minuetto & Finale

$2.30

3 Pieces for Cello and Piano: Piece for Cello and Piano No. 1 in E-Flat Minor

Composer(s)

Nadia Boulanger

Artist(s)

Astrig Siranossian

Daniel Barenboim

3 Pieces for Cello and Piano: Piece for Cello and Piano No. 1 in E-Flat Minor

$2.30

3 Pieces for Cello and Piano: Piece for Cello and Piano No. 2 in A Minor

Composer(s)

Nadia Boulanger

Artist(s)

Astrig Siranossian

Daniel Barenboim

3 Pieces for Cello and Piano: Piece for Cello and Piano No. 2 in A Minor

$2.30

3 Pieces for Cello and Piano: Piece for Cello and Piano No. 3 in C-Sharp Minor

Composer(s)

Nadia Boulanger

Artist(s)

Astrig Siranossian

Daniel Barenboim

3 Pieces for Cello and Piano: Piece for Cello and Piano No. 3 in C-Sharp Minor

$2.30

Sonata for Cello and Piano: I. Moderato

Composer(s)

Elliott Carter

Artist(s)

Astrig Siranossian

Nathanaël Gouin

Sonata for Cello and Piano: I. Moderato

$2.30

Sonata for Cello and Piano: II. Vivace, Molto lggiero

Composer(s)

Elliott Carter

Artist(s)

Astrig Siranossian

Nathanaël Gouin

Sonata for Cello and Piano: II. Vivace, Molto lggiero

$2.30

Sonata for Cello and Piano: III. Adagio

Composer(s)

Elliott Carter

Artist(s)

Astrig Siranossian

Nathanaël Gouin

Sonata for Cello and Piano: III. Adagio

$2.30

Sonata for Cello and Piano: IV. Allegro

Composer(s)

Elliott Carter

Artist(s)

Astrig Siranossian

Nathanaël Gouin

Sonata for Cello and Piano: IV. Allegro

$2.30

Tissue No. 7

Artist(s)

Astrig Siranossian

Nathanaël Gouin

Tissue No. 7

$2.30

Medley for Cello and Piano: Peau d'âne, Les Moulins de mon cœur & Les Parapluies de Cherbourg

Composer(s)

Michel Legrand

Artist(s)

Astrig Siranossian

Nathanaël Gouin

Medley for Cello and Piano: Peau d'âne, Les Moulins de mon cœur & Les Parapluies de Cherbourg

$2.30

Soul Bossa Nova

Artist(s)

Astrig Siranossian

Nathanaël Gouin

Soul Bossa Nova

$2.30
Total running time: 72 minutes.

Album information

Astrig Siranossian, a rising star of the cello who now joins Alpha for several recordings, is fascinated by Nadia Boulanger whom everyone respectfully called 'Mademoiselle'. Her musical and pedagogical philosophy, demanding yet highly stimulating, influenced the entire twentieth century.

An emblematic figure of her time, Nadia Boulanger (1887-1979) taught and inspired several generations of musicians, from Igor Stravinsky to Quincy Jones. She met some of her most illustrious students, including the late Michel Legrand, and Daniel Barenboim who has agreed to accompany her in a piece on the album. With the pianist Nathanaël Gouin, she has devised a very eclectic programme, including the three pieces for cello and piano written by Nadia Boulanger in 1915, three years before the death of her sister Lili.

A wide-ranging album, featuring Igor Stravinsky's Suite italienne, Elliott Carter's Cello Sonata, Astor Piazzolla's Le Grand Tango, Tissue No. 7 by Philip Glass, Soul Bossa Nova by Quincy Jones, and music by Michel Legrand and others. Merci, Dear Mademoiselle!
Related Artists
Reviews