Filters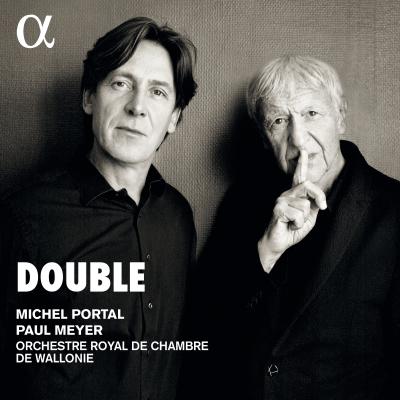 Inlay available for download
Booklet available for download
Clarinet Concerto No. 4 in B-Flat Major: I. Allegro

Composer(s)

Johann Stamitz

Artist(s)

Michel Portal

Paul Meyer

Orchestre Royal de Chambre de Wallonie

Clarinet Concerto No. 4 in B-Flat Major: I. Allegro

$3.40

Clarinet Concerto No. 4 in B-Flat Major: II. Andante moderato

Composer(s)

Johann Stamitz

Artist(s)

Michel Portal

Paul Meyer

Orchestre Royal de Chambre de Wallonie

Clarinet Concerto No. 4 in B-Flat Major: II. Andante moderato

$2.30

Clarinet Concerto No. 4 in B-Flat Major: III. Tempo di menuetto

Composer(s)

Johann Stamitz

Artist(s)

Michel Portal

Paul Meyer

Orchestre Royal de Chambre de Wallonie

Clarinet Concerto No. 4 in B-Flat Major: III. Tempo di menuetto

$2.30

Concerto in D Minor for 2 Chalumeaux, TWV 52:D1: I. Largo

Composer(s)

Georg Philipp Telemann

Artist(s)

Michel Portal

Paul Meyer

Orchestre Royal de Chambre de Wallonie

Concerto in D Minor for 2 Chalumeaux, TWV 52:D1: I. Largo

$2.30

Concerto in D Minor for 2 Chalumeaux, TWV 52:D1: II. Allegro

Composer(s)

Georg Philipp Telemann

Artist(s)

Michel Portal

Paul Meyer

Orchestre Royal de Chambre de Wallonie

Concerto in D Minor for 2 Chalumeaux, TWV 52:D1: II. Allegro

$2.30

Concerto in D Minor for 2 Chalumeaux, TWV 52:D1: III. Adagio

Composer(s)

Georg Philipp Telemann

Artist(s)

Michel Portal

Paul Meyer

Orchestre Royal de Chambre de Wallonie

Concerto in D Minor for 2 Chalumeaux, TWV 52:D1: III. Adagio

$2.30

Concerto in D Minor for 2 Chalumeaux, TWV 52:D1: IV. Vivace

Composer(s)

Georg Philipp Telemann

Artist(s)

Michel Portal

Paul Meyer

Orchestre Royal de Chambre de Wallonie

Concerto in D Minor for 2 Chalumeaux, TWV 52:D1: IV. Vivace

$2.30

Sonata in E Minor, TWV 40:102: I. Largo

Composer(s)

Georg Philipp Telemann

Artist(s)

Michel Portal

Paul Meyer

Orchestre Royal de Chambre de Wallonie

Sonata in E Minor, TWV 40:102: I. Largo

$2.30

Sonata in E Minor, TWV 40:102: II. Allegro

Composer(s)

Georg Philipp Telemann

Artist(s)

Michel Portal

Paul Meyer

Orchestre Royal de Chambre de Wallonie

Sonata in E Minor, TWV 40:102: II. Allegro

$2.30

Sonata in E Minor, TWV 40:102: III. Affectuoso

Composer(s)

Georg Philipp Telemann

Artist(s)

Michel Portal

Paul Meyer

Orchestre Royal de Chambre de Wallonie

Sonata in E Minor, TWV 40:102: III. Affectuoso

$2.30

Sonata in E Minor, TWV 40:102: IV. Vivace

Composer(s)

Georg Philipp Telemann

Artist(s)

Michel Portal

Paul Meyer

Orchestre Royal de Chambre de Wallonie

Sonata in E Minor, TWV 40:102: IV. Vivace

$2.30

Herbslied for Clarinet & String Quartet

Composer(s)

Pyotr Ilyich Tchaikovsky

Artist(s)

Michel Portal

Paul Meyer

Orchestre Royal de Chambre de Wallonie

Herbslied for Clarinet & String Quartet

$2.30

Konzertstück No. 1 in F Minor, Op. 113: I. Allegro con fuoco

Composer(s)

Felix Mendelssohn

Artist(s)

Michel Portal

Paul Meyer

Orchestre Royal de Chambre de Wallonie

Konzertstück No. 1 in F Minor, Op. 113: I. Allegro con fuoco

$2.30

Konzertstück No. 1 in F Minor, Op. 113: II. Andante

Composer(s)

Felix Mendelssohn

Artist(s)

Michel Portal

Paul Meyer

Orchestre Royal de Chambre de Wallonie

Konzertstück No. 1 in F Minor, Op. 113: II. Andante

$2.30

Konzertstück No. 1 in F Minor, Op. 113: III. Presto

Composer(s)

Felix Mendelssohn

Artist(s)

Michel Portal

Paul Meyer

Orchestre Royal de Chambre de Wallonie

Konzertstück No. 1 in F Minor, Op. 113: III. Presto

$2.30

Konzertstück No. 2, Op. 114: I. Presto

Composer(s)

Felix Mendelssohn

Artist(s)

Michel Portal

Paul Meyer

Orchestre Royal de Chambre de Wallonie

Konzertstück No. 2, Op. 114: I. Presto

$2.30

Konzertstück No. 2, Op. 114: II. Andante

Composer(s)

Felix Mendelssohn

Artist(s)

Michel Portal

Paul Meyer

Orchestre Royal de Chambre de Wallonie

Konzertstück No. 2, Op. 114: II. Andante

$2.30

Konzertstück No. 2, Op. 114: III. Allegretto grazioso

Composer(s)

Felix Mendelssohn

Artist(s)

Michel Portal

Paul Meyer

Orchestre Royal de Chambre de Wallonie

Konzertstück No. 2, Op. 114: III. Allegretto grazioso

$2.30

Duet for Clarinets in C Major, H.636: I. Adagio e sostenuto

Composer(s)

Carl Philipp Emanuel Bach

Artist(s)

Michel Portal

Paul Meyer

Orchestre Royal de Chambre de Wallonie

Duet for Clarinets in C Major, H.636: I. Adagio e sostenuto

$2.30

Duet for Clarinets in C Major, H.636: II. Allegro

Composer(s)

Carl Philipp Emanuel Bach

Artist(s)

Michel Portal

Paul Meyer

Orchestre Royal de Chambre de Wallonie

Duet for Clarinets in C Major, H.636: II. Allegro

$2.30
Total running time: 65 minutes.

Album information

A legendary clarinettist equally experienced in classical music, jazz and film music, Michel Portal meets Paul Meyer, another outstanding ambassador of the clarinet and a long-time friend. 

Side by side and accompanied by the Orchestre de Chambre de Wallonie, they offer a programme that reveals their musical rapport for the first time on disc, whether the repertory is Baroque, galant or Romantic. So, alongside Telemann's Concerto in D minor for two chalumeaux and strings, we have Carl Stamitz's Concerto no.4 for two clarinets, while Mendelssohn's Konzertstücke nos. 1 & 2 are juxtaposed with duos by Telemann and C. P. E. Bach. Each work constitutes a calm dialogue in which words are replaced by notes, a touching testimony to two exceptional careers.
Related Artists
Reviews