Filters
Ein feste Burg ist unser Gott: Luther and the Music of the Reformation
Ein feste Burg ist unser Gott: Luther and the Music of the Reformation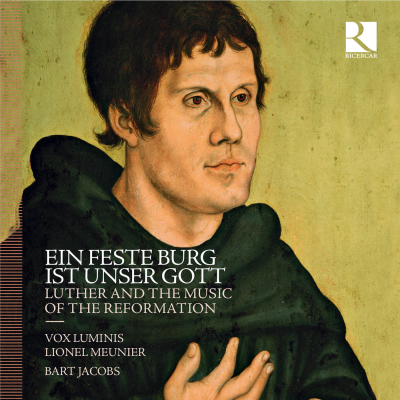 Booklet available for download
Praeambulum in D

Composer(s)

Heinrich Scheidemann

Praeambulum in D

$2.30

Nun komm der Heiden Heiland

Composer(s)

Michael Altenburg

Artist(s)

Lionel Meunier

Bart Jacobs, Zuzsi Toth, Stefanie True, Barnabas Hegyi, Olivier Berten, Robert Buckland, Matthias Lutze

Vox Luminis

Nun komm der Heiden Heiland

$2.30

Freude, Freude, grosse Freude

Composer(s)

Andreas Hammerschmidt

Artist(s)

Lionel Meunier

Bart Jacobs, Zuzsi Toth, Stefanie True, Jan Kullmann, Philippe Froeliger

Vox Luminis

Freude, Freude, grosse Freude

$2.30

Puer natus in Bethlehem

$2.30

Es ist ein Ros' entsprungen

Composer(s)

Michael Praetorius

Artist(s)

Lionel Meunier

Bart Jacobs, Philippe Froeliger

Vox Luminis

Es ist ein Ros' entsprungen

$2.30

Das alte Jahr vergangen ist, SSWV 14

Composer(s)

Samuel Scheidt

Artist(s)

Lionel Meunier

Bart Jacobs

Vox Luminis

Das alte Jahr vergangen ist, SSWV 14

$2.30

O Jesulein, mein Jesulein: I.

Composer(s)

Johann Hermann Schein

Artist(s)

Lionel Meunier

Bart Jacobs, Zuzsi Toth, Caroline Weynants

Vox Luminis

O Jesulein, mein Jesulein: I.

$2.30

Herre, nun lässt deinen Diener in Frieden fahren

Composer(s)

Michael Praetorius

Artist(s)

Lionel Meunier

Vox Luminis

Herre, nun lässt deinen Diener in Frieden fahren

$2.30

Lass mich dein sein und bleiben

Composer(s)

Delphin Strungk

Lass mich dein sein und bleiben

$2.30

O Mensch, bewein dein Sunde gross

Composer(s)

Caspar Othmayr

Artist(s)

Lionel Meunier

Haru Kitamika

Vox Luminis

O Mensch, bewein dein Sunde gross

$2.30

Christ lag in Todesbanden, SSWV 22

Composer(s)

Samuel Scheidt

Artist(s)

Lionel Meunier

Bart Jacobs

Vox Luminis

Christ lag in Todesbanden, SSWV 22

$2.30

Christ ist erstanden

Composer(s)

Samuel Scheidt

Artist(s)

Lionel Meunier

Bart Jacobs

Vox Luminis

Christ ist erstanden

$2.30

Ascendo ad patrem meum, SSWV 9

Composer(s)

Samuel Scheidt

Artist(s)

Lionel Meunier

Bart Jacobs

Vox Luminis

Ascendo ad patrem meum, SSWV 9

$2.30

Veni creator spiritus

Artist(s)

Lionel Meunier

Bart Jacobs

Vox Luminis

Veni creator spiritus

$3.40

Der du bist drei in Einigkeit

Composer(s)

Bartholomaeus Gesius

Artist(s)

Lionel Meunier

Victoria Cassano, Kristen Witmer, Barnabas Hegyi

Vox Luminis

Der du bist drei in Einigkeit

$2.30

Ein feste Burg ist unser Gott in F Major

Composer(s)

Melchior Franck

Artist(s)

Lionel Meunier

Bart Jacobs

Vox Luminis

Ein feste Burg ist unser Gott in F Major

$2.30

Ein feste Burg ist unser Gott (Fantasie)

Composer(s)

Michael Praetorius

Ein feste Burg ist unser Gott (Fantasie)

$4.60

Meine Seele erhebt den Herren, SWV 494

Composer(s)

Heinrich Schutz

Artist(s)

Lionel Meunier

Bart Jacobs

Vox Luminis

Meine Seele erhebt den Herren, SWV 494

$3.40

Missa super "Christ unser Herr": Kyrie

Composer(s)

Christoph Bernhard

Artist(s)

Lionel Meunier

Bart Jacobs

Vox Luminis

Missa super "Christ unser Herr": Kyrie

$2.30

Missa super "Christ unser Herr": Gloria

Composer(s)

Christoph Bernhard

Artist(s)

Lionel Meunier

Bart Jacobs

Vox Luminis

Missa super "Christ unser Herr": Gloria

$2.30

Christ unser Herr zum Jordan kam (Fantasia)

Composer(s)

Hieronymus Praetorius

Christ unser Herr zum Jordan kam (Fantasia)

$3.40

Aus tiefer Not

Composer(s)

Heinrich Schutz

Artist(s)

Lionel Meunier

Haru Kitamika

Vox Luminis

Aus tiefer Not

$2.30

Jesus Christus unser Heiland

Composer(s)

Johann Steffens

Jesus Christus unser Heiland

$2.30

Johannes-Passion: Erster Teil

Composer(s)

Joachim a Burck

Artist(s)

Lionel Meunier

Haru Kitamika

Vox Luminis

Johannes-Passion: Erster Teil

$2.30

Johannes-Passion: Zweiter Teil

Composer(s)

Joachim a Burck

Artist(s)

Lionel Meunier

Haru Kitamika

Vox Luminis

Johannes-Passion: Zweiter Teil

$2.30

Johannes-Passion: Dritter Teil

Composer(s)

Joachim a Burck

Artist(s)

Lionel Meunier

Haru Kitamika

Vox Luminis

Johannes-Passion: Dritter Teil

$2.30

Da Jesus an dem Kreuze stund, SSWV 238

Composer(s)

Samuel Scheidt

Da Jesus an dem Kreuze stund, SSWV 238

$2.30

Dies sind die heiligen zehn Gebot: V. 1

Composer(s)

Johann Hermann Schein

Artist(s)

Lionel Meunier

Haru Kitamika, Zsuzsi Toth, Kristen Witmer

Dies sind die heiligen zehn Gebot: V. 1

$2.30

Dies sind die heiligen zehn Gebot: V. 2

Composer(s)

Martin Luther

Artist(s)

Lionel Meunier

Vox Luminis

Dies sind die heiligen zehn Gebot: V. 2

$2.30

Wir glauben all an einen Gott

Composer(s)

Johann Walter

Artist(s)

Lionel Meunier

Haru Kitamika

Vox Luminis

Wir glauben all an einen Gott

$2.30

Vater unser der du bist im Himmel

Composer(s)

Balthasar Resinarius

Artist(s)

Lionel Meunier

Haru Kitamika

Vox Luminis

Vater unser der du bist im Himmel

$2.30

Die mit Tranen saen

Artist(s)

Lionel Meunier

Bart Jacobs

Vox Luminis

Die mit Tranen saen

$2.30

Wie lieblich sind deine Wohnungen

Composer(s)

Andreas Hammesrchmidt

Artist(s)

Lionel Meunier

Bart Jacobs

Vox Luminis

Wie lieblich sind deine Wohnungen

$2.30

Selig sind die Toten, SWV 391

Composer(s)

Heinrich Schutz

Artist(s)

Lionel Meunier

Bart Jacobs

Vox Luminis

Selig sind die Toten, SWV 391

$2.30

Ich ruf zu dir, Herr Jesu Christ, SSWV 200

Composer(s)

Samuel Scheidt

Ich ruf zu dir, Herr Jesu Christ, SSWV 200

$2.30

Mein himmlischer Vater

Composer(s)

Caspar Othmayr

Artist(s)

Lionel Meunier

Haru Kitamika

Vox Luminis

Mein himmlischer Vater

$2.30
Total running time: 150 minutes.



Album information

This is a two-disc set devoted to the Lutheran liturgical repertory from Martin Luther himself to Heinrich Schütz. This recording won the 2018 BBC Music Magazine 'Choral' Award.

The first disc comprises compositions specific to the Lutheran liturgy: Deutsche Messe, Deutsches Magnificat, Deutsche Passion (the first German polyphonic Passion, by Joachim von Burck) and even a reconstruction of a Deutsches Requiem drawn from polyphonic works that set the same texts as those Brahms was later to use for his Deutsches Requiem.

The second disc presents a selection of motets arranged according to the liturgical calendar, from Advent to Trinity. These polyphonic pieces were written by a wide range of composers including Martin Luther, Andreas Hammerschmidt, Michael Praetorius, Joachim von Burck, Christoph Bernhardt, Heinrich Schütz, Thomas Selle, Melchior Franck, Caspar Othmayr, Michael Altenburg, Samuel Scheidt, Johann Hermann Schein and Johann Walter. The organist Bart Jacobs completes the programme with a few organ pieces by seventeenth-century composers.
Related Artists
Reviews