Filters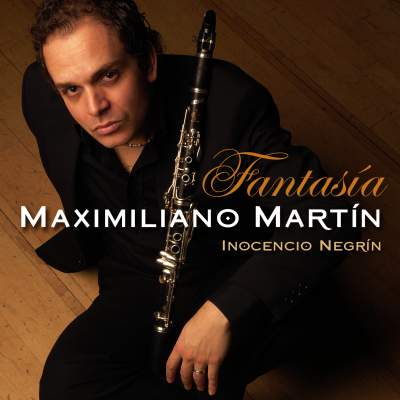 Preludia Taneczne <i>Allegro Molto</i>

Composer(s)

Witold Lutoslawski

Artist(s)

Maximilano Martin - clarinet

Inocencio Negrin - piano

Preludia Taneczne Allegro Molto

$1.80

Preludia Taneczne <i>Andantino</i>

Composer(s)

Witold Lutoslawski

Artist(s)

Maximilano Martin - clarinet

Inocencio Negrin - piano

Preludia Taneczne Andantino

$1.80

Preludia Taneczne <i>Allegro Giocoso</i>

Composer(s)

Witold Lutoslawski

Artist(s)

Maximiliano Martin - clarinet

Inocencio Negrin - piano

Preludia Taneczne Allegro Giocoso

$1.80

Preludia Taneczne <i>Andante</i>

Composer(s)

Witold Lutoslawski

Artist(s)

Maximilano Martin - clarinet

Inocencio Negrin - piano

Preludia Taneczne Andante

$1.80

Preludia Taneczne <i>Allegro Molto</i>

Composer(s)

Witold Lutoslawski

Artist(s)

Maximiliano Martin - clarinet

Inocencio Negrin - piano

Preludia Taneczne Allegro Molto

$1.80

Capricho Pintoresco Op. 41

Composer(s)

Miguel Yuste Moreno

Artist(s)

Maximiliano Martin - clarinet

nocencio Negrin - piano

Capricho Pintoresco Op. 41

$2.70

Premiere Rapsodie

Composer(s)

Claude Debussy

Artist(s)

Inocencio Negrin - piano

Premiere Rapsodie

$2.70

Estudio Melodico Op. 33

Composer(s)

Miguel Yuste Moreno

Artist(s)

Maximiliano Martin - clarinet

Inocencio Negrin - piano

Estudio Melodico Op. 33

$1.80

Sonata for Clarinet and Piano <i>Allegro Tristamente</i>

Composer(s)

Francis Poulenc

Artist(s)

Maximiliano Martin - clarinet

Inocencio Negrin - piano

Sonata for Clarinet and Piano Allegro Tristamente

$1.80

Sonata for Clarinet and Piano <i>Romanza</i>

Composer(s)

Francis Poulenc

Artist(s)

Maximiliano Martin - clarinet

Inocencio Negrin - piano

Sonata for Clarinet and Piano Romanza

$1.80

Sonata for Clarinet and Piano <i>Allegro Con Fuoco</i>

Composer(s)

Francis Poulenc

Artist(s)

Maximiliano Martin - clarinet

Inocencio Negrin - piano

Sonata for Clarinet and Piano Allegro Con Fuoco

$1.80

Fantasy

Artist(s)

Maximiliano Martin - clarinet

Inocencio Negrin - piano

Fantasy

$1.80

Fantasia sobre motivos de Lucrecia Borgia

Composer(s)

Antonio Romero Y Andia

Artist(s)

Maximiliano Martin - clarinet

Inocencio Negrin - piano

Fantasia sobre motivos de Lucrecia Borgia

$2.70
Total running time: 60 minutes.
Album information

 The brilliant debut recital disc from charismatic Spanish clarinettist Maximiliano Martín includes repertoire by Lutoslawksi, Nielsen, Debussy and Poulenc, accompanied on piano by fellow Spaniard Inocencio Negrin.

Martín and Negrín's selection represents a fresh, original and coherent collection of European works for clarinet and piano broadly representing the transition from late-romantic to 20th century modernist music. For the classical buyer looking for something new and different, this disc will make a fascinating listen.

Opening the programme are Lutoslawski's Dance Preludes, written in 1954 shortly after the death of Stalin, who had previously banned the composer's music for not conforming to the Communist ideal. Poulenc's Sonata for Clarinet and Piano is another highlight: the composer had planned sonatas for all the woodwind instruments but this was one of only three he was able to complete before his death in 1963. The choice of works by Yuste and Romero also gives the disc a Spanish flavour, in keeping with the soloists' nationalities.
Related Artists
Reviews