Filters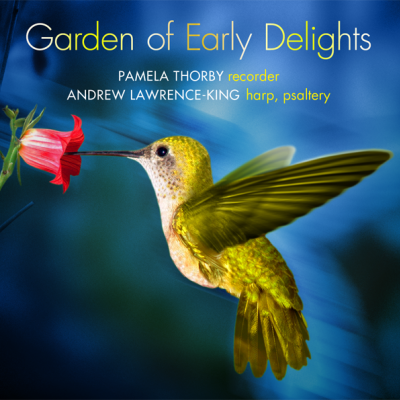 Inlay available for download
Booklet available for download
Trattado de Glosas: Recercada segunda de tenore

Artist(s)

Pamela Thorby - g alto recorderAndrew Lawrence-King

Trattado de Glosas: Recercada segunda de tenore

$2.30

Der Flutyen Lust-Hof: Wat zal men op den Avond doen

Composer(s)

Jacob van Eyck

Artist(s)

Pamela Thorby - soprano recorderAndrew Lawrence-King

Der Flutyen Lust-Hof: Wat zal men op den Avond doen

$2.30

Der Flutyen Lust-Hof: Derde, Doen Daphne d'over

Composer(s)

Jacob van Eyck

Artist(s)

Pamela Thorby - soprano recorderAndrew Lawrence-King

Der Flutyen Lust-Hof: Derde, Doen Daphne d'over

$2.30

Der Flutyen Lust-Hof: Boffons

Composer(s)

Jacob van Eyck

Artist(s)

Pamela Thorby - g alto recorderAndrew Lawrence-King

Der Flutyen Lust-Hof: Boffons

$2.30

Sonate concertate in stil modern, libro second: Sonata seconda a soprano solo

Composer(s)

Dario Castello

Artist(s)

Pamela Thorby - g alto recorderAndrew Lawrence-King

Sonate concertate in stil modern, libro second: Sonata seconda a soprano solo

$2.30

Second Book of Songes: Sorrow, sorrow stay

Artist(s)

Andrew Lawrence-King

Second Book of Songes: Sorrow, sorrow stay

$2.30

T'Uitnement Kabinet (after Dowland): Lachrime Pavaen

Artist(s)

Pamela Thorby - tenor recorder

T'Uitnement Kabinet (after Dowland): Lachrime Pavaen

$2.30

Third Book of Songes: Weep you no more

Artist(s)

Andrew Lawrence-King

Third Book of Songes: Weep you no more

$2.30

Motetti, madrigali et canzone francese: Susanne un jour

Composer(s)

Giovanni Bassano

Artist(s)

Pamela Thorby - g alto recorder

Motetti, madrigali et canzone francese: Susanne un jour

$2.30

Trattado de Glosas: Recercada segunda de canto llano

Artist(s)

Andrew Lawrence-King

Trattado de Glosas: Recercada segunda de canto llano

$2.30

Sonate a 1. 2. 3. per il violin, o cornetto, fagotto, chitarone, violincino o simile altro istrumento: Sonata sesta

Composer(s)

Giovanni Battista Fontana

Artist(s)

Pamela Thorby - soprano recorderAndrew Lawrence-King

Sonate a 1. 2. 3. per il violin, o cornetto, fagotto, chitarone, violincino o simile altro istrumento: Sonata sesta

$2.30

Per Ogni Sorte d'Stromento: Passacalio

Composer(s)

Biagio Marini

Artist(s)

Andrew Lawrence-King

Per Ogni Sorte d'Stromento: Passacalio

$2.30

Sonate a 1. 2. 3. per il violin, o cornetto, fagotto, chitarone, violincino o simile altro istrumento: Sonata seconda

Composer(s)

Giovanni Battista Fontana

Artist(s)

Pamela Thorby - soprano recorderAndrew Lawrence-King

Sonate a 1. 2. 3. per il violin, o cornetto, fagotto, chitarone, violincino o simile altro istrumento: Sonata seconda

$2.30

Der Flutyen Lust-Hof: Amarilli mia bella

Composer(s)

Jacob van Eyck

Artist(s)

Pamela Thorby - tenor recorderAndrew Lawrence-King

Der Flutyen Lust-Hof: Amarilli mia bella

$2.30

Trattado de Glosas: Recercada prima sobre doulce mémoire

Composer(s)

Diego Ortiz after Sandrin

Artist(s)

Andrew Lawrence-King

Trattado de Glosas: Recercada prima sobre doulce mémoire

$2.30

Motetti, madrigali et canzone francese: Frais et gaillard

Composer(s)

Giovanni Bassano after Clemens non Papa

Artist(s)

Pamela Thorby - soprano recorderAndrew Lawrence-King

Motetti, madrigali et canzone francese: Frais et gaillard

$2.30
Total running time: 67 minutes.

Album information

Pamela Thorby collaborates with Andrew Lawrence-King in this delightfully vibrant selection of pieces from the Renaissance and early Baroque periods.

Garden of Early Delights is a mixed bouquet of diverse, joyous, unusual and eloquent pieces from the Renaissance and Early Baroque periods. Performed by Pamela Thorby on recorders and Andrew Lawrence-King on harps and psaltery, these are two virtuosic musicians unsurpassed in their respective fields.

The garden of sixteenth and seventeenth-century music brought forth a rich harvest of symbolism and literary associations – some of which are presented on this album. The programme includes bursts of good humour in the treatment of van Eyck's popular variations, sensuous melancholy from Dowland contrasting with the formality of diminutions on favourite madrigals. Garden of Early Delights includes solo pieces from both musicians, plus works that allow them to come together and showcase their considerable skills for musical interaction. 

Pamela Thorby and Andrew Lawrence-King merge their considerable experience of other genres to deliver a unique performance on an album that brings to life music full of surprise, beauty and delight.
Related Artists
Reviews