Filters
Lawes: Consorts to the Organ
Lawes: Consorts to the Organ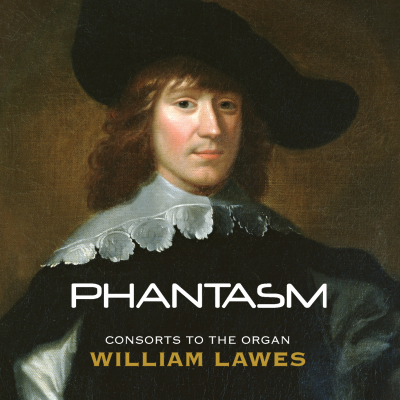 Inlay available for download
Booklet available for download
Set a5 in g – I. Fantazya a5

Composer(s)

William Lawes

Artist(s)

Laurence Dreyfus

Phantasm

Set a5 in g – I. Fantazya a5

$2.30

Set a5 in g – II. On the Playnsong: a5

Composer(s)

William Lawes

Artist(s)

Laurence Dreyfus

Phantasm

Set a5 in g – II. On the Playnsong: a5

$2.30

Set a5 in g – III. Aire a5

Composer(s)

William Lawes

Artist(s)

Laurence Dreyfus

Phantasm

Set a5 in g – III. Aire a5

$2.30

Set a5 in a – I. Fantasy a5 (No. 1)

Composer(s)

William Lawes

Artist(s)

Laurence Dreyfus

Phantasm

Set a5 in a – I. Fantasy a5 (No. 1)

$2.30

Set a5 in a – II. Fantazia a5 (No. 2)

Composer(s)

William Lawes

Artist(s)

Laurence Dreyfus

Phantasm

Set a5 in a – II. Fantazia a5 (No. 2)

$2.30

Set a5 in a – III. Aire a5

Composer(s)

William Lawes

Artist(s)

Laurence Dreyfus

Phantasm

Set a5 in a – III. Aire a5

$2.30

Set a5 in c – I. Fantazia a5

Composer(s)

William Lawes

Artist(s)

Laurence Dreyfus

Phantasm

Set a5 in c – I. Fantazia a5

$2.30

Set a5 in c – II. Aire a5 (No. 1)

Composer(s)

William Lawes

Artist(s)

Laurence Dreyfus

Phantasm

Set a5 in c – II. Aire a5 (No. 1)

$2.30

Set a5 in c – III. Paven a5

Composer(s)

William Lawes

Artist(s)

Laurence Dreyfus

Phantasm

Set a5 in c – III. Paven a5

$2.30

Set a5 in c – IV. Aire a5 (No. 2)

Composer(s)

William Lawes

Artist(s)

Laurence Dreyfus

Phantasm

Set a5 in c – IV. Aire a5 (No. 2)

$2.30

Set a5 in C – I. Fantazy a5

Composer(s)

William Lawes

Artist(s)

Laurence Dreyfus

Phantasm

Set a5 in C – I. Fantazy a5

$2.30

Set a5 in C – II. Paven a5

Composer(s)

William Lawes

Artist(s)

Laurence Dreyfus

Phantasm

Set a5 in C – II. Paven a5

$2.30

Set a5 in C – III. Aire a5

Composer(s)

William Lawes

Artist(s)

Laurence Dreyfus

Phantasm

Set a5 in C – III. Aire a5

$2.30

Set a6 in g – I. Paven a6

Composer(s)

William Lawes

Artist(s)

Laurence Dreyfus

Phantasm

Set a6 in g – I. Paven a6

$2.30

Set a6 in g – II. Fantazy a6

Composer(s)

William Lawes

Artist(s)

Laurence Dreyfus

Phantasm

Set a6 in g – II. Fantazy a6

$2.30

Set a6 in g – III. Aire a6

Composer(s)

William Lawes

Artist(s)

Laurence Dreyfus

Phantasm

Set a6 in g – III. Aire a6

$2.30

Set a6 in F – I. Aire a6 (No. 1)

Composer(s)

William Lawes

Artist(s)

Laurence Dreyfus

Phantasm

Set a6 in F – I. Aire a6 (No. 1)

$2.30

Set a6 in F – II. Fantazy a6 (No. 1)

Composer(s)

William Lawes

Artist(s)

Laurence Dreyfus

Phantasm

Set a6 in F – II. Fantazy a6 (No. 1)

$2.30

Set a6 in F – III. Aire a6 (No. 2)

Composer(s)

William Lawes

Artist(s)

Laurence Dreyfus

Phantasm

Set a6 in F – III. Aire a6 (No. 2)

$2.30

Set a6 in F – IV. Fantazy a6 (No. 2)

Composer(s)

William Lawes

Artist(s)

Laurence Dreyfus

Phantasm

Set a6 in F – IV. Fantazy a6 (No. 2)

$2.30

Set a6 in B flat – I. Fantazy a6

Composer(s)

William Lawes

Artist(s)

Laurence Dreyfus

Phantasm

Set a6 in B flat – I. Fantazy a6

$2.30

Set a6 in B flat – II. Aire a6

Composer(s)

William Lawes

Artist(s)

Laurence Dreyfus

Phantasm

Set a6 in B flat – II. Aire a6

$2.30

Set a6 in B flat – III. Inominy a6

Composer(s)

William Lawes

Artist(s)

Laurence Dreyfus

Phantasm

Set a6 in B flat – III. Inominy a6

$2.30

BONUS TRACK: Set a5 in a – I. Fantasy a5 (No. 1) (Alternative version)

Composer(s)

William Lawes

Artist(s)

Laurence Dreyfus

Phantasm

BONUS TRACK: Set a5 in a – I. Fantasy a5 (No. 1) (Alternative version)

$2.30
Total running time: 80 minutes.



Album information

Phantasm return to explore the viol music of William Lawes. This recording was nominated for a 2013 BBC Music Magazine Award and a 2013 Gramophone Award.

Consorts to the Organ honours the celebrated English Renaissance composer William Lawes and includes a selection of the five- and six-part sets, some versions of which are premiere recordings. These works, the pinnacle of Lawes' achievement, challenged the musical rules of the day; his imagination and ingenuity created remarkable and enduring music. Phantasm is joined for this recording by guest musician Daniel Hyde (organ).

In addition to its two award nominations this recording was named one of the '168 Best Classical Music Recordings' by The Telegraph and awarded five stars by The Irish Times, The Telegraph, Choir & Organ, BBC Music Magazine and Klassisk.
Related Artists
Reviews