Filters
Marais: Cinquième livre de pièces de viole
Marais: Cinquième livre de pièces de viole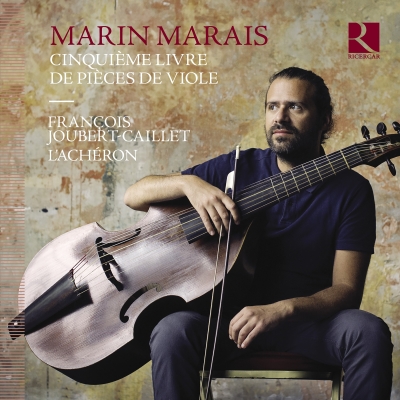 Inlay available for download
Booklet available for download
[Suite en la majeur]: I. Prélude (17)

Artist(s)

L'Achéron

François Joubert-Caillet

[Suite en la majeur]: I. Prélude (17)

$2.30

[Suite en la majeur]: II. Allemande (18)

Artist(s)

L'Achéron

François Joubert-Caillet

[Suite en la majeur]: II. Allemande (18)

$2.30

[Suite en la majeur]: III. Sarabande (19)

Artist(s)

L'Achéron

François Joubert-Caillet

[Suite en la majeur]: III. Sarabande (19)

$2.30

[Suite en la majeur]: IV. Gigue (20)

Artist(s)

L'Achéron

François Joubert-Caillet

[Suite en la majeur]: IV. Gigue (20)

$2.30

[Suite en la majeur]: V. Marche à la Turque (21)

Artist(s)

L'Achéron

François Joubert-Caillet

[Suite en la majeur]: V. Marche à la Turque (21)

$2.30

[Suite en la majeur]: VI. Gavotte (22)

Artist(s)

L'Achéron

François Joubert-Caillet

[Suite en la majeur]: VI. Gavotte (22)

$2.30

[Suite en la majeur]: VII. Menuet (23)

Artist(s)

L'Achéron

François Joubert-Caillet

[Suite en la majeur]: VII. Menuet (23)

$2.30

[Suite en la majeur]: VIII. 2e Menuet (24) & Double (25)

Artist(s)

L'Achéron

François Joubert-Caillet

[Suite en la majeur]: VIII. 2e Menuet (24) & Double (25)

$2.30

[Suite en la majeur]: IX. La petite Bru, Air gracieux (26)

Artist(s)

L'Achéron

François Joubert-Caillet

[Suite en la majeur]: IX. La petite Bru, Air gracieux (26)

$2.30

[Suite en la majeur]: X. Fantaisie (27)*

Artist(s)

L'Achéron

François Joubert-Caillet

[Suite en la majeur]: X. Fantaisie (27)*

$2.30

[Suite en la majeur]: XI. Grand Rondeau (28)*

Artist(s)

L'Achéron

François Joubert-Caillet

[Suite en la majeur]: XI. Grand Rondeau (28)*

$2.30

[Suite en la majeur]: XII. La Babillarde (29) & Double (30)

Artist(s)

L'Achéron

François Joubert-Caillet

[Suite en la majeur]: XII. La Babillarde (29) & Double (30)

$2.30

[Suite en la majeur]: XIII. Chaconne (31)*

Artist(s)

L'Achéron

François Joubert-Caillet

[Suite en la majeur]: XIII. Chaconne (31)*

$2.30

[Suite en ré majeur]: I. Prélude (47)

Artist(s)

L'Achéron

François Joubert-Caillet

[Suite en ré majeur]: I. Prélude (47)

$2.30

[Suite en ré majeur]: II. Allemande la Flateuse (48)

Artist(s)

L'Achéron

François Joubert-Caillet

[Suite en ré majeur]: II. Allemande la Flateuse (48)

$2.30

[Suite en ré majeur]: III. Sarabande (49)

Artist(s)

L'Achéron

François Joubert-Caillet

[Suite en ré majeur]: III. Sarabande (49)

$2.30

[Suite en ré majeur]: IV. Gigue (50)

Artist(s)

L'Achéron

François Joubert-Caillet

[Suite en ré majeur]: IV. Gigue (50)

$2.30

[Suite en ré majeur]: V. Gavotte (51)

Artist(s)

L'Achéron

François Joubert-Caillet

[Suite en ré majeur]: V. Gavotte (51)

$2.30

[Suite en ré majeur]: VI. Menuet (52)

Artist(s)

L'Achéron

François Joubert-Caillet

[Suite en ré majeur]: VI. Menuet (52)

$2.30

[Suite en ré majeur]: VII. 2e Menuet (53)

Artist(s)

L'Achéron

François Joubert-Caillet

[Suite en ré majeur]: VII. 2e Menuet (53)

$2.30

[Suite en ré majeur]: VIII. La Fromental (54) & Double (5)

Artist(s)

L'Achéron

François Joubert-Caillet

[Suite en ré majeur]: VIII. La Fromental (54) & Double (5)

$2.30

[Suite en ré majeur]: IX. Chaconne (56)*

Artist(s)

L'Achéron

François Joubert-Caillet

[Suite en ré majeur]: IX. Chaconne (56)*

$2.30

[Suite en ré majeur]: X. Fantaisie (58) & Double (58b)*

Artist(s)

L'Achéron

François Joubert-Caillet

[Suite en ré majeur]: X. Fantaisie (58) & Double (58b)*

$2.30

[Suite en ré majeur]: XI. Allemande La Dornel (59)*

Artist(s)

L'Achéron

François Joubert-Caillet

[Suite en ré majeur]: XI. Allemande La Dornel (59)*

$2.30

[Suite en ré majeur]: XII. Allemande dans le goût des Anciens (60)*

Artist(s)

L'Achéron

François Joubert-Caillet

[Suite en ré majeur]: XII. Allemande dans le goût des Anciens (60)*

$2.30

[Suite en ré majeur]: XIII. Rondeau Le Brillant (62) *

Artist(s)

L'Achéron

François Joubert-Caillet

[Suite en ré majeur]: XIII. Rondeau Le Brillant (62) *

$2.30

[Suite en sol mineur]: I. Prélude (63)

Artist(s)

L'Achéron

François Joubert-Caillet

[Suite en sol mineur]: I. Prélude (63)

$2.30

[Suite en sol mineur]: II. Fantaisie (64)

Artist(s)

L'Achéron

François Joubert-Caillet

[Suite en sol mineur]: II. Fantaisie (64)

$2.30

[Suite en sol mineur]: III. Allemande La freval des loges (65)

Artist(s)

L'Achéron

François Joubert-Caillet

[Suite en sol mineur]: III. Allemande La freval des loges (65)

$2.30

[Suite en sol mineur]: IV. Sarabande (66)

Artist(s)

L'Achéron

François Joubert-Caillet

[Suite en sol mineur]: IV. Sarabande (66)

$2.30

[Suite en sol mineur]: V. Gigue la Pagode (67)

Artist(s)

L'Achéron

François Joubert-Caillet

[Suite en sol mineur]: V. Gigue la Pagode (67)

$2.30

[Suite en sol mineur]: VI. Gavotte (68)

Artist(s)

L'Achéron

François Joubert-Caillet

[Suite en sol mineur]: VI. Gavotte (68)

$2.30

[Suite en sol mineur]: VII. Menuet (69)

Artist(s)

L'Achéron

François Joubert-Caillet

[Suite en sol mineur]: VII. Menuet (69)

$2.30

[Suite en sol mineur]: VIII. Allemande La Marianne (70)*

Artist(s)

L'Achéron

François Joubert-Caillet

[Suite en sol mineur]: VIII. Allemande La Marianne (70)*

$2.30

[Suite en sol mineur]: IX. Tombeau pour Marais le Cadet (71)*

Artist(s)

L'Achéron

François Joubert-Caillet

[Suite en sol mineur]: IX. Tombeau pour Marais le Cadet (71)*

$2.30

[Suite en sol mineur]: X. Rondeau le Badin (72)*

Artist(s)

L'Achéron

François Joubert-Caillet

[Suite en sol mineur]: X. Rondeau le Badin (72)*

$2.30

[Suite en sol mineur]: XI. La Georgienne ou la Maupertuy (73)*

Artist(s)

L'Achéron

François Joubert-Caillet

[Suite en sol mineur]: XI. La Georgienne ou la Maupertuy (73)*

$2.30

[Suite en sol majeur]: I. Prélude (74)

Artist(s)

L'Achéron

François Joubert-Caillet

[Suite en sol majeur]: I. Prélude (74)

$2.30

[Suite en sol majeur]: II. Allemande La Fière (75)

Artist(s)

L'Achéron

François Joubert-Caillet

[Suite en sol majeur]: II. Allemande La Fière (75)

$2.30

[Suite en sol majeur]: III. Sarabande (76)

Artist(s)

L'Achéron

François Joubert-Caillet

[Suite en sol majeur]: III. Sarabande (76)

$2.30

[Suite en sol majeur]: IV. Gigue la precieuse (77)

Artist(s)

L'Achéron

François Joubert-Caillet

[Suite en sol majeur]: IV. Gigue la precieuse (77)

$2.30

[Suite en sol majeur]: V. Gavotte (78)

Artist(s)

L'Achéron

François Joubert-Caillet

[Suite en sol majeur]: V. Gavotte (78)

$2.30

[Suite en sol majeur]: VI. 2e Gavotte legere (79)

Artist(s)

L'Achéron

François Joubert-Caillet

[Suite en sol majeur]: VI. 2e Gavotte legere (79)

$2.30

[Suite en sol majeur]: VII. Menuet (80)

Artist(s)

L'Achéron

François Joubert-Caillet

[Suite en sol majeur]: VII. Menuet (80)

$2.30

[Suite en sol majeur]: VIII. 2e Menuet (81)

Artist(s)

L'Achéron

François Joubert-Caillet

[Suite en sol majeur]: VIII. 2e Menuet (81)

$2.30

[Suite en sol majeur]: IX. Rondeau le Troilleur (82)

Artist(s)

L'Achéron

François Joubert-Caillet

[Suite en sol majeur]: IX. Rondeau le Troilleur (82)

$2.30

[Suite en sol majeur]: X. Chaconne (83)*

Artist(s)

L'Achéron

François Joubert-Caillet

[Suite en sol majeur]: X. Chaconne (83)*

$2.30

[Suite en sol majeur]: XI. La Tatillone (84)*

Artist(s)

L'Achéron

François Joubert-Caillet

[Suite en sol majeur]: XI. La Tatillone (84)*

$2.30

[Suite en sol majeur]: XII. Saillie du Jardin (85)*

Artist(s)

L'Achéron

François Joubert-Caillet

[Suite en sol majeur]: XII. Saillie du Jardin (85)*

$2.30

[Suite en sol majeur]: XIII. Gigue la pointilleuse (86)*

Artist(s)

L'Achéron

François Joubert-Caillet

[Suite en sol majeur]: XIII. Gigue la pointilleuse (86)*

$2.30

[Suite en sol majeur]: XIV. Le Jeu du Volant (87)*

Artist(s)

L'Achéron

François Joubert-Caillet

[Suite en sol majeur]: XIV. Le Jeu du Volant (87)*

$2.30

[Suite en sol majeur]: XV. Allemande Poisat (88)*

Artist(s)

L'Achéron

François Joubert-Caillet

[Suite en sol majeur]: XV. Allemande Poisat (88)*

$2.30

[Suite en sol majeur]: XVI. Basse variée pour la viole (88a)*

Artist(s)

L'Achéron

François Joubert-Caillet

[Suite en sol majeur]: XVI. Basse variée pour la viole (88a)*

$2.30

[Suite en sol majeur]: XVII. Le Rondeau Villeneuve (89)*

Artist(s)

L'Achéron

François Joubert-Caillet

[Suite en sol majeur]: XVII. Le Rondeau Villeneuve (89)*

$2.30

[Suite en sol majeur]: XVIII. Le petit Badinage (90)*

Artist(s)

L'Achéron

François Joubert-Caillet

[Suite en sol majeur]: XVIII. Le petit Badinage (90)*

$2.30

[Suite en sol majeur]: XIX. Dialogue (91)

Artist(s)

L'Achéron

François Joubert-Caillet

[Suite en sol majeur]: XIX. Dialogue (91)

$2.30

[Suite en sol majeur]: XX. La Poitevine (112)

Artist(s)

L'Achéron

François Joubert-Caillet

[Suite en sol majeur]: XX. La Poitevine (112)

$2.30

[Suite en mi mineur]: I. Prélude (92)

Artist(s)

L'Achéron

François Joubert-Caillet

[Suite en mi mineur]: I. Prélude (92)

$2.30

[Suite en mi mineur]: II. Allemande La Beuron (93)

Artist(s)

L'Achéron

François Joubert-Caillet

[Suite en mi mineur]: II. Allemande La Beuron (93)

$2.30

[Suite en mi mineur]: III. La Simplicité Paÿsanne (94)

Artist(s)

L'Achéron

François Joubert-Caillet

[Suite en mi mineur]: III. La Simplicité Paÿsanne (94)

$2.30

[Suite en mi mineur]: IV. Allemande la Baily Duchené (95)

Artist(s)

L'Achéron

François Joubert-Caillet

[Suite en mi mineur]: IV. Allemande la Baily Duchené (95)

$2.30

[Suite en mi mineur]: V. Gavotte Singulière (96)

Artist(s)

L'Achéron

François Joubert-Caillet

[Suite en mi mineur]: V. Gavotte Singulière (96)

$2.30

[Suite en mi mineur]: VI. 2e Gavotte La Mignone (97)

Artist(s)

L'Achéron

François Joubert-Caillet

[Suite en mi mineur]: VI. 2e Gavotte La Mignone (97)

$2.30

[Suite en mi mineur]: VII. Sarabande (98)

Artist(s)

L'Achéron

François Joubert-Caillet

[Suite en mi mineur]: VII. Sarabande (98)

$2.30

[Suite en mi mineur]: VIII. Menuet (99)

Artist(s)

L'Achéron

François Joubert-Caillet

[Suite en mi mineur]: VIII. Menuet (99)

$2.30

[Suite en mi mineur]: IX. 2e Menuet (100)

Artist(s)

L'Achéron

François Joubert-Caillet

[Suite en mi mineur]: IX. 2e Menuet (100)

$2.30

[Suite en mi mineur]: X. Resveries Mesplaiziennes (101)

Artist(s)

L'Achéron

François Joubert-Caillet

[Suite en mi mineur]: X. Resveries Mesplaiziennes (101)

$2.30

[Suite en mi mineur]: XI. Marche Persane la Savigny (102)*

Artist(s)

L'Achéron

François Joubert-Caillet

[Suite en mi mineur]: XI. Marche Persane la Savigny (102)*

$2.30

[Suite en mi mineur]: XII. Rondeau Le Plaisant (103)*

Artist(s)

L'Achéron

François Joubert-Caillet

[Suite en mi mineur]: XII. Rondeau Le Plaisant (103)*

$2.30

[Suite en mi mineur]: XIII. Gigue la resolüe (104)*

Artist(s)

L'Achéron

François Joubert-Caillet

[Suite en mi mineur]: XIII. Gigue la resolüe (104)*

$2.30

[Suite en mi mineur]: XIV. Les Amusements (105)*

Artist(s)

L'Achéron

François Joubert-Caillet

[Suite en mi mineur]: XIV. Les Amusements (105)*

$2.30

[Suite en mi mineur]: XV. Le Contraste (106)*

Artist(s)

L'Achéron

François Joubert-Caillet

[Suite en mi mineur]: XV. Le Contraste (106)*

$2.30

[Suite en mi mineur]: XVI. Le Caprice Bellemont (107)*

Artist(s)

L'Achéron

François Joubert-Caillet

[Suite en mi mineur]: XVI. Le Caprice Bellemont (107)*

$2.30

[Suite en mi mineur]: XVII. Le Tableau de l'Opération de la Taille (108)*

Artist(s)

L'Achéron

François Joubert-Caillet

[Suite en mi mineur]: XVII. Le Tableau de l'Opération de la Taille (108)*

$2.30

[Suite en mi mineur]: XVIII. Les Relevailles (109)*

Artist(s)

L'Achéron

François Joubert-Caillet

[Suite en mi mineur]: XVIII. Les Relevailles (109)*

$2.30

[Suite en mi mineur]: XIX. Suitte (110)*

Artist(s)

L'Achéron

François Joubert-Caillet

[Suite en mi mineur]: XIX. Suitte (110)*

$2.30

[Suite en mi mineur]: XX. Suitte (111)*

Artist(s)

L'Achéron

François Joubert-Caillet

[Suite en mi mineur]: XX. Suitte (111)*

$2.30

[Pièces en ré mineur]: I. Le Tact (114)*

Artist(s)

L'Achéron

François Joubert-Caillet

[Pièces en ré mineur]: I. Le Tact (114)*

$2.30

[Pièces en ré mineur]: II. La même pièce rendüe facile (115)

Artist(s)

L'Achéron

François Joubert-Caillet

[Pièces en ré mineur]: II. La même pièce rendüe facile (115)

$2.30

[Pièces en ré mineur]: III. La Paraza (113)*

Artist(s)

L'Achéron

François Joubert-Caillet

[Pièces en ré mineur]: III. La Paraza (113)*

$2.30

[Pièces en ré mineur]: IV. Caprice (61)*

Artist(s)

L'Achéron

François Joubert-Caillet

[Pièces en ré mineur]: IV. Caprice (61)*

$2.30

[Pièces en ré mineur]: V. Variations sur une basse contrainte (57)*

Artist(s)

L'Achéron

François Joubert-Caillet

[Pièces en ré mineur]: V. Variations sur une basse contrainte (57)*

$2.30

[Suite en fa majeur]: I. Prélude (32)

Artist(s)

L'Achéron

François Joubert-Caillet

[Suite en fa majeur]: I. Prélude (32)

$2.30

[Suite en fa majeur]: II. Allemande la bois Guillaume (33)

Artist(s)

L'Achéron

François Joubert-Caillet

[Suite en fa majeur]: II. Allemande la bois Guillaume (33)

$2.30

[Suite en fa majeur]: III. Sarabande (34)

Artist(s)

L'Achéron

François Joubert-Caillet

[Suite en fa majeur]: III. Sarabande (34)

$2.30

[Suite en fa majeur]: IV. La Demoi Gigue (35)

Artist(s)

L'Achéron

François Joubert-Caillet

[Suite en fa majeur]: IV. La Demoi Gigue (35)

$2.30

[Suite en fa majeur]: V. Menuet (36)

Artist(s)

L'Achéron

François Joubert-Caillet

[Suite en fa majeur]: V. Menuet (36)

$2.30

[Suite en fa majeur]: VI. 2e Menuet (37) & Double (38)

Artist(s)

L'Achéron

François Joubert-Caillet

[Suite en fa majeur]: VI. 2e Menuet (37) & Double (38)

$2.30

[Suite en fa majeur]: VII. Gavotte (39)

Artist(s)

L'Achéron

François Joubert-Caillet

[Suite en fa majeur]: VII. Gavotte (39)

$2.30

[Suite en fa majeur]: VIII. Rondeau Paysan (40)

Artist(s)

L'Achéron

François Joubert-Caillet

[Suite en fa majeur]: VIII. Rondeau Paysan (40)

$2.30

[Suite en fa majeur]: IX. Rondeau le doucereux (41)

Artist(s)

L'Achéron

François Joubert-Caillet

[Suite en fa majeur]: IX. Rondeau le doucereux (41)

$2.30

[Suite en fa majeur]: X. Idée Grotesque (42) & Double (43)*

Artist(s)

L'Achéron

François Joubert-Caillet

[Suite en fa majeur]: X. Idée Grotesque (42) & Double (43)*

$2.30

[Suite en fa majeur]: XI. Les Forgerons (44)*

Artist(s)

L'Achéron

François Joubert-Caillet

[Suite en fa majeur]: XI. Les Forgerons (44)*

$2.30

[Suite en fa majeur]: XII. Le Toucher du clavecin (45)*

Artist(s)

L'Achéron

François Joubert-Caillet

[Suite en fa majeur]: XII. Le Toucher du clavecin (45)*

$2.30

[Suite en fa majeur]: XIII. Prélude en harpègement (46)*

Artist(s)

L'Achéron

François Joubert-Caillet

[Suite en fa majeur]: XIII. Prélude en harpègement (46)*

$2.30

[Suite en la mineur]: I. Prélude le Soligni (1)

Artist(s)

L'Achéron

François Joubert-Caillet

[Suite en la mineur]: I. Prélude le Soligni (1)

$2.30

[Suite en la mineur]: II. Allemande la Facile (2)

Artist(s)

L'Achéron

François Joubert-Caillet

[Suite en la mineur]: II. Allemande la Facile (2)

$2.30

[Suite en la mineur]: III. Sarabande (3)

Artist(s)

L'Achéron

François Joubert-Caillet

[Suite en la mineur]: III. Sarabande (3)

$2.30

[Suite en la mineur]: IV. La Mariée (4)

Artist(s)

L'Achéron

François Joubert-Caillet

[Suite en la mineur]: IV. La Mariée (4)

$2.30

[Suite en la mineur]: V. Gavotte (5)

Artist(s)

L'Achéron

François Joubert-Caillet

[Suite en la mineur]: V. Gavotte (5)

$2.30

[Suite en la mineur]: VI. Gigue (6)

Artist(s)

L'Achéron

François Joubert-Caillet

[Suite en la mineur]: VI. Gigue (6)

$2.30

[Suite en la mineur]: VII. Menuet & Double (7)

Artist(s)

L'Achéron

François Joubert-Caillet

[Suite en la mineur]: VII. Menuet & Double (7)

$2.30

[Suite en la mineur]: VIII. 2e Menuet (8)

Artist(s)

L'Achéron

François Joubert-Caillet

[Suite en la mineur]: VIII. 2e Menuet (8)

$2.30

[Suite en la mineur]: IX. La Sincope (9)

Artist(s)

L'Achéron

François Joubert-Caillet

[Suite en la mineur]: IX. La Sincope (9)

$2.30

[Suite en la mineur]: X. Petit Caprice (10)

Artist(s)

L'Achéron

François Joubert-Caillet

[Suite en la mineur]: X. Petit Caprice (10)

$2.30

[Suite en la mineur]: XI. Rondeau (11)

Artist(s)

L'Achéron

François Joubert-Caillet

[Suite en la mineur]: XI. Rondeau (11)

$2.30

[Suite en la mineur]: XII. La Bagatelle (12)

Artist(s)

L'Achéron

François Joubert-Caillet

[Suite en la mineur]: XII. La Bagatelle (12)

$2.30

[Suite en la mineur]: XIII. Fantaisie (12b)*

Artist(s)

L'Achéron

François Joubert-Caillet

[Suite en la mineur]: XIII. Fantaisie (12b)*

$2.30

[Suite en la mineur]: XIV. Grande Gavotte (13)*

Artist(s)

L'Achéron

François Joubert-Caillet

[Suite en la mineur]: XIV. Grande Gavotte (13)*

$2.30

[Suite en la mineur]: XV. Gigue La Mutine (14)*

Artist(s)

L'Achéron

François Joubert-Caillet

[Suite en la mineur]: XV. Gigue La Mutine (14)*

$2.30

[Suite en la mineur]: XVI. Rondeau moitié pincé et moitié coup d'archet (15)*

Artist(s)

L'Achéron

François Joubert-Caillet

[Suite en la mineur]: XVI. Rondeau moitié pincé et moitié coup d'archet (15)*

$2.30

[Suite en la mineur]: XVII. Prélude en harpègement (16)

Artist(s)

L'Achéron

François Joubert-Caillet

[Suite en la mineur]: XVII. Prélude en harpègement (16)

$2.30
Total running time: 224 minutes.
Album information

François Joubert-Caillet and L'Achéron bring to a close their seven-year project to record the complete Pièces de Viole of Marin Marais.

Marais published his last collection in 1725, eight years after the appearance of his Quatrième Livre de Pièces de Viole. He was no longer playing in the Chambre du Roi by that time and had moved to a house in the Faubourg Saint-Marceau where he cultivated plants and flowers in his garden. He continued, however, to give lessons to people who wanted to improve their viol playing.

The Cinquième Livre de Pièces de Viole reflects this image of a peaceful life; today we regard it as the final testament of a musician who was looking back upon his past years as their undisputed master — and which he remains today.
Related Artists