Filters
Morricone: Cinema Rarities for Violin and String Orchestra
Morricone: Cinema Rarities for Violin and String Orchestra
Artist
Orchestra di Padova e del Veneto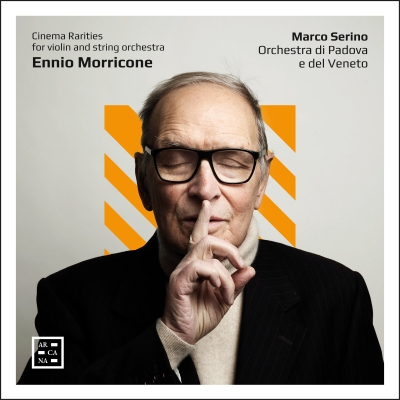 Inlay available for download
Booklet available for download
Notturno (From "La califfa")

Composer(s)

Ennio Morricone

Artist(s)

Orchestra di Padova e del Veneto

Marco Serino

Notturno (From "La califfa")

$2.30

La cena (From "La califfa")

Composer(s)

Ennio Morricone

Artist(s)

Orchestra di Padova e del Veneto

Marco Serino

La cena (From "La califfa")

$2.30

Mauro Bolognini Suite: Intro

Composer(s)

Ennio Morricone

Artist(s)

Orchestra di Padova e del Veneto

Marco Serino

Mauro Bolognini Suite: Intro

$2.30

Mauro Bolognini Suite: Per le antiche scale's Main Theme (From "Per le antiche scale")

Composer(s)

Ennio Morricone

Artist(s)

Orchestra di Padova e del Veneto

Marco Serino

Mauro Bolognini Suite: Per le antiche scale's Main Theme (From "Per le antiche scale")

$2.30

Mauro Bolognini Suite: L'eredità Ferramonti (From "Ricordo d'amore")

Composer(s)

Ennio Morricone

Artist(s)

Orchestra di Padova e del Veneto

Marco Serino

Mauro Bolognini Suite: L'eredità Ferramonti (From "Ricordo d'amore")

$2.30

Quattro Adagi: I. Chi (From "Maddalena")

Composer(s)

Ennio Morricone

Artist(s)

Orchestra di Padova e del Veneto

Marco Serino

Quattro Adagi: I. Chi (From "Maddalena")

$2.30

Quattro Adagi: II. Tema di Debora (From "Once Upon a Time in America")

Composer(s)

Ennio Morricone

Artist(s)

Orchestra di Padova e del Veneto

Marco Serino

Quattro Adagi: II. Tema di Debora (From "Once Upon a Time in America")

$2.30

Quattro Adagi: III. Addio ai monti (From "I promessi sposi")

Composer(s)

Ennio Morricone

Artist(s)

Orchestra di Padova e del Veneto

Marco Serino

Quattro Adagi: III. Addio ai monti (From "I promessi sposi")

$2.30

Quattro Adagi: IV. Tema di Vatel (From "Vatel")

Composer(s)

Ennio Morricone

Artist(s)

Orchestra di Padova e del Veneto

Marco Serino

Quattro Adagi: IV. Tema di Vatel (From "Vatel")

$2.30

Italian Theme (From "Le Clan des Siciliens")

Composer(s)

Ennio Morricone

Artist(s)

Orchestra di Padova e del Veneto

Marco Serino

Italian Theme (From "Le Clan des Siciliens")

$2.30

Quasi un Vivaldi (From "Revolver")

Composer(s)

Ennio Morricone

Artist(s)

Orchestra di Padova e del Veneto

Marco Serino

Quasi un Vivaldi (From "Revolver")

$2.30

Taviani Brothers Suite: Allonsanfàn (From "Ritorno a casa")

Composer(s)

Ennio Morricone

Artist(s)

Orchestra di Padova e del Veneto

Marco Serino

Taviani Brothers Suite: Allonsanfàn (From "Ritorno a casa")

$2.30

Taviani Brothers Suite: Il prato's Main Theme (From "Il prato")

Composer(s)

Ennio Morricone

Artist(s)

Orchestra di Padova e del Veneto

Marco Serino

Taviani Brothers Suite: Il prato's Main Theme (From "Il prato")

$2.30

Silvano Agosti Suite: La ragion pura (From "Dedicato a Maria")

Composer(s)

Ennio Morricone

Artist(s)

Orchestra di Padova e del Veneto

Marco Serino

Silvano Agosti Suite: La ragion pura (From "Dedicato a Maria")

$2.30

Silvano Agosti Suite: Quartiere (From "Romanza Quartiere")

Composer(s)

Ennio Morricone

Artist(s)

Orchestra di Padova e del Veneto

Marco Serino

Silvano Agosti Suite: Quartiere (From "Romanza Quartiere")

$2.30

Man with a Harmonica (From "Once Upon a Time in the West")

Composer(s)

Ennio Morricone

Artist(s)

Orchestra di Padova e del Veneto

Marco Serino

Man with a Harmonica (From "Once Upon a Time in the West")

$2.30

Lolita's Main Theme (From "Lolita")

Composer(s)

Ennio Morricone

Artist(s)

Orchestra di Padova e del Veneto

Marco Serino

Lolita's Main Theme (From "Lolita")

$2.30
Total running time: 55 minutes.
Album information

The idea for this album came about during the recording of its predecessor Cinema Suites (BBC Music Magazine's "Screen Choice", Album of the Week on WDR3 etc.), when the Morricone family sent Marco Serino a number of rarities that they hoped could also be recorded, particularly "Dedicated to Maria" (from the film The Sleeping Wife) that the composer had dedicated to his wife. These works, along with others that Serino rediscovered in his own archives, make up the backbone of Cinema Rarities, an ideal sequel to the previous recording. 

After twenty years as Ennio Morricone's chosen violinist, Serino continues his exploration of the compositions for violin and orchestra, but this time with a particular focus on pieces that, besides being less well known to the wider public, all share a degree of "Italianness". The main nucleus of the program consists of three suites named after three Italian film directors (Silvano Agosti, Mauro Bolognini and the Taviani brothers), with whom Morricone worked closely. Although the respective films did not achieve the international acclaim of those directed by Sergio Leone or Giuseppe Tornatore, which featured in the previous recording, they inspired the composer to come up with new and distinctive solutions, such as "Love Remembered" from The Inheritance, considered by Marco Serino to be one of the most beautiful. Equally quintessentially Italian are the two extracts from the scores for The Lady Caliph directed by Alberto Bevilacqua, including the lovely "Nocturne" and the brief "Quasi un Vivaldi" (from Sergio Sollima's film Revolver), which herald by almost a decade remakes like Gian Piero Reverberi's Rondò Veneziano. A unique place is occupied by Four Adagios, a collection of four pieces chosen by the composer himself (including the iconic "Whoever" and "Deborah's Theme"), which in this arrangement for violin cites the main theme of the first movement of the Beethoven Concerto. Dedicated to Serino and performed worldwide under the baton of Morricone, Four Adagios speaks to the artistic partnership between composer and violinist, their mutual professional respect and deep friendship.
Related Artists