Filters
Oh Fair To See (songs by Gerald Finzi)
Oh Fair To See (songs by Gerald Finzi)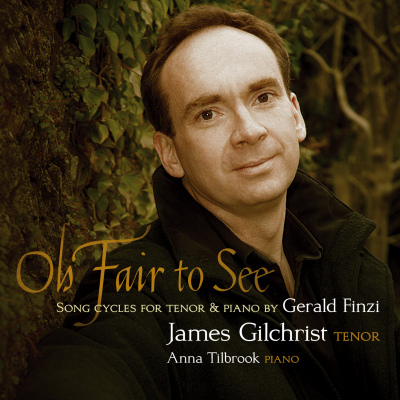 Inlay available for download
Booklet available for download
I say "I'll seek her side"

Artist(s)

Anna Tilbrook - piano

I say "I'll seek her side"

$1.80

Oh fair to see

Artist(s)

Anna Tilbrook - piano

Oh fair to see

$1.80

As I lay in the early sun

Artist(s)

Anna Tilbrook - piano

As I lay in the early sun

$1.80

Only the wanderer

Artist(s)

Anna Tilbrook - piano

Only the wanderer

$1.80

To Joy

Artist(s)

Anna Tilbrook - piano

To Joy

$1.80

Harvest

Artist(s)

Anna Tilbrook - piano

Harvest

$1.80

Since we loved

Artist(s)

Anna Tilbrook - piano

Since we loved

$1.80

Let me enjoy the earth

Artist(s)

Anna Tilbrook - piano

Let me enjoy the earth

$1.80

In years defaced

Artist(s)

Anna Tilbrook - piano

In years defaced

$1.80

The Market-Girl

Artist(s)

Anna Tilbrook - piano

The Market-Girl

$1.80

I look into my glass

Artist(s)

Anna Tilbrook - piano

I look into my glass

$1.80

It never looks like summer here

Artist(s)

Anna Tilbrook - piano

It never looks like summer here

$1.80

At a lunar eclipse

Artist(s)

Anna Tilbrook - piano

At a lunar eclipse

$1.80

Life laughs onwards

Artist(s)

Anna Tilbrook - piano

Life laughs onwards

$1.80

A Young Man's Exhortation

Artist(s)

Anna Tilbrook - piano

A Young Man's Exhortation

$1.80

Ditty

Artist(s)

Anna Tilbrook - piano

Ditty

$1.80

Budmouth Dears

Artist(s)

Anna Tilbrook - piano

Budmouth Dears

$1.80

Her Temple

Artist(s)

Anna Tilbrook - piano

Her Temple

$1.80

The Comet at Yell'ham

Artist(s)

Anna Tilbrook - piano

The Comet at Yell'ham

$1.80

Shortening Days

Artist(s)

Anna Tilbrook - piano

Shortening Days

$1.80

The Sigh

Artist(s)

Anna Tilbrook - piano

The Sigh

$1.80

Former Beauties

Artist(s)

Anna Tilbrook - piano

Former Beauties

$1.80

Transformations

Artist(s)

Anna Tilbrook - piano

Transformations

$1.80

The Dance Continued

Artist(s)

Anna Tilbrook - piano

The Dance Continued

$1.80
Total running time: 62 minutes.
Album information

A beautiful selection of Finzi song cycles sung by one of Britain's finest tenors, James Gilchrist.

Many of the poems set on this recording are by Thomas Hardy. Hardy was Gerald Finzi's (1901 – 1956) favourite poet whose bleak fatalism accorded with Finzi's own view of the world. Finzi's music teacher Ernest Farrar was killed at the Western Front during WW1 and he also suffered the loss of his three brothers during these formative years.

About two thirds of Finzi's music is vocal and this gives the clue to the most individual characteristic of Finzi's art – his response to words – which results in music that seems inevitably, and effortlessly, to be at one with the poet's thought. This bonding with the authors he set arose out of his remarkable knowledge of English literature, especially poetry. Finzi was attracted by the recurrent motif of the innocence of childhood corrupted by adult experience.

Finzi would gather songs into collections - Oh Fair to See and Till Earth Outwears were gathered together and posthumously assigned Opus numbers. A Young Man's Exhortation was one of Finzi's early successes which established him as a masterly and sensitive setter of poetry.
Related Artists
Reviews