Filters
Ravel, Shostakovich & Kapustin (The Royal Academy of Music Bicentenary Series)
Ravel, Shostakovich & Kapustin (The Royal Academy of Music Bicentenary Series)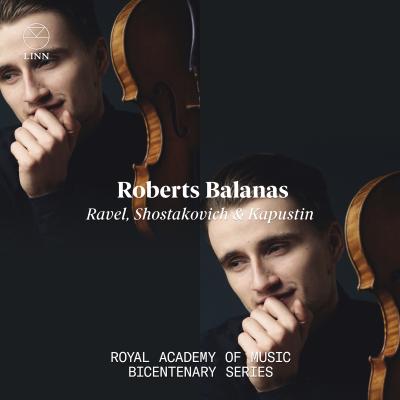 Inlay available for download
Booklet available for download
Violin Sonata No. 2 in G Major: I. Allegretto

Composer(s)

Maurice Ravel

Artist(s)

Roberts Balanas

Siqian Li

Violin Sonata No. 2 in G Major: I. Allegretto

$3.40

Violin Sonata No. 2 in G Major: II. Blues (Moderato)

Composer(s)

Maurice Ravel

Artist(s)

Roberts Balanas

Siqian Li

Violin Sonata No. 2 in G Major: II. Blues (Moderato)

$2.30

Violin Sonata No. 2 in G Major: III. Perpetuum mobile (Allegro)

Composer(s)

Maurice Ravel

Artist(s)

Roberts Balanas

Siqian Li

Violin Sonata No. 2 in G Major: III. Perpetuum mobile (Allegro)

$2.30

24 Preludes, Op. 34: XVII. Largo in A-Flat Major

Composer(s)

Dmitri Shostakovich

Artist(s)

Roberts Balanas

Siqian Li

24 Preludes, Op. 34: XVII. Largo in A-Flat Major

$2.30

24 Preludes, Op. 34: XVI. Andantino in B-Flat Minor

Composer(s)

Dmitri Shostakovich

Artist(s)

Roberts Balanas

Siqian Li

24 Preludes, Op. 34: XVI. Andantino in B-Flat Minor

$2.30

Violin Sonata, Op. 70: I. Allegro

Composer(s)

Nikolai Kapustin

Artist(s)

Roberts Balanas

Siqian Li

Violin Sonata, Op. 70: I. Allegro

$3.40

Violin Sonata, Op. 70: II. Andantino

Composer(s)

Nikolai Kapustin

Artist(s)

Roberts Balanas

Siqian Li

Violin Sonata, Op. 70: II. Andantino

$2.30

Violin Sonata, Op. 70: III. Con moto

Composer(s)

Nikolai Kapustin

Artist(s)

Roberts Balanas

Siqian Li

Violin Sonata, Op. 70: III. Con moto

$2.30

Pavane pour une infante défunte

Composer(s)

Maurice Ravel

Artist(s)

Roberts Balanas

Siqian Li

Pavane pour une infante défunte

$2.30
Total running time: 44 minutes.
Album information

The Royal Academy of Music Bicentenary Series continues with the debut album from Latvian violinist Roberts Balanas, who counts Sir Elton John among his fans. In this album, we see Roberts's classical side, yet with some unexpected turns.

Roberts Balanas enjoys a wide range of musical interests. Combining his background in classical music with the sound worlds of pop, rock and funk, his solo violin arrangements have amassed millions of views across the web. For his Linn debut Roberts has chosen a classical programme comprising Ravel's second violin sonata, a highly original and dizzyingly virtuosic work suffused with jazz and blues, Ravel's celebrated Pavane pour une infante défunte in an arrangement by Louis Fleury, two of Shostakovich's Preludes Op. 34 (arranged by famed Beethoven Quartet's first violin Dmitri Tsyganov) and Kapustin's exuberant violin sonata.

Prize-winning Chinese pianist Siqian Li provides perceptive accompaniment.
Related Artists
Reviews