Filters
Salonen: Cello Concerto & Ravel: Sonata for Violin and Cello
Salonen: Cello Concerto & Ravel: Sonata for Violin and Cello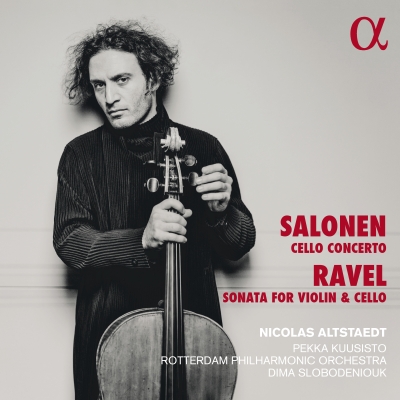 Inlay available for download
Booklet available for download
Cello Concerto: I.

Composer(s)

Esa-Pekka Salonen

Artist(s)

Dima Slobodeniouk

Nicolas Altstaedt

Rotterdam Philharmonic Orchestra

Cello Concerto: I.

$4.60

Cello Concerto: II.

Composer(s)

Esa-Pekka Salonen

Artist(s)

Dima Slobodeniouk

Nicolas Altstaedt

Rotterdam Philharmonic Orchestra

Cello Concerto: II.

$3.60

Cello Concerto: III.

Composer(s)

Esa-Pekka Salonen

Artist(s)

Dima Slobodeniouk

Nicolas Altstaedt

Rotterdam Philharmonic Orchestra

Cello Concerto: III.

$4.60

Sonata in A Minor for Violin and Cello, M. 73: I. Allegro

Composer(s)

Maurice Ravel

Artist(s)

Nicolas Altstaedt

Pekka Kuusisto

Sonata in A Minor for Violin and Cello, M. 73: I. Allegro

$2.30

Sonata in A Minor for Violin and Cello, M. 73: II. Très vif

Composer(s)

Maurice Ravel

Artist(s)

Nicolas Altstaedt

Pekka Kuusisto

Sonata in A Minor for Violin and Cello, M. 73: II. Très vif

$2.30

Sonata in A Minor for Violin and Cello, M. 73: III. Lent

Composer(s)

Maurice Ravel

Artist(s)

Nicolas Altstaedt

Pekka Kuusisto

Sonata in A Minor for Violin and Cello, M. 73: III. Lent

$2.30

Sonata in A Minor for Violin and Cello, M. 73: IV. Vif, avec entrain

Composer(s)

Maurice Ravel

Artist(s)

Nicolas Altstaedt

Pekka Kuusisto

Sonata in A Minor for Violin and Cello, M. 73: IV. Vif, avec entrain

$2.30
Total running time: 57 minutes.


Album information

Nicolas Altstaedt presents his version of Esa-Pekka Salonen's monumental Cello Concerto, originally composed for Yo-Yo Ma, and given its Finnish premiere by the Franco-German cellist under the composer's direction. It won a 2023 International Classical Music Award in the Assorted Programs category.

In partnership with the Rotterdam Philharmonic Orchestra and conductor Dima Slobodeniouk, he reveals its full expressive dimension here: 'The first movement opens with what, in my sketchbook, was called "Chaos to line"', says Esa-Pekka Salonen. Chaos, a metaphorical comet, a rhythmic mantra with congas and bongos, a wild dance . . . Salonen goes on to say of the third movement: 'I imagined the orchestra as some kind of gigantic lung, expanding and contracting first slowly, but accelerating to a point of mild hyperventilation which leads back to the dance-like material'

The coupling is the famous 'Duo Ravel' (to give it the original title used at its premiere), which Nicolas Altstaedt and Pekka Kuusisto have been performing and refining ever since 2010, and which it was high time to record.
Related Artists
Reviews