Filters
Schütz: Musicalische Exequien
Schütz: Musicalische Exequien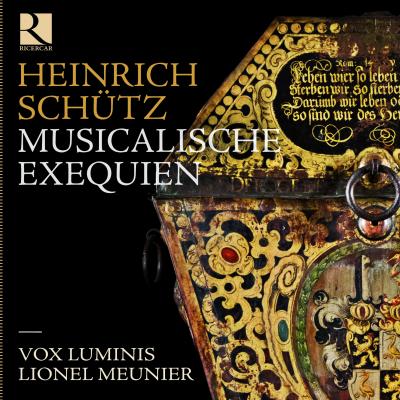 Booklet available for download
Herr, nun lässest du deinen Diener in Friede Fahen, SWV 432

Composer(s)

Heinrich Schütz

Artist(s)

Lionel Meunier

Vox Luminis

Herr, nun lässest du deinen Diener in Friede Fahen, SWV 432

$2.30

Ich bin die Auferstehung und das Leben, SWV 464

Composer(s)

Heinrich Schütz

Artist(s)

Lionel Meunier

Vox Luminis

Ich bin die Auferstehung und das Leben, SWV 464

$2.30

Herr, nun lässest du deinen Diener in Friede fahen, SWV 433

Composer(s)

Heinrich Schütz

Artist(s)

Lionel Meunier

Vox Luminis

Herr, nun lässest du deinen Diener in Friede fahen, SWV 433

$2.30

Das ist je gewißlich wahr, SWV 277

Composer(s)

Heinrich Schütz

Artist(s)

Lionel Meunier

Vox Luminis

Das ist je gewißlich wahr, SWV 277

$2.30

Wir glauben all an einen Gott

Composer(s)

Samuel Scheidt

Artist(s)

Bernard Foccroulle

Wir glauben all an einen Gott

$2.30

Mit Fried und Freud fahr ich dahin

Composer(s)

Martin Luther

Artist(s)

Lionel Meunier

Vox Luminis

Mit Fried und Freud fahr ich dahin

$2.30

Musicalische Exequien, SWV 279: Concert in Form einer teutschen Begräbnis-Missa: Nacket bin ich

Composer(s)

Heinrich Schütz

Artist(s)

Lionel Meunier

Vox Luminis

Musicalische Exequien, SWV 279: Concert in Form einer teutschen Begräbnis-Missa: Nacket bin ich

$2.30

Musicalische Exequien, SWV 279: Concert in Form einer teutschen Begräbnis-Missa: Also hat Gott die Welt geliebt

Composer(s)

Heinrich Schütz

Artist(s)

Lionel Meunier

Vox Luminis

Musicalische Exequien, SWV 279: Concert in Form einer teutschen Begräbnis-Missa: Also hat Gott die Welt geliebt

$7.00

Herr, wenn ich nur dich habe, SWV 280

Composer(s)

Heinrich Schütz

Artist(s)

Lionel Meunier

Vox Luminis

Herr, wenn ich nur dich habe, SWV 280

$2.30

Herr, nun lässest du deinen Diener in Friede fahren, SWV 281

Composer(s)

Heinrich Schütz

Artist(s)

Lionel Meunier

Vox Luminis

Herr, nun lässest du deinen Diener in Friede fahren, SWV 281

$2.30
Total running time: 55 minutes.




Album information

This programme includes not only the renowned Musicalische Exequien but also other funeral motets by Schütz, one of which was composed on the death of his friend Johann Hermann Schein. It was named Recording of the Year at the 2012 Gramophone Awards.

With the Thirty Years' War raging around them, Lutherans considered death to be the true fulfilment of their earthly life. Prince Heinrich von Reuss organised all the details of his funeral in advance, from the music that would be sung - to be composed and then performed by Heinrich Schütz during the funeral ceremony - to the coffin itself.

After the success of their CD of works by Samuel Scheidt, Vox Luminis now take up the challenge of one of Schütz's greatest sacred works. It should be noted that the CD cover art is a photograph of a section of the coffin that Reuss himself had ordered; Prince Heinrich XIII Reuss has most generously allowed its use by Ricercar for this recording. The coffin is made of solid copper; its richly decorated exterior is studded with cartouches that contain liturgical texts selected by the deceased prince.
Related Artists
Reviews