Filters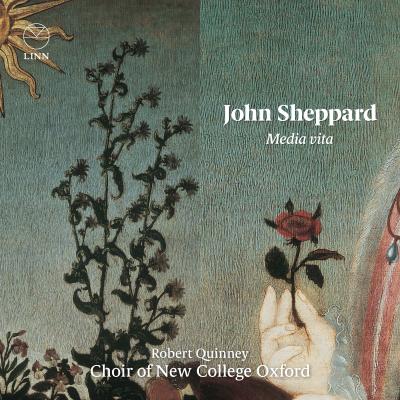 Inlay available for download
Booklet available for download
A solis ortus cardine

Composer(s)

John Sheppard

Artist(s)

Robert Quinney

Choir of New College Oxford

A solis ortus cardine

$3.40

Inclina Domine

Composer(s)

John Sheppard

Artist(s)

Robert Quinney

Choir of New College Oxford

Inclina Domine

$2.30

Iudica me Deus

Composer(s)

John Sheppard

Artist(s)

Robert Quinney

Choir of New College Oxford

Iudica me Deus

$3.40

Deus misereatur

Composer(s)

John Sheppard

Artist(s)

Robert Quinney

Choir of New College Oxford

Deus misereatur

$3.40

Confitebor tibi

Composer(s)

John Sheppard

Artist(s)

Robert Quinney

Choir of New College Oxford

Confitebor tibi

$2.30

Sacris solemniis

Composer(s)

John Sheppard

Artist(s)

Robert Quinney

Choir of New College Oxford

Sacris solemniis

$3.40

Media vita

Composer(s)

John Sheppard

Artist(s)

Robert Quinney

Choir of New College Oxford

Media vita

$8.00
Total running time: 71 minutes.

Album information

The Choir of New College Oxford, one of the most acclaimed British choral ensembles, makes its Linn debut with a recording of works by the English Renaissance composer John Sheppard.

New College Choir was already 150 years old when Sheppard arrived in Oxford intent on contributing to the wealth of choral polyphony that defined the era. Media vita is his most celebrated work, almost symphonic in its proportions, in which he combines and elevates conventional Tudor musical devices to striking effect. Sheppard's boundary-pushing polyphony requires the skill and precision of liturgical professionals, and in the hands of director Robert Quinney it is compelling.

The programme is completed by several motets in which Sheppard sets text from the Old Testament; we are delighted that four of these motets are premiere recordings: A solis ortus cardine, Inclina Domine, Iudica me Deus and Confitebor tibi. This is another distinctive and stylish performance from this acclaimed choir, which marks the first in a new series of recordings for Linn Records.
Related Artists
Reviews