Filters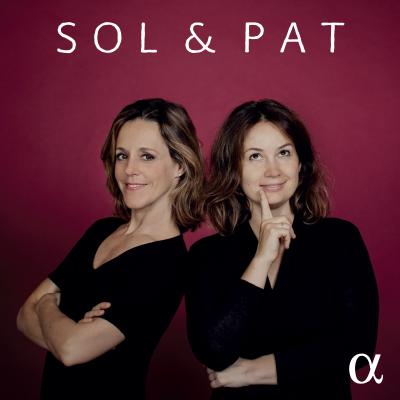 Inlay available for download
Booklet available for download
Tambourin in C Major

Composer(s)

Jean-Marie Leclair

Artist(s)

Patricia Kopatchinskaja

Sol Gabetta

Tambourin in C Major

$2.30

24 Duos for Violin and Cello: XXIV. Toccatina all'inglese

Artist(s)

Patricia Kopatchinskaja

Sol Gabetta

24 Duos for Violin and Cello: XXIV. Toccatina all'inglese

$2.30

25 Duos for Violin and Cello: XXI. Valse bavaroise

Artist(s)

Patricia Kopatchinskaja

Sol Gabetta

25 Duos for Violin and Cello: XXI. Valse bavaroise

$2.30

Presto in C Minor, H.230 Wq.114/3

Composer(s)

Carl Philipp Emanuel Bach

Artist(s)

Patricia Kopatchinskaja

Sol Gabetta

Presto in C Minor, H.230 Wq.114/3

$2.30

Rizoma

Composer(s)

Francisco Coll

Artist(s)

Patricia Kopatchinskaja

Sol Gabetta

Rizoma

$2.30

Sonata in A Minor for Violin and Cello, M. 73: I. Allegro

Composer(s)

Maurice Ravel

Artist(s)

Patricia Kopatchinskaja

Sol Gabetta

Sonata in A Minor for Violin and Cello, M. 73: I. Allegro

$2.30

Sonata in A Minor for Violin and Cello, M. 73: II. Très vif

Composer(s)

Maurice Ravel

Artist(s)

Patricia Kopatchinskaja

Sol Gabetta

Sonata in A Minor for Violin and Cello, M. 73: II. Très vif

$2.30

Sonata in A Minor for Violin and Cello, M. 73: III. Lent

Composer(s)

Maurice Ravel

Artist(s)

Patricia Kopatchinskaja

Sol Gabetta

Sonata in A Minor for Violin and Cello, M. 73: III. Lent

$2.30

Sonata in A Minor for Violin and Cello, M. 73: IV. Vif, avec entrain

Composer(s)

Maurice Ravel

Artist(s)

Patricia Kopatchinskaja

Sol Gabetta

Sonata in A Minor for Violin and Cello, M. 73: IV. Vif, avec entrain

$2.30

Interlude

Composer(s)

Marcin Markowicz

Artist(s)

Patricia Kopatchinskaja

Sol Gabetta

Interlude

$2.30

La fête au village, Op. 9: I. Dimanche matin

Composer(s)

Julien-François Zbinden

Artist(s)

Patricia Kopatchinskaja

Sol Gabetta

La fête au village, Op. 9: I. Dimanche matin

$2.30

La fête au village, Op. 9: II. Fanfare

Composer(s)

Julien-François Zbinden

Artist(s)

Patricia Kopatchinskaja

Sol Gabetta

La fête au village, Op. 9: II. Fanfare

$2.30

La fête au village, Op. 9: III. Discours du syndic

Composer(s)

Julien-François Zbinden

Artist(s)

Patricia Kopatchinskaja

Sol Gabetta

La fête au village, Op. 9: III. Discours du syndic

$2.30

La fête au village, Op. 9: IV. Filles et garçons

Composer(s)

Julien-François Zbinden

Artist(s)

Patricia Kopatchinskaja

Sol Gabetta

La fête au village, Op. 9: IV. Filles et garçons

$2.30

La fête au village, Op. 9: V. Pont de danse

Composer(s)

Julien-François Zbinden

Artist(s)

Patricia Kopatchinskaja

Sol Gabetta

La fête au village, Op. 9: V. Pont de danse

$2.30

La fête au village, Op. 9: VI. Soir

Composer(s)

Julien-François Zbinden

Artist(s)

Patricia Kopatchinskaja

Sol Gabetta

La fête au village, Op. 9: VI. Soir

$2.30

Dhipli Zyia

Composer(s)

Iannis Xenakis

Artist(s)

Patricia Kopatchinskaja

Sol Gabetta

Dhipli Zyia

$2.30

Hommage à Hilding Rosenberg

Composer(s)

Gÿorgy Ligeti

Artist(s)

Patricia Kopatchinskaja

Sol Gabetta

Hommage à Hilding Rosenberg

$2.30

Duo for Violin and Cello in D Minor, Op. 7: I. Allegro serioso, non troppo

Composer(s)

Zoltán Kodály

Artist(s)

Patricia Kopatchinskaja

Sol Gabetta

Duo for Violin and Cello in D Minor, Op. 7: I. Allegro serioso, non troppo

$3.40

Duo for Violin and Cello in D Minor, Op. 7: II. Adagio - Andante

Composer(s)

Zoltán Kodály

Artist(s)

Patricia Kopatchinskaja

Sol Gabetta

Duo for Violin and Cello in D Minor, Op. 7: II. Adagio - Andante

$3.40

Duo for Violin and Cello in D Minor, Op. 7: III. Maestoso e largamente, ma non troppo lento - Presto

Composer(s)

Zoltán Kodály

Artist(s)

Patricia Kopatchinskaja

Sol Gabetta

Duo for Violin and Cello in D Minor, Op. 7: III. Maestoso e largamente, ma non troppo lento - Presto

$2.30

Duo for Violin and Cello in D Minor, Op. 7: IV. Presto

Composer(s)

Zoltán Kodály

Artist(s)

Patricia Kopatchinskaja

Sol Gabetta

Duo for Violin and Cello in D Minor, Op. 7: IV. Presto

$2.30

Prelude No.15 in G Major, BWV 860

Composer(s)

Johann Sebastian Bach

Artist(s)

Patricia Kopatchinskaja

Sol Gabetta

Prelude No.15 in G Major, BWV 860

$2.30
Total running time: 80 minutes.


Album information

Patricia Kopatchinskaja and Sol Gabetta celebrate their twenty year collaboration and friendship with a programme for a rather rare combination: the violin-cello duo. It was awarded the 2022 Chamber Recording of the Year by Limelight.

'We're like two sisters, on stage and in life', as Patricia Kopatchinskaja and Sol Gabetta like to say. In parallel with their dazzling solo careers, they have frequently got together for concerts in trio or double concerto formation (like the one written for them by Francisco Coll, recently released on ALPHA580). But they have conceived their new recording for a rather rare combination, the violin-cello duo – with the aim of choosing pieces they found interesting either stylistically or for the way they use the instruments.

The programme includes the Duo written by Zoltán Kodály in 1914, which was not premiered until 1924, two years after Maurice Ravel's Sonata for violin and cello, along with a few forays into the Baroque period (Leclair, Scarlatti, Bach) and, of course, works by twenty-first-century composers to whom the two soloists are very close: Jörg Widmann, Francisco Coll and Julien-François Zbinden are on the itinerary of this introspective journey into the generous world of two total artists.
Related Artists
Reviews