Filters
Ward: Consort music for five and six viols
Ward: Consort music for five and six viols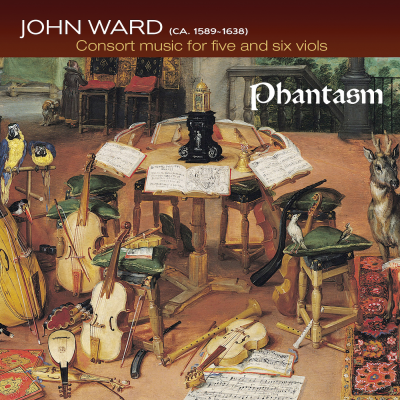 Inlay available for download
Booklet available for download
Fantasia No. 1 a6 (VdGS 1)

Fantasia No. 1 a6 (VdGS 1)

$2.30

Fantasia No. 3 a6 (VdGS 3)

Fantasia No. 3 a6 (VdGS 3)

$2.30

Fantasia No. 6 a6 (VdGS 6)

Fantasia No. 6 a6 (VdGS 6)

$2.30

Fantasia No. 2 a6 (VdGS 2)

Fantasia No. 2 a6 (VdGS 2)

$2.30

Fantasia No. 4 a6 (VdGS 4)

Fantasia No. 4 a6 (VdGS 4)

$2.30

Fantasia No. 5 a6 (VdGS 5)

Fantasia No. 5 a6 (VdGS 5)

$2.30

Fantasia No. 7 a6 (VdGS 7)

Fantasia No. 7 a6 (VdGS 7)

$2.30

In Nomine No. 1 a6 (VdGS 1)

In Nomine No. 1 a6 (VdGS 1)

$2.30

Fantasia No. 1 a5 (VdGS 1)

Fantasia No. 1 a5 (VdGS 1)

$2.30

Fantasia No. 2 a5 'La Rondinella' (VdGS 2)

Fantasia No. 2 a5 'La Rondinella' (VdGS 2)

$2.30

Fantasia No. 3 a5 (VdGS 3)

Fantasia No. 3 a5 (VdGS 3)

$2.30

Fantasia No. 4 a5 (VdGS 4)

Fantasia No. 4 a5 (VdGS 4)

$2.30

Fantasia No. 5 a5 (VdGS 5)

Fantasia No. 5 a5 (VdGS 5)

$2.30

Fantasia No. 6 a5 (VdGS 6)

Fantasia No. 6 a5 (VdGS 6)

$2.30

Fantasia No. 7 a5 (VdGS 7)

Fantasia No. 7 a5 (VdGS 7)

$2.30

Fantasia No. 8 a5 (VdGS 8)

Fantasia No. 8 a5 (VdGS 8)

$2.30

Fantasia No. 9 a5 (VdGS 9)

Fantasia No. 9 a5 (VdGS 9)

$2.30

Fantasia No. 10 a5 (VdGS 10)

Fantasia No. 10 a5 (VdGS 10)

$2.30

Fantasia No. 11 a5 'Cor Mio' (VdGS 12)

Fantasia No. 11 a5 'Cor Mio' (VdGS 12)

$2.30

Fantasia No. 13 a5 'Non fu senze' (VdGS 14)

Fantasia No. 13 a5 'Non fu senze' (VdGS 14)

$2.30

Fantasia No. 12 a5 'Leggiada sei' (VdGS 13)

Fantasia No. 12 a5 'Leggiada sei' (VdGS 13)

$2.30

In Nomine a5 (VdGS 14)

$2.30

In Nomine No. 2 a6 (VdGS 2)

In Nomine No. 2 a6 (VdGS 2)

$2.30
Total running time: 77 minutes.
Album information

Phantasm's debut recording on Linn explores the music of the Jacobean composer John Ward.

In its debut recording for Linn, acclaimed viol consort Phantasm showcases its dazzling sonority with a programme of music deserving of re-discovery. Phantasm's bold and passionate style of consort playing does full justice to John Ward's consort music for five and six viols, recorded here complete for the very first time.

Recorded in the warm acoustic of Wadham College Chapel, Oxford this recording reveals works that seduce the listener with lyrical melodies and music of great charm. Phantasm's ability to produce such a richly expressive unified sound allows the subtlety and elegance in Ward's music to be fully realized. 

John Ward was a noted madrigalist and contemporary of Orlando Gibbons. His viol music is of further interest due to an abundance of historical references to pavans, Italian 'madrigalisms' and plainsong (the latter demonstrated in Ward's three examples of the In Nomine).
Related Artists
Reviews