Filters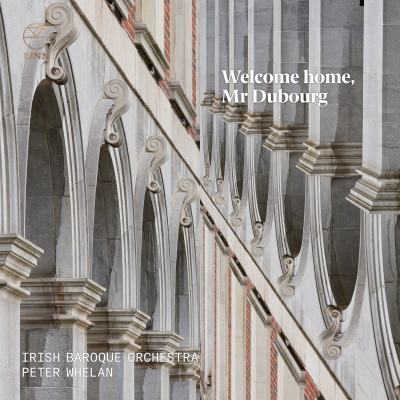 Inlay available for download
Booklet available for download
Hibernia's Sons, Your Voices Raise (from Ode for Dublin Castle, 1753)

Composer(s)

Matthew Dubourg

Artist(s)

Peter Whelan

Irish Baroque Orchestra

Hibernia's Sons, Your Voices Raise (from Ode for Dublin Castle, 1753)

$2.30

Concerto in A Major for Two Violins, RV 519: I. Allegro

Composer(s)

Antonio Vivaldi

Artist(s)

Peter Whelan

Sophie Gent

Irish Baroque Orchestra

Claire Duff

Concerto in A Major for Two Violins, RV 519: I. Allegro

$2.30

Concerto in A Major for Two Violins, RV 519: II. Largo

Composer(s)

Antonio Vivaldi

Artist(s)

Peter Whelan

Sophie Gent

Irish Baroque Orchestra

Claire Duff

Concerto in A Major for Two Violins, RV 519: II. Largo

$2.30

Concerto in A Major for Two Violins, RV 519: III. Allegro

Composer(s)

Antonio Vivaldi

Artist(s)

Peter Whelan

Sophie Gent

Irish Baroque Orchestra

Claire Duff

Concerto in A Major for Two Violins, RV 519: III. Allegro

$2.30

Dubourg's Maggot

Composer(s)

Matthew Dubourg

Artist(s)

Peter Whelan

Sophie Gent

Irish Baroque Orchestra

Huw Daniel

Claire Duff

Dubourg's Maggot

$2.30

Violin Concerto in D Major: I. Adagio

Composer(s)

Matthew Dubourg

Artist(s)

Peter Whelan

Sophie Gent

Irish Baroque Orchestra

Violin Concerto in D Major: I. Adagio

$2.30

Violin Concerto in D Major: II. Allegro

Composer(s)

Matthew Dubourg

Artist(s)

Peter Whelan

Sophie Gent

Irish Baroque Orchestra

Violin Concerto in D Major: II. Allegro

$2.30

Violin Concerto in D Major: III. Adagio

Composer(s)

Matthew Dubourg

Artist(s)

Peter Whelan

Sophie Gent

Irish Baroque Orchestra

Violin Concerto in D Major: III. Adagio

$2.30

Violin Concerto in D Major: IV. Allegro

Composer(s)

Matthew Dubourg

Artist(s)

Peter Whelan

Sophie Gent

Irish Baroque Orchestra

Violin Concerto in D Major: IV. Allegro

$2.30

Eileen Aroon, with Variations Set by Mr Dubourg

Composer(s)

Matthew Dubourg

Artist(s)

Peter Whelan

Philippe Grisvard

Irish Baroque Orchestra

Eileen Aroon, with Variations Set by Mr Dubourg

$2.30

Ciste nó stór

Composer(s)

Matthew Dubourg

Artist(s)

Peter Whelan

Sophie Gent

Irish Baroque Orchestra

Ciste nó stór

$2.30

Violin Sonata in A Major, Op. 5 No. 9: I. Preludio (Largo)

Composer(s)

Arcangelo Corelli

Artist(s)

Sophie Gent

Philippe Grisvard

Violin Sonata in A Major, Op. 5 No. 9: I. Preludio (Largo)

$2.30

Violin Sonata in A Major, Op. 5 No. 9: II. Giga (Allegro)

Composer(s)

Arcangelo Corelli

Artist(s)

Sophie Gent

Philippe Grisvard

Violin Sonata in A Major, Op. 5 No. 9: II. Giga (Allegro)

$2.30

Violin Sonata in A Major, Op. 5 No. 9: III. Adagio

Composer(s)

Arcangelo Corelli

Artist(s)

Sophie Gent

Philippe Grisvard

Violin Sonata in A Major, Op. 5 No. 9: III. Adagio

$2.30

Violin Sonata in A Major, Op. 5 No. 9: IV. Tempo di Gavotta (Allegro)

Composer(s)

Arcangelo Corelli

Artist(s)

Sophie Gent

Philippe Grisvard

Violin Sonata in A Major, Op. 5 No. 9: IV. Tempo di Gavotta (Allegro)

$2.30

Now the Mingling Hosts Engage (from Ode for Dublin Castle, 1740)

Composer(s)

Matthew Dubourg

Artist(s)

Peter Whelan

Edward Grint

Irish Baroque Orchestra

Carles Cristobal

Sarah McMahon

Now the Mingling Hosts Engage (from Ode for Dublin Castle, 1740)

$2.30

Soft Breathes the Melting Flute (from Ode for Dublin Castle, 1743)

Composer(s)

Matthew Dubourg

Artist(s)

Peter Whelan

Anna Devin

Irish Baroque Orchestra

Soft Breathes the Melting Flute (from Ode for Dublin Castle, 1743)

$2.30

Trumpet Tune (from Ode for Dublin Castle, 1741?)

Composer(s)

Matthew Dubourg

Artist(s)

Peter Whelan

Simon Munday

Irish Baroque Orchestra

Trumpet Tune (from Ode for Dublin Castle, 1741?)

$2.30

Ode for Dublin Castle, 1739 'Crowned with a More Illustrious Light': I. Chorus. Crowned with a More Illustrious Light

Composer(s)

Matthew Dubourg

Artist(s)

Peter Whelan

Irish Baroque Orchestra

Ode for Dublin Castle, 1739 'Crowned with a More Illustrious Light': I. Chorus. Crowned with a More Illustrious Light

$2.30

Ode for Dublin Castle, 1739 'Crowned with a More Illustrious Light': II. Air. From Hour to Hour

Composer(s)

Matthew Dubourg

Artist(s)

Peter Whelan

Anna Devin

Irish Baroque Orchestra

Ode for Dublin Castle, 1739 'Crowned with a More Illustrious Light': II. Air. From Hour to Hour

$2.30

Ode for Dublin Castle, 1739 'Crowned with a More Illustrious Light': III. Chorus. Still May His Praise

Composer(s)

Matthew Dubourg

Artist(s)

Peter Whelan

Irish Baroque Orchestra

Ode for Dublin Castle, 1739 'Crowned with a More Illustrious Light': III. Chorus. Still May His Praise

$2.30

Ode for Dublin Castle, 1739 'Crowned with a More Illustrious Light': IV. Air. Where E'er the Sun

Composer(s)

Matthew Dubourg

Artist(s)

Peter Whelan

Rachel Kelly

Irish Baroque Orchestra

Ode for Dublin Castle, 1739 'Crowned with a More Illustrious Light': IV. Air. Where E'er the Sun

$2.30

Ode for Dublin Castle, 1739 'Crowned with a More Illustrious Light': V. Sinfonia

Composer(s)

Matthew Dubourg

Artist(s)

Peter Whelan

Irish Baroque Orchestra

Ode for Dublin Castle, 1739 'Crowned with a More Illustrious Light': V. Sinfonia

$2.30

Ode for Dublin Castle, 1739 'Crowned with a More Illustrious Light': VI. Air. George's Empire

Composer(s)

Matthew Dubourg

Artist(s)

Peter Whelan

Anna Devin

Irish Baroque Orchestra

Ode for Dublin Castle, 1739 'Crowned with a More Illustrious Light': VI. Air. George's Empire

$2.30

Ode for Dublin Castle, 1739 'Crowned with a More Illustrious Light': VII. Air. Born to Glory

Composer(s)

Matthew Dubourg

Artist(s)

Peter Whelan

Anna Devin

Irish Baroque Orchestra

Sarah McMahon

Ode for Dublin Castle, 1739 'Crowned with a More Illustrious Light': VII. Air. Born to Glory

$2.30

Ode for Dublin Castle, 1739 'Crowned with a More Illustrious Light': VIII. Duet. Pleased with Our State

Composer(s)

Matthew Dubourg

Artist(s)

Peter Whelan

Anna Devin

Irish Baroque Orchestra

Rachel Kelly

Ode for Dublin Castle, 1739 'Crowned with a More Illustrious Light': VIII. Duet. Pleased with Our State

$2.30

Ode for Dublin Castle, 1739 'Crowned with a More Illustrious Light': IX. Chorus. And Thou Dejected Ireland

Composer(s)

Matthew Dubourg

Artist(s)

Peter Whelan

Irish Baroque Orchestra

Ode for Dublin Castle, 1739 'Crowned with a More Illustrious Light': IX. Chorus. And Thou Dejected Ireland

$2.30

'Welcome Home, Mr Dubourg'

Composer(s)

Matthew Dubourg

Artist(s)

Peter Whelan

Sophie Gent

Irish Baroque Orchestra

'Welcome Home, Mr Dubourg'

$2.30
Total running time: 60 minutes.

Album information

Peter Whelan champions the music of Matthew Dubourg in his recording debut as Artistic Director of the Irish Baroque Orchestra. 

Dubourg, a pupil of Francesco Geminiani, was a charismatic virtuoso and composer who Whelan believes deserves to be acknowledged as one of Ireland's most influential musicians.

With many of his compositions having only recently come to light, most are presented here for the very first time including the world premiere of the ode 'Crowned with a more illustrious light'. The eclectic programme showcases a composer whose music is shot-through with humanity, charm, virtuosity and wit. The works include arrangements of Irish traditional melodies, music written for royal celebrations and virtuosic violin solos in the fashionable Italian style. A Corelli violin sonata and a violin concerto by Vivaldi paint a picture of the musical landscape in which Dubourg's creativity flourished.

This recording is an exciting rediscovery of long forgotten, but truly wonderful, music from Ireland's past.
Related Artists
Reviews