Filters
Ysaÿe: Six Sonatas for Solo Violin
Ysaÿe: Six Sonatas for Solo Violin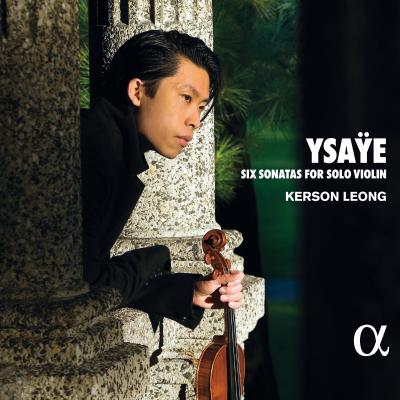 Inlay available for download
Booklet available for download
Sonata for Solo Violin No.1 in G Minor, Op. 27 'A Joseph Szigeti': I. Grave (Lento assai)

Sonata for Solo Violin No.1 in G Minor, Op. 27 'A Joseph Szigeti': I. Grave (Lento assai)

$2.30

Sonata for Solo Violin No.1 in G Minor, Op. 27 'A Joseph Szigeti': II. Fugato (Molto moderato)

Sonata for Solo Violin No.1 in G Minor, Op. 27 'A Joseph Szigeti': II. Fugato (Molto moderato)

$2.30

Sonata for Solo Violin No.1 in G Minor, Op. 27 'A Joseph Szigeti': III. Allegretto poco scherzoso (Amabile)

Sonata for Solo Violin No.1 in G Minor, Op. 27 'A Joseph Szigeti': III. Allegretto poco scherzoso (Amabile)

$2.30

Sonata for Solo Violin No.1 in G Minor, Op. 27 'A Joseph Szigeti': IV. Finale con brio (Allegro fermo)

Sonata for Solo Violin No.1 in G Minor, Op. 27 'A Joseph Szigeti': IV. Finale con brio (Allegro fermo)

$2.30

Sonata for Solo Violin No.2 in A Minor, Op. 27 'A Jacques Thibaud': I. Obsession (Prélude. Poco vivace)

Sonata for Solo Violin No.2 in A Minor, Op. 27 'A Jacques Thibaud': I. Obsession (Prélude. Poco vivace)

$2.30

Sonata for Solo Violin No.2 in A Minor, Op. 27 'A Jacques Thibaud': II. Malinconia (Poco lento)

Sonata for Solo Violin No.2 in A Minor, Op. 27 'A Jacques Thibaud': II. Malinconia (Poco lento)

$2.30

Sonata for Solo Violin No.2 in A Minor, Op. 27 'A Jacques Thibaud': III. Danse des ombres (Sarabande. Lento)

Sonata for Solo Violin No.2 in A Minor, Op. 27 'A Jacques Thibaud': III. Danse des ombres (Sarabande. Lento)

$2.30

Sonata for Solo Violin No.2 in A Minor, Op. 27 'A Jacques Thibaud': IV. Les furies (Allegro furioso)

Sonata for Solo Violin No.2 in A Minor, Op. 27 'A Jacques Thibaud': IV. Les furies (Allegro furioso)

$2.30

Sonata for Solo Violin No.3 in D Minor, Op. 27 'A Georges Enesco': Ballade (Lento molto sostenuto, molto moderato quasi lento,

Sonata for Solo Violin No.3 in D Minor, Op. 27 'A Georges Enesco': Ballade (Lento molto sostenuto, molto moderato quasi lento,

$3.40

Sonata for Solo Violin No.4 in E Minor, Op. 27 'A Fritz Kreisler': I. Allemande (Lento maestoso)

Sonata for Solo Violin No.4 in E Minor, Op. 27 'A Fritz Kreisler': I. Allemande (Lento maestoso)

$2.30

Sonata for Solo Violin No.4 in E Minor, Op. 27 'A Fritz Kreisler': II. Sarabanda (Quasi lento)

Sonata for Solo Violin No.4 in E Minor, Op. 27 'A Fritz Kreisler': II. Sarabanda (Quasi lento)

$2.30

Sonata for Solo Violin No.4 in E Minor, Op. 27 'A Fritz Kreisler': III. Finale (Presto ma non troppo)

Sonata for Solo Violin No.4 in E Minor, Op. 27 'A Fritz Kreisler': III. Finale (Presto ma non troppo)

$2.30

Sonata for Solo Violin No.5 in G Major, Op. 27 'A Mathieu Crikboom': I. L'aurore (Lento assai – Mesure très libre)

Sonata for Solo Violin No.5 in G Major, Op. 27 'A Mathieu Crikboom': I. L'aurore (Lento assai – Mesure très libre)

$2.30

Sonata for Solo Violin No.5 in G Major, Op. 27 'A Mathieu Crikboom': II. Danse rustique (Allegro giocoso molto moderato)

Sonata for Solo Violin No.5 in G Major, Op. 27 'A Mathieu Crikboom': II. Danse rustique (Allegro giocoso molto moderato)

$2.30

Sonata for Solo Violin No.6 in E Major, Op. 27 'A Manuel Quiroga': Allegro giusto non troppo vivo, allegretto poco scherzando

Sonata for Solo Violin No.6 in E Major, Op. 27 'A Manuel Quiroga': Allegro giusto non troppo vivo, allegretto poco scherzando

$3.40
Total running time: 70 minutes.



Album information

Making his Alpha Classics debut, Kerson Leong records a monument of the violin repertory: the Sonatas for solo violin by Eugène Ysaÿe. The prize-winning violinist demonstrates his compelling musicality in this genuinely revelatory performance.

'These sonatas are of course a big test ... The music is highly emotional, pervasive and in some ways also very sombre, which makes it extremely powerful', says Leong of these six sonatas, which he frequently plays in their entirety in a single concert.

Having recently participated in the award-winning Tribute to Ysaÿe (FUG758), his first solo recital has been widely anticipated. The young Canadian violinist's career began at the age of thirteen when he won the First Prize of the Junior division of the Menuhin Competition in Oslo in 2010. In 2018 he was named artist-in-residence with the Orchestre Métropolitain de Montréal, conducted by Yannick Nézet-Séguin. An associate musician at the Queen Elisabeth Music Chapel, under the mentorship of Augustin Dumay, he has already performed at such venues as Carnegie Hall, the Verbier Festival and Wigmore Hall. The Quebec newspaper Le Devoir, which has followed him since the start of his career, speaks of 'the purity of intonation, the brilliance of the high notes, the power of the sound... Kerson Leong has remained as brilliant as ever, but he has added a new patina and, deep down inside himself, a new class.'

He plays a superb Guarneri del Gesù, on loan from a Canadian patron. 
Related Artists
Reviews