Filters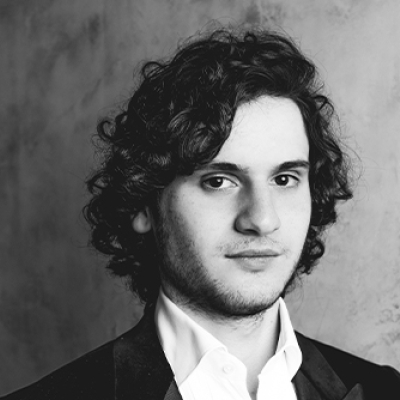 Dutch pianist Aidan Mikdad was born on November 19th, 2001. He studies with Professor Joanna MacGregor at the Royal Academy of Music, where he was awarded the prestigious Bicentenary Scholarship for graduate studies.
Biography

In June 2021, Aidan Mikdad graduated from the Amsterdam Conservatory with Professor Naum Grubert and received a Bachelor's degree in Music with a perfect score (10) and the highest honor "summa cum laude". In 2023 Aidan was nominated in the National Newcomer category of the Edison Klassiek Awards for his Linn recording of Scriabin and Ravel.

Aidan has participated from a young age in international piano competitions and has won numerous prizes. At age eleven he won the first prize of the Koninklijk Concertgebouw Competition. The following year he won the first prize of the International Piano Competition of Lagny-sur-Marne, and in 2015 he received the Klavier-Festival Ruhr Scholarship, awarded to him by pianist Hélène Grimaud. He won the first prize of the Premio Internazionale Pianistico "A. Scriabin" (2016) competing against pianists up to thirty-five years of age. In 2017 he won the prestigious Royal Concertgebouw Young Talent Award, and also received the Tabor Foundation Piano Award from the Verbier Festival, in recognition of his exceptional potential. In 2018 he won the Pnina Salzman Memorial Prize at the Tel Hai International Piano Masterclasses in Israël. He placed fourth at the 2019 Maria Canals Competition in Barcelona and was awarded the Isaac Albeniz prize. In May 2021 he participated in the Queen Elisabeth Piano Competition, where he was the youngest semi-finalist.

Throughout the years, he has received guidance from Sergei Babayan, Dmitri Bashkirov, Nelson Goerner, Richard Goode, Klaus Hellwig, Martin Helmchen, Claudio Martinez Mehner, Ferenc Rados, Sir András Schiff, Jean-Yves Thibaudet, Igor Levit and Arie Vardi.

Aidan has given recitals in Belgium, France, Germany, Israël, Italy, the Netherlands, The United Kingdom, Liechtenstein, Spain, The United States and Switzerland.
Reviews