Filters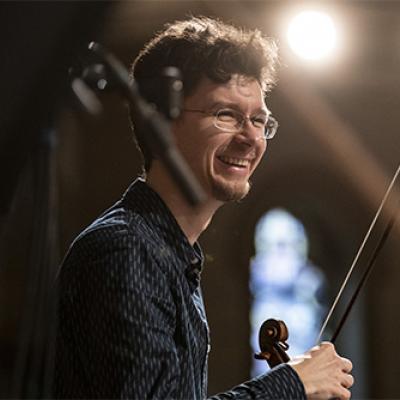 Evgeny Sviridov is one of the leading baroque violinists in Europe nowadays. As both concertmaster and soloist he regularly performs in major concert venues in Europe.
Biography

Sviridov has performed at Concertgebouw Amsterdam and Brugge, Philharmonie Köln, Musikverein und Konzerthaus Wien, Moscow Philharmonic; and is invited to a famous festivals such as Oude Muziek Utrecht, MA Festival in Brugge, Bachfest in Leipzig, Barocktage Berlin, Cremona music festival, Potsdamer Sanssouci, Thuringer Bach Woche in Weimar, "Haut Jura" in France and many others. Evgeny collaborated with well-known musicians: Andreas Scholl, Vivica Genaux, Dmitry Sinkovsky, Dorothee Oberlinger, Erik Bosgraaf, Hiro Kurosaki and others.

Born in 1989 in St-Petersburg, Evgeny got his first education at the Conservatory there. While studying he had already become a laureate of major international competitions such as Menuhin Competition in Cardiff and Paganini Competition in Genova in 2008. In 2010 he joined a Bach Competition in Leipzig and got there a first prize. This prize persuaded him to turn to authentic ways of playing and to studying baroque more thoroughly. In 2016 he got a first prize and audience prize in "Concours Corneille" in Rouen, France; and in 2017 Evgeny won Brugge International Competition "Musica Antiqua".

Among his diverse solo recordings are Vivaldi Sonatas (ERP), Bach and Biber Sonatas (Genuin) and his recording of Giuseppe Tartini's Violin Sonatas (Ricercar) was awarded the Preis der Deutschen Schallplattenkritik in 2019.

Since 2018 he has been holding a teaching position for a baroque violin at the High School of Arts in Bremen. Since 2016 Evgeny has been living in Cologne and currently serves there as concertmaster of the famous baroque ensemble "Concerto Köln", becoming one of the youngest musicians who has ever lead this historical collective. Furthermore he is a regular concertmaster of "B'Rock" orchestra and the ensemble "Il Pomo d'Oro".

In 2014 together with his colleagues he organised baroque ensemble "Ludus Instrumentalis", that made an important appearance on the baroque scene by winning the Berlin Bach competition in 2015 and "Brothers Grauns" Competition in 2016 in Germany.

Evgeny plays a unique original baroque violin by Januarius Gagliano (Naples, 1732) kindly provided him by "Jumpstart Jr" foundation in Amsterdam.
Reviews