Filters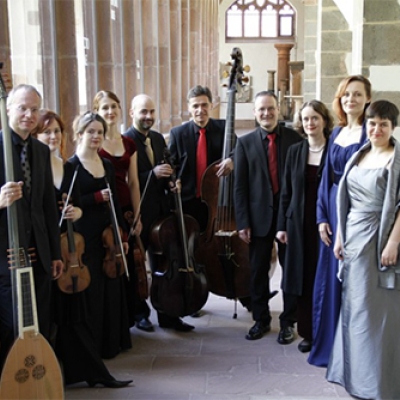 The ensemble La Gioia Armonica was founded by Margit Übellacker and Jürgen Banholzer. A main focus of the ensemble's work is the exploration of the baroque repertoire for the dulcimer, and in particular for the italian salterio and for the legendary pantaleon.
Biography

The size of the ensemble ranges from the dulcimer-organ duo to larger formations, in which musicians specialising in early music performance practice join forces to produce lively and fresh performances of unknown or rarely performed works of the 17th and 18th centuries. La Gioia Armonica has been invited to give concerts in Germany and abroad, e.g. at Ton Koopman's Festival Itinéraire Baroque, at the Händelfestspiele in Halle, the Bachfestival Dordrecht, the Festival de Musique Ancienne in Leytron, the Early Music Festival in Timisoara, Bagnacavallo Classica, the Mitteldeutsche Heinrich-Schütz-Tage, the Organfestival Fugato in Bad Homburg, OrgelPlus in Bottrop as well as for concert series of the Museum of Musical Instruments in Berlin and the Akademie der Wissenschaften in Mainz.

In April 2017 the third CD of the ensemble was released by cpo: Conserva me Domine with countertenor Terry Wey, whom the Süddeutsche Zeitung lately called a discovery long overdue and who was rated one of the best of his Fach by Fono Forum. It features two psalms by Benedetto Marcello as well as vocal and instrumental works with obligato salterio by Giambattista Martini, Antonio Sacchini and Melchiorre Chiesa. Margit Übellacker plays these on a copy of an eighteenth century Italian salterio. Critics called this CD "a musically satisfying disc which opens new horizons" (MusicWeb International), "a very fine disc for curious ears" (www.clicmusique.com) which "demonstrates that there is still much interesting music to discover" (American Record Guide).

The ensemble's first CD (Antonio Caldara: Cantate, Sonate ed Arie, released by RAMÉE) was greeted enthusiastically by the press and received various prizes (Pizzicato Supersonic Award, Goldberg: 5 Ètoiles, Prelude Classical Award 2006 for the best debut CD). The ensemble's second CD (Johann Georg Reutter: Portus Felicitatis, released by RAMÉE in cooperation with Radio Bremen) appeared in 2013 and features motets and arias for the pantaleon by one of the most successful composers of music for the church and for the opera at the Viennese court around 1750. "The album which at last rehabilitates Reutter with doubled rarities has a title that is brilliantly chosen: Portus Felicitatis is really a haven of bliss for all lovers of classical music off the beaten track of mainstream." (Dirk Kruse, Bayrischer Rundfunk) George Pratt called the CD "wonderfully revelatory" (BBC Music Magazine).