Filters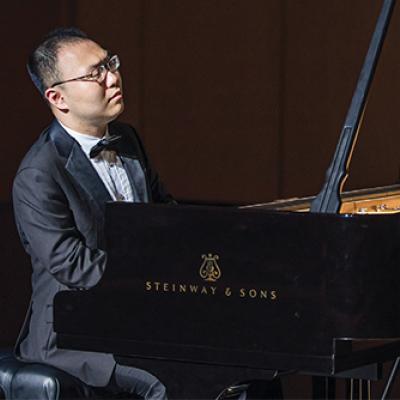 Tianxu An, from Baoding (Hebei Province), is an outstanding young pianist, much sought after both at home in China and around the world.
Biography

In June 2019, Mr. An drew international attention when won the fourth prize and a special prize for 'self confidence and bravery' in the XVI International Tchaikovsky Competition, – the highest award at that famous competition for a Chinese pianist in 17 years. His performance was lauded by the jury chairman Denis Matsuev as "sensational" and "beyond his years of maturity." In July 2019, following on from his win, he made his orchestral debut with the Philadelphia Orchestra at the Mann Center, performing Rachmaninoff Rhapsody On A Theme Of Paganini.

His recent seasons have included performances with the Mariinsky Orchestra under Valery Gergiev in St Petersburg, with the China Philharmonic Orchestra with Xiaotang Xia as part of the International Mariinsky Far East Festival, as well as solo recitals at the Mariinsky Theatre St Petersburg and Shanghai Grand Theater. He collaborated twice with Jia Lü, first with the NCPA (National Centre for the Performing Arts) Orchestra for his debut there on October, 2019, and later with the Macau Orchestra at the Grand Auditorium, Macao Cultural Centre in November 2020.

He has also received numerous top awards including first prize in the 2018 Albert M. Greenfield Student Competition; Grand Prize in the "Helen Cup" Shanghai International Piano Competition; and the Second Prize in the Wiesbaden International Piano Competition. He has participated in master classes with Klaus Bässler, Barry Douglas, Andrea Bonatta, Maxim Mogilevsky, and Yefim Bronfman. In summer 2021, Mr. An undertook a major recital tour in mainland China, with performances in 19 cities including key centres like Beijing and Shanghai. His programs included major works by Beethoven, Brahms, Liszt, Rachmaninoff and Prokofiev.

Mr. An will complete his BA studies in 2022 at the Curtis Institute of Music, where he works with Meng-Chieh Liu and also privately studies with Dang Thai Son. He previously studied with Hua Chang at the middle school affiliated to the Central Conservatory of Music in Beijing.
Reviews