Filters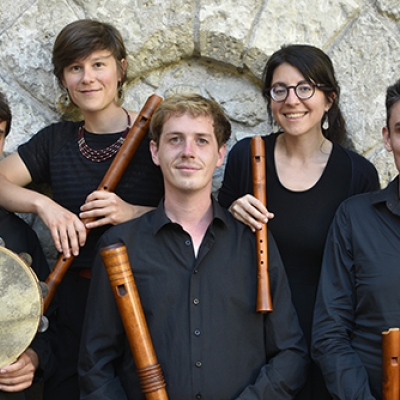 At its essence, Into the Winds is a sound—at once powerful, striking, hypnotic, and singular— created by wind instruments with unique and colorful timbers rooted in Europe's Middle Ages and Renaissance.
Biography

The invigorating breath and pulsating energy of these instruments invite listeners on an immersive sensory journey through time and space.

Blending East and West, past and present, Into the Winds transports connoisseurs and newcomers alike with soundscapes as intimate, sensual, and refined as they are surprising, spectacular, and grandiose. Through a process of research, creation, and reinvention that intermingles sacred and secular music, Into the Winds tells singular stories of universal appeal, kindling the imaginations of its audiences. From the gothic breath of trumpets echoing through early cathedrals to the songs of troubadours exalting courtly love and chivalric virtues, from the brilliant melodies of shawms enlivening balls and feasts to the nonchalant virtuosity of tambourines and recorders improvising in princely palaces, listeners are called body and soul to adventure, contemplation, and discovery.

Always on the lookout for fresh sensations and new challenges, Into the Winds channels the spirit of bygone ages with elegance, simplicity, authenticity, and conviction, juggling myriad instruments while grooving like a big band, and driven by the energy, joy, and pleasure of sharing with audiences.

Into the Winds won the jury prize at the Oude Muziek Festival Utrecht's Van Wassenaer International Competition and were part of the EEEMERGING+ programme.