Filters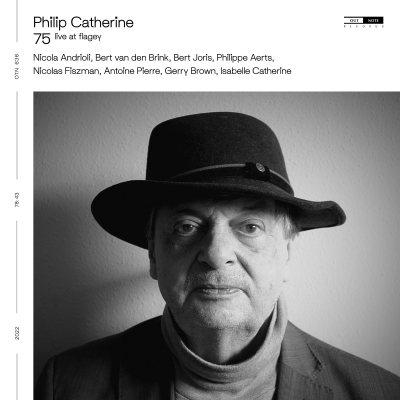 Inlay available for download
Booklet available for download
Letter From My Mother

Composer(s)

Philip Catherine

Artist(s)

Bert Joris

Philip Catherine

Bert van den Brink

Nicola Andrioli

Letter From My Mother

$2.30

Hello George

Composer(s)

Philip Catherine

Artist(s)

Philip Catherine

Bert van den Brink

Philippe Aerts

Nicola Andrioli

Hello George

$4.60

Seven Teas

Composer(s)

Philip Catherine

Artist(s)

Philip Catherine

Bert van den Brink

Philippe Aerts

Nicola Andrioli

Seven Teas

$2.30

So in Love

Artist(s)

Philip Catherine

Bert van den Brink

Philippe Aerts

Nicola Andrioli

So in Love

$2.30

Smile

Composer(s)

Charles Chaplin

Artist(s)

Philip Catherine

Bert van den Brink

Nicola Andrioli

Smile

$2.30

Bluesette

Composer(s)

Toots Thielemans

Artist(s)

Philip Catherine

Bluesette

$2.30

Piano Groove

Composer(s)

Philip Catherine

Artist(s)

Bert Joris

Philip Catherine

Bert van den Brink

Philippe Aerts

Nicola Andrioli

Piano Groove

$3.40

You Don't Know What Love is

Artist(s)

Bert Joris

Philip Catherine

Bert van den Brink

Nicola Andrioli

You Don't Know What Love is

$2.30

We'll Find a Way

Artist(s)

Philip Catherine

Nicola Andrioli

We'll Find a Way

$2.30

Grand Nicolas

Composer(s)

Philip Catherine

Artist(s)

Philip Catherine

Bert van den Brink

Nicola Andrioli

Grand Nicolas

$2.30

Nineteen Seventy Fourths

Artist(s)

Bert Joris

Philip Catherine

Bert van den Brink

Nicola Andrioli

Nineteen Seventy Fourths

$3.40

Mare di Notte

Composer(s)

Nicola Andrioli

Artist(s)

Philip Catherine

Philippe Aerts

Nicola Andrioli

Mare di Notte

$2.30

Dance for Victor, Pt. 1

Composer(s)

Philip Catherine

Artist(s)

Bert Joris

Philip Catherine

Dance for Victor, Pt. 1

$2.30

Dance for Victor, Pt. 2

Composer(s)

Philip Catherine

Artist(s)

Bert Joris

Philip Catherine

Bert van den Brink

Philippe Aerts

Nicola Andrioli

Dance for Victor, Pt. 2

$2.30
Total running time: 78 minutes.
Album information

Philip Catherine is one of those musicians who, throughout a prolific career, has developed a unique and authentic sound. He only needs to play a single note to be instantly recognised. He is certainly one of the greats of Belgian and European jazz.

The relationship between Philip and Flagey began almost twenty years ago. It was therefore only natural that the institution should organise a concert to celebrate his seventy-fifth birthday. Given carte blanche, he decided to propose a surprising line-up: two pianists, two drummers, a trumpet player, and of course a guitar, played by himself. The selection of pieces is just as original: he revisits the numbers that appeared on his very first recording, as well as more recent works and some cover versions. Listening to the album, one is struck by the youthful spirit that immediately makes us forget the generation to which he belongs.

Here is Philip Catherine in all his authenticity, endearing, unpretentious, generous, witty and inspiring. A past master in the art of refined emotion.
Related Artists
Reviews