Filters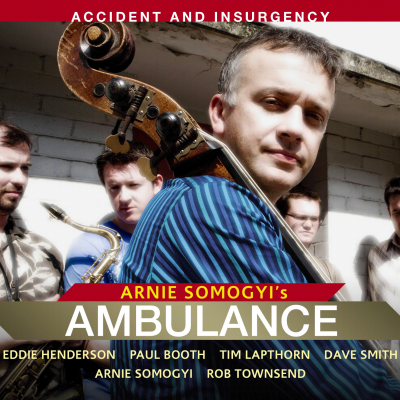 Booklet available for download
Walking Wounded

Artist(s)

Arnie Somogyi's Ambulance

Walking Wounded

$3.40

Mick the Fish

Composer(s)

Somogyi, Townsend, Lapthorn

Artist(s)

Arnie Somogyi's Ambulance

Mick the Fish

$2.30

Captain Courageous

Artist(s)

Arnie Somogyi's Ambulance

Captain Courageous

$3.40

Tumbledown

Artist(s)

Arnie Somogyi's Ambulance

Tumbledown

$3.40

Lobster Pot 999

Composer(s)

Somogyi, Townsend, Lapthorn, Booth, Smith�

Artist(s)

Arnie Somogyi's Ambulance

Lobster Pot 999

$2.30

Don't Improvise

Artist(s)

Arnie Somogyi's Ambulance

Don't Improvise

$2.30

Solace

Artist(s)

Arnie Somogyi's Ambulance

Solace

$3.40

Serenity

Composer(s)

Somogyi, Townsend, Lapthorn, Booth, Smith�

Artist(s)

Arnie Somogyi's Ambulance

Serenity

$2.30

Adrift

Composer(s)

Somogyi, Booth

Artist(s)

Arnie Somogyi's Ambulance

Adrift

$2.30

Sirenity (aka Deaf on Arrival)

Composer(s)

Somogyi, Townsend, Lapthorn, Booth, Smith�

Artist(s)

Arnie Somogyi's Ambulance

Sirenity (aka Deaf on Arrival)

$2.30

Broadside

Composer(s)

Somogyi, Smith�

Artist(s)

Arnie Somogyi's Ambulance

Broadside

$3.40
Total running time: 55 minutes.
Album information

Accident and Insurgency features five of the UK's most exciting young jazz musicians, in collaboration with U.S. jazz legend, trumpeter Eddie Henderson.

The majority of Accident and Insurgency was completed during one four-hour live session thus capturing the essence and live energy of the band. Tracks combine traditional jazz instruments and improvisation as well as modern electronic techniques and soundscapes of local noises creating a new innovative sound.

Accident and Insurgency was nominated for 'Best Album' at the 2008 BBC Jazz Awards.
Related Artists
Reviews