Filters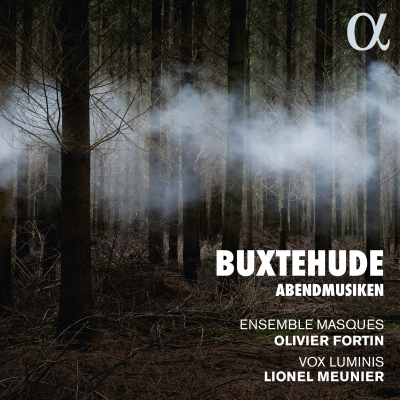 Inlay available for download
Booklet available for download
Gott hilf mir, denn das Wasser geht mir bis an die Seele, BuxWV 34: I. Sonata

Composer(s)

Dietrich Buxtehude

Artist(s)

Olivier Fortin

Ensemble Masques

Gott hilf mir, denn das Wasser geht mir bis an die Seele, BuxWV 34: I. Sonata

$2.30

Gott hilf mir, denn das Wasser geht mir bis an die Seele, BuxWV 34: II. Gott hilf Mir

Composer(s)

Dietrich Buxtehude

Artist(s)

Lionel Meunier

Sebastian Myrus

Vox Luminis

Ensemble Masques

Gott hilf mir, denn das Wasser geht mir bis an die Seele, BuxWV 34: II. Gott hilf Mir

$2.30

Gott hilf mir, denn das Wasser geht mir bis an die Seele, BuxWV 34: III. Fürchte dich Nicht!

Composer(s)

Dietrich Buxtehude

Artist(s)

Lionel Meunier

Olivier Fortin

Vox Luminis

Ensemble Masques

Gott hilf mir, denn das Wasser geht mir bis an die Seele, BuxWV 34: III. Fürchte dich Nicht!

$2.30

Gott hilf mir, denn das Wasser geht mir bis an die Seele, BuxWV 34: IV. Israel hoffe auf den Herren! / Wer hofft in Gott und dem Vertraut

Composer(s)

Dietrich Buxtehude

Artist(s)

Lionel Meunier

Olivier Fortin

Vox Luminis

Ensemble Masques

Gott hilf mir, denn das Wasser geht mir bis an die Seele, BuxWV 34: IV. Israel hoffe auf den Herren! / Wer hofft in Gott und dem Vertraut

$2.30

Gott hilf mir, denn das Wasser geht mir bis an die Seele, BuxWV 34: V. Ach ja, mein Gott

Composer(s)

Dietrich Buxtehude

Artist(s)

Lionel Meunier

Olivier Fortin

Vox Luminis

Ensemble Masques

Gott hilf mir, denn das Wasser geht mir bis an die Seele, BuxWV 34: V. Ach ja, mein Gott

$2.30

Gott hilf mir, denn das Wasser geht mir bis an die Seele, BuxWV 34: VI. Israel hoffe auf den Herren

Composer(s)

Dietrich Buxtehude

Artist(s)

Lionel Meunier

Olivier Fortin

Vox Luminis

Ensemble Masques

Gott hilf mir, denn das Wasser geht mir bis an die Seele, BuxWV 34: VI. Israel hoffe auf den Herren

$2.30

Trio Sonata in A Minor, BuxWV 272

Composer(s)

Dietrich Buxtehude

Artist(s)

Olivier Fortin

Sophie Gent

Ensemble Masques

Mélissande Corriveau

Trio Sonata in A Minor, BuxWV 272

$3.40

Befiehl dem Engel, dass er komm' in A Minor, BuxWV 10

Composer(s)

Dietrich Buxtehude

Artist(s)

Lionel Meunier

Olivier Fortin

Vox Luminis

Ensemble Masques

Befiehl dem Engel, dass er komm' in A Minor, BuxWV 10

$2.30

Jesu, meine Freude in E Minor, BuxWV 60: I. Sonata

Composer(s)

Dietrich Buxtehude

Artist(s)

Olivier Fortin

Ensemble Masques

Jesu, meine Freude in E Minor, BuxWV 60: I. Sonata

$2.30

Jesu, meine Freude, BuxWV 60: II. Jesu, meine Freude

Composer(s)

Dietrich Buxtehude

Artist(s)

Lionel Meunier

Olivier Fortin

Vox Luminis

Ensemble Masques

Jesu, meine Freude, BuxWV 60: II. Jesu, meine Freude

$2.30

Jesu, meine Freude, BuxWV 60: III. Unter deinem Schirmen

Composer(s)

Dietrich Buxtehude

Artist(s)

Lionel Meunier

Sara Jäggi

Vox Luminis

Jesu, meine Freude, BuxWV 60: III. Unter deinem Schirmen

$2.30

Jesu, meine Freude, BuxWV 60: IV. Trotz dem alten Drachen

Composer(s)

Dietrich Buxtehude

Artist(s)

Lionel Meunier

Sebastian Myrus

Vox Luminis

Jesu, meine Freude, BuxWV 60: IV. Trotz dem alten Drachen

$2.30

Jesu, meine Freude, BuxWV 60: V. Weg mit allen Schätzen

Composer(s)

Dietrich Buxtehude

Artist(s)

Zsuzsi Tóth

Sebastian Myrus

Vox Luminis

Stefanie True

Jesu, meine Freude, BuxWV 60: V. Weg mit allen Schätzen

$2.30

Jesu, meine Freude, BuxWV 60: VI. Gute Nacht, ihr Sünden

Composer(s)

Dietrich Buxtehude

Artist(s)

Lionel Meunier

Caroline Weynants

Vox Luminis

Ensemble Masques

Jesu, meine Freude, BuxWV 60: VI. Gute Nacht, ihr Sünden

$2.30

Jesu, meine Freude, BuxWV 60: VII. Weicht, ihr Trauergeister

Composer(s)

Dietrich Buxtehude

Artist(s)

Lionel Meunier

Olivier Fortin

Vox Luminis

Ensemble Masques

Jesu, meine Freude, BuxWV 60: VII. Weicht, ihr Trauergeister

$2.30

Trio Sonata in B-Flat Major, BuxWV 255

Composer(s)

Dietrich Buxtehude

Artist(s)

Olivier Fortin

Sophie Gent

Ensemble Masques

Mélissande Corriveau

Trio Sonata in B-Flat Major, BuxWV 255

$3.40

Herzlich Lieb hab' ich dich, O Herr, BuxWV 41: I. Herzlich Lieb hab' ich Dich

Composer(s)

Dietrich Buxtehude

Artist(s)

Lionel Meunier

Olivier Fortin

Vox Luminis

Ensemble Masques

Herzlich Lieb hab' ich dich, O Herr, BuxWV 41: I. Herzlich Lieb hab' ich Dich

$2.30

Herzlich Lieb hab' ich dich, O Herr, BuxWV 41: II. Es ist ja, Herr

Composer(s)

Dietrich Buxtehude

Artist(s)

Lionel Meunier

Olivier Fortin

Vox Luminis

Ensemble Masques

Herzlich Lieb hab' ich dich, O Herr, BuxWV 41: II. Es ist ja, Herr

$3.40

Herzlich Lieb hab' ich dich, O Herr, BuxWV 41: III. Ach Herr, lass dein' Lieb' Engelein

Composer(s)

Dietrich Buxtehude

Artist(s)

Lionel Meunier

Olivier Fortin

Vox Luminis

Ensemble Masques

Herzlich Lieb hab' ich dich, O Herr, BuxWV 41: III. Ach Herr, lass dein' Lieb' Engelein

$2.30

Trio Sonata in D Major, BuxWV 267

Composer(s)

Dietrich Buxtehude

Artist(s)

Olivier Fortin

Benoît Vanden Bemden

Ensemble Masques

Trio Sonata in D Major, BuxWV 267

$3.40

Jesu, meines Lebens Leben in D Minor, BuxWV 62: I. Sinfonia

Composer(s)

Dietrich Buxtehude

Artist(s)

Olivier Fortin

Ensemble Masques

Jesu, meines Lebens Leben in D Minor, BuxWV 62: I. Sinfonia

$2.30

Jesu, meines Lebens Leben in D Minor, BuxWV 62: II. Ciaconna

Composer(s)

Dietrich Buxtehude

Artist(s)

Lionel Meunier

Olivier Fortin

Vox Luminis

Ensemble Masques

Jesu, meines Lebens Leben in D Minor, BuxWV 62: II. Ciaconna

$2.30
Total running time: 85 minutes.





Album information

To mark the 500th anniversary of the Lutheran Reformation, Vox Luminis and the Ensemble Masques have come together to perform a programme of cantatas  and instrumental pieces. It was named winner of the 'Choral' category at the 2019 Gramophone Awards.

The Abendmusiken were a legendary concert series organised by Buxtehude in Lübeck. Even Johann Sebastian Bach travelled a long way to attend these concerts of sacred and instrumental music and met the master Dietrich Buxtehude, the most famous organist in Europe.

The programme includes cantatas (Gott hilf mir, denn das Wasser geht mir bis an die Seele, BuxWV 34, Befiehl dem Engel, dass er komm, BuxWV 10, Jesu, meine Freude, BuxWV 60, Herzlich lieb hab ich dich, o Herr, BuxWV 41) and instrumental pieces (Sonatas BuxWV 255 and 261). The recording assembles leading specialists of this repertory, with the expert voices of Vox Luminis combining with the vitality of the instrumentalists of Ensemble Masques.
Related Artists
Reviews