Filters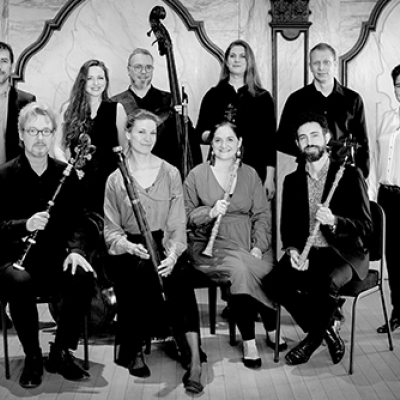 Renowned as much for their expressiveness and vitality as for their integrity and precision, Masques is an ensemble which fully embodies the dynamic spirit of the Baroque. The name of the group is inspired by the masques of Elizabethan England — dramatic entertainments that incorporated music, dance and poetry.
Biography

The six members of Masques each have impressive individual careers, with a collective résumé that encompasses a prestigious roster of international early music ensembles. When they come together, their combined breadth of experience is felt in an uncommon interpretive depth, bound together by an equally uncommon chemistry which continues to mesmerize audiences and critics alike.

A chamber group without conductor, Masques benefits from the creative involvement of each member. Their shared curiosity has lead them, and their audiences, along an ever-evolving path of discovery. From their deep immersion into the fascinating world of 17th century German music, to the unveiling of Telemann's universalism, humour and humanism, to their interest in the initiatory journey of "The Grand Tour," Masques' artistic choices are underpinned by the same appetite for trade, blending, borrowing and mixing that was the very breath of the Baroque era itself. It is a spirit reflected in the diverse nationalities of Masques' musicians, who hail from Australia, Belgium, Canada, Finland and France — and through their playing, made new.

Masques's concert schedule has taken them to Germany, Italy, France, Portugal, Spain, Poland and Austria; to The Netherlands at Amsterdam's Musiekgebouw and Utrecht's renowned Early Music Festival; to Belgium at Brussels' Bozar, Antwerp's AMUZ and Gent's Bijloke. They have also appeared in most major centres in Canada and the United States, including New York, Toronto, Montreal, Vancouver and Los Angeles. Future and past Projects include concerts as part of the Folles Journées en région, in Nantes & Tokyo, the Cité de la Voix in Vézelay, the Festival de Saintes, the Heidelberger Frühling, the Festival de Wallonie and a tour of the United Kingdom & Finland.

An exclusive artist for the ALPHA label, their discs dedicated to 17th century Austrian composers Johann Heinrich Schmelzer and the almost unknown Romanus Weichlein have enjoyed unanimous critical praise, between them receiving the Diapason d'Or, the "ffff" Telerama, the two "Chocs" de Classica and Gramophone Magazine's "Editor's Choice" award. More recently he recorded works by Dietrich Buxtehude with the Vox Luminis ensemble, a CD which won a Gramophone Award. In 2020 a recording of Bach's three harpsichord concerti with Olivier Fortin and Emmanuel Frankenberg was released. In 2022 a recording of J.S. Bach's Overture-Suites with one musician per part will be released. Other critically acclaimed albums have been recorded on the ATMA, Dorian and Analekta labels.

The Ensemble is supported by the DRAC Bourgogne-Franche-Comté, the region Bourgogne-Franche-Comté, the department of Saône et Loire, the CNM, SPEDIDAM and ADAMI. The Ensemble Masques is a member of FEVIS and PROFEDIM.
Reviews