Filters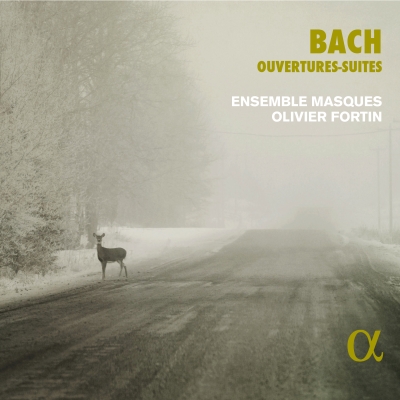 Inlay available for download
Booklet available for download
Orchestral Suite No. 1 in C Major, BWV 1066: I. Ouverture

Composer(s)

Johann Sebastian Bach

Artist(s)

Olivier Fortin

Ensemble Masques

Orchestral Suite No. 1 in C Major, BWV 1066: I. Ouverture

$2.30

Orchestral Suite No. 1 in C Major, BWV 1066: II. Courante

Composer(s)

Johann Sebastian Bach

Artist(s)

Olivier Fortin

Ensemble Masques

Orchestral Suite No. 1 in C Major, BWV 1066: II. Courante

$2.30

Orchestral Suite No. 1 in C Major, BWV 1066: III. Gavottes I & II

Composer(s)

Johann Sebastian Bach

Artist(s)

Olivier Fortin

Ensemble Masques

Orchestral Suite No. 1 in C Major, BWV 1066: III. Gavottes I & II

$2.30

Orchestral Suite No. 1 in C Major, BWV 1066: IV. Forlane

Composer(s)

Johann Sebastian Bach

Artist(s)

Olivier Fortin

Ensemble Masques

Orchestral Suite No. 1 in C Major, BWV 1066: IV. Forlane

$2.30

Orchestral Suite No. 1 in C Major, BWV 1066: V. Menuets I & II

Composer(s)

Johann Sebastian Bach

Artist(s)

Olivier Fortin

Ensemble Masques

Orchestral Suite No. 1 in C Major, BWV 1066: V. Menuets I & II

$2.30

Orchestral Suite No. 1 in C Major, BWV 1066: VI. Bourrées I & II

Composer(s)

Johann Sebastian Bach

Artist(s)

Olivier Fortin

Ensemble Masques

Orchestral Suite No. 1 in C Major, BWV 1066: VI. Bourrées I & II

$2.30

Orchestral Suite No. 1 in C Major, BWV 1066: VII. Passepieds I & II

Composer(s)

Johann Sebastian Bach

Artist(s)

Olivier Fortin

Ensemble Masques

Orchestral Suite No. 1 in C Major, BWV 1066: VII. Passepieds I & II

$2.30

Orchestral Suite No. 2 in B Minor, BWV 1067: I. Ouverture

Composer(s)

Johann Sebastian Bach

Artist(s)

Olivier Fortin

Ensemble Masques

Orchestral Suite No. 2 in B Minor, BWV 1067: I. Ouverture

$2.30

Orchestral Suite No. 2 in B Minor, BWV 1067: II. Rondeau

Composer(s)

Johann Sebastian Bach

Artist(s)

Olivier Fortin

Ensemble Masques

Orchestral Suite No. 2 in B Minor, BWV 1067: II. Rondeau

$2.30

Orchestral Suite No. 2 in B Minor, BWV 1067: III. Sarabande

Composer(s)

Johann Sebastian Bach

Artist(s)

Olivier Fortin

Ensemble Masques

Orchestral Suite No. 2 in B Minor, BWV 1067: III. Sarabande

$2.30

Orchestral Suite No. 2 in B Minor, BWV 1067: IV. Bourrées I & II

Composer(s)

Johann Sebastian Bach

Artist(s)

Olivier Fortin

Ensemble Masques

Orchestral Suite No. 2 in B Minor, BWV 1067: IV. Bourrées I & II

$2.30

Orchestral Suite No. 2 in B Minor, BWV 1067: V. Polonaise & Double

Composer(s)

Johann Sebastian Bach

Artist(s)

Olivier Fortin

Ensemble Masques

Orchestral Suite No. 2 in B Minor, BWV 1067: V. Polonaise & Double

$2.30

Orchestral Suite No. 2 in B Minor, BWV 1067: VI. Menuett

Composer(s)

Johann Sebastian Bach

Artist(s)

Olivier Fortin

Ensemble Masques

Orchestral Suite No. 2 in B Minor, BWV 1067: VI. Menuett

$2.30

Orchestral Suite No. 2 in B Minor, BWV 1067: VII. Badinerie

Composer(s)

Johann Sebastian Bach

Artist(s)

Olivier Fortin

Ensemble Masques

Orchestral Suite No. 2 in B Minor, BWV 1067: VII. Badinerie

$2.30

Orchestral Suite No. 3 in D Major, BWV 1068: I. Ouverture

Composer(s)

Johann Sebastian Bach

Artist(s)

Olivier Fortin

Ensemble Masques

Orchestral Suite No. 3 in D Major, BWV 1068: I. Ouverture

$2.30

Orchestral Suite No. 3 in D Major, BWV 1068: II. Air

Composer(s)

Johann Sebastian Bach

Artist(s)

Olivier Fortin

Ensemble Masques

Orchestral Suite No. 3 in D Major, BWV 1068: II. Air

$2.30

Orchestral Suite No. 3 in D Major, BWV 1068: III. Gavottes I & II

Composer(s)

Johann Sebastian Bach

Artist(s)

Olivier Fortin

Ensemble Masques

Orchestral Suite No. 3 in D Major, BWV 1068: III. Gavottes I & II

$2.30

Orchestral Suite No. 3 in D Major, BWV 1068: IV. Bourrée

Composer(s)

Johann Sebastian Bach

Artist(s)

Olivier Fortin

Ensemble Masques

Orchestral Suite No. 3 in D Major, BWV 1068: IV. Bourrée

$2.30

Orchestral Suite No. 3 in D Major, BWV 1068: V. Gigue

Composer(s)

Johann Sebastian Bach

Artist(s)

Olivier Fortin

Ensemble Masques

Orchestral Suite No. 3 in D Major, BWV 1068: V. Gigue

$2.30

Orchestral Suite No. 4 in D Major, BWV 1069: I. Ouverture

Composer(s)

Johann Sebastian Bach

Artist(s)

Olivier Fortin

Ensemble Masques

Orchestral Suite No. 4 in D Major, BWV 1069: I. Ouverture

$3.40

Orchestral Suite No. 4 in D Major, BWV 1069: II. Bourrées I & II

Composer(s)

Johann Sebastian Bach

Artist(s)

Olivier Fortin

Ensemble Masques

Orchestral Suite No. 4 in D Major, BWV 1069: II. Bourrées I & II

$2.30

Orchestral Suite No. 4 in D Major, BWV 1069: III. Gavotte

Composer(s)

Johann Sebastian Bach

Artist(s)

Olivier Fortin

Ensemble Masques

Orchestral Suite No. 4 in D Major, BWV 1069: III. Gavotte

$2.30

Orchestral Suite No. 4 in D Major, BWV 1069: IV. Menuets I & II

Composer(s)

Johann Sebastian Bach

Artist(s)

Olivier Fortin

Ensemble Masques

Orchestral Suite No. 4 in D Major, BWV 1069: IV. Menuets I & II

$2.30

Orchestral Suite No. 4 in D Major, BWV 1069: V. Réjouissance

Composer(s)

Johann Sebastian Bach

Artist(s)

Olivier Fortin

Ensemble Masques

Orchestral Suite No. 4 in D Major, BWV 1069: V. Réjouissance

$2.30
Total running time: 77 minutes.
Album information

The orchestral suite, sometimes simply called 'overture' because of the imposing dimensions of its opening movement, enjoyed great popularity in the early eighteenth century, especially in central Germany. 

Bach had discovered the genre in his youth and cultivated it until his late period in Leipzig. This recording assembles his four overture-suites, including the famous Suite no.2 BWV 1067, which belongs among the late works. Numerous copying errors in the instrumental parts suggest that this piece was originally written a tone lower – in A minor – and therefore probably for a solo instrument other than the transverse flute: in the present recording, this first version, reconstructed from the clues mentioned above, is performed with solo oboe. 'This is a work of austere beauty, in which contrapuntal skill and melancholic expression are combined in a highly original way with the carefully calculated dance rhythms', writes Peter Wollny in the accompanying booklet article.
Related Artists
Reviews