Filters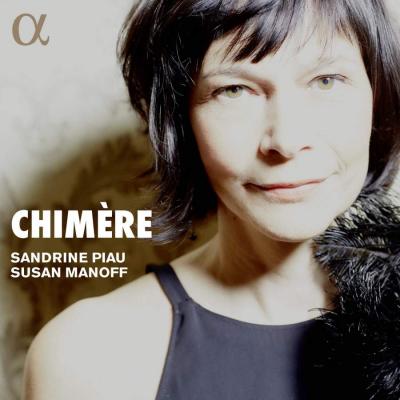 Inlay available for download
Booklet available for download
Lieder und Balladen, 9 Gesänge aus Goethe's "Faust", erster Teil: I. Ach neige, du Schmerzenreiche

Artist(s)

Sandrine Piau

Susan Manoff

Lieder und Balladen, 9 Gesänge aus Goethe's "Faust", erster Teil: I. Ach neige, du Schmerzenreiche

$2.30

Lieder und Gesänge aus "Wilhelm Meister", Op. 98a: I. Mignon "Kennst du das Land?"

Composer(s)

Robert Schumann

Artist(s)

Sandrine Piau

Susan Manoff

Lieder und Gesänge aus "Wilhelm Meister", Op. 98a: I. Mignon "Kennst du das Land?"

$2.30

Lieder und Gesänge, Op. 127: II. Dein Angesicht

Composer(s)

Robert Schumann

Artist(s)

Sandrine Piau

Susan Manoff

Lieder und Gesänge, Op. 127: II. Dein Angesicht

$2.30

Myrthen, Op. 25: VII. Die Lotosblume

Composer(s)

Robert Schumann

Artist(s)

Sandrine Piau

Susan Manoff

Myrthen, Op. 25: VII. Die Lotosblume

$2.30

Fêtes Galantes I, CD 86: I. En sourdine

Composer(s)

Claude Debussy

Artist(s)

Sandrine Piau

Susan Manoff

Fêtes Galantes I, CD 86: I. En sourdine

$2.30

Fêtes Galantes I, CD 86: II. Fantoches

Composer(s)

Claude Debussy

Artist(s)

Sandrine Piau

Susan Manoff

Fêtes Galantes I, CD 86: II. Fantoches

$2.30

Fêtes Galantes I, CD 86: III. Clair de lune

Composer(s)

Claude Debussy

Artist(s)

Sandrine Piau

Susan Manoff

Fêtes Galantes I, CD 86: III. Clair de lune

$2.30

Verschwiegene Liebe

Artist(s)

Sandrine Piau

Susan Manoff

Verschwiegene Liebe

$2.30

Mörike Lieder: 45. Nixe Binsefuß

Artist(s)

Sandrine Piau

Susan Manoff

Mörike Lieder: 45. Nixe Binsefuß

$2.30

Mörike Lieder: 7. Das verlassene Mägdlein

Artist(s)

Sandrine Piau

Susan Manoff

Mörike Lieder: 7. Das verlassene Mägdlein

$2.30

Mörike Lieder: 38. Lied vom Winde

Artist(s)

Sandrine Piau

Susan Manoff

Mörike Lieder: 38. Lied vom Winde

$2.30

5 Elizabethan Songs: IV. Sleep

Artist(s)

Sandrine Piau

Susan Manoff

5 Elizabethan Songs: IV. Sleep

$2.30

Heart! We Will Forget Him

Artist(s)

Sandrine Piau

Susan Manoff

Heart! We Will Forget Him

$2.30

Banalités, FP 107: I. Chanson d'Orkenise

Composer(s)

Francis Poulenc

Artist(s)

Sandrine Piau

Susan Manoff

Banalités, FP 107: I. Chanson d'Orkenise

$2.30

Banalités, FP 107: II. Hôtel

Composer(s)

Francis Poulenc

Artist(s)

Sandrine Piau

Susan Manoff

Banalités, FP 107: II. Hôtel

$2.30

Banalités, FP 107: III. Fagnes de Wallonie

Composer(s)

Francis Poulenc

Artist(s)

Sandrine Piau

Susan Manoff

Banalités, FP 107: III. Fagnes de Wallonie

$2.30

Banalités, FP 107: IV. Voyage à Paris

Composer(s)

Francis Poulenc

Artist(s)

Sandrine Piau

Susan Manoff

Banalités, FP 107: IV. Voyage à Paris

$2.30

Banalités, FP 107: V. Sanglots

Composer(s)

Francis Poulenc

Artist(s)

Sandrine Piau

Susan Manoff

Banalités, FP 107: V. Sanglots

$2.30

Despite and Still, Op. 41: IV. Solitary Hotel

Composer(s)

Samuel Barber

Artist(s)

Sandrine Piau

Susan Manoff

Despite and Still, Op. 41: IV. Solitary Hotel

$2.30

Métamorphoses, FP 121: II. C'est ainsi que tu es

Composer(s)

Francis Poulenc

Artist(s)

Sandrine Piau

Susan Manoff

Métamorphoses, FP 121: II. C'est ainsi que tu es

$2.30

Three Dickinson Songs: I. As Imperceptibly as Grief

Artist(s)

Sandrine Piau

Susan Manoff

Three Dickinson Songs: I. As Imperceptibly as Grief

$2.30

Three Dickinson Songs: II. Will There Really Be a Morning?

Artist(s)

Sandrine Piau

Susan Manoff

Three Dickinson Songs: II. Will There Really Be a Morning?

$2.30

Three Dickinson Songs: III. Good Morning Midnight

Artist(s)

Sandrine Piau

Susan Manoff

Three Dickinson Songs: III. Good Morning Midnight

$2.30
Total running time: 58 minutes.





Album information

With Chimère, Sandrine Piau invites us on a voyage into the intimate and infinite territory of dreams: 'Chimera: an illusory, unsatisfied quest, the graveyard of our illusions...'

Sandrine and her long standing partner, the pianist Susan Manoff, have thought up a programme combining the German lied (Hugo Wolf, one of Schumann's Mignon songs, a scene from Goethe's Faust by Carl Loewe), Mélodies by Debussy and Poulenc (his Banalités), and Art Songs by Barber along with discoveries of more rarely heard composers like Ivor Gurney and the Dickinson Songs of André Previn – the celebrated American conductor is less well-known for his compositions, which include this magnificent cycle written for Renée Fleming.

Equally at home in French, German and English, Sandrine Piau is at the peak of her artistry. Fantoches, Clair de Lune, Solitary Hotel, Will there really be a morning?: set out for the world of dreams following this unique poetic itinerary. 'The land of chimeras is the only one in this world worth living in' (Jean-Jacques Rousseau).
Related Artists
Reviews