Filters
Cor Europae. Christmas in Mediaeval Prague
Cor Europae. Christmas in Mediaeval Prague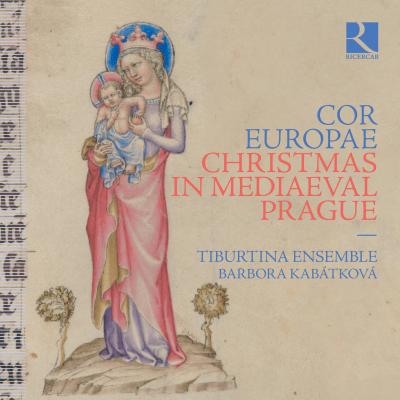 Inlay available for download
Booklet available for download
Antiphona Ave spes nostra

Artist(s)

Barbora Kabátková

Tiburtina Ensemble

Antiphona Ave spes nostra

$2.30

Benedicamen In hac precelsa sollempnitate

Artist(s)

Barbora Kabátková

Tiburtina Ensemble

Benedicamen In hac precelsa sollempnitate

$2.30

Kyrie Creator pater increate

Artist(s)

Barbora Kabátková

Tiburtina Ensemble

Kyrie Creator pater increate

$2.30

Hymnus Veni Redemptor gencium

Artist(s)

Barbora Kabátková

Tiburtina Ensemble

Hymnus Veni Redemptor gencium

$2.30

Lectio Primo tempore

Artist(s)

Barbora Kabátková

Tiburtina Ensemble

Lectio Primo tempore

$2.30

Offertorium Tui sunt celi – Tropus Nate dei

Artist(s)

Barbora Kabátková

Tiburtina Ensemble

Offertorium Tui sunt celi – Tropus Nate dei

$3.40

Lectio Iube Domine – Consolamini

Artist(s)

Barbora Kabátková

Tiburtina Ensemble

Lectio Iube Domine – Consolamini

$2.30

Benedicamen Splendor patris et sol – Festivali melodia

Artist(s)

Barbora Kabátková

Benedicamen Splendor patris et sol – Festivali melodia

$2.30

Benedicamen Puer natus in Bethlehem

Artist(s)

Barbora Kabátková

Tiburtina Ensemble

Benedicamen Puer natus in Bethlehem

$2.30

Lectio Consolamini

Artist(s)

Barbora Kabátková

Tiburtina Ensemble

Lectio Consolamini

$2.30

Responsorium Descendit de cælis – Tropus Fabrica mundi

Artist(s)

Barbora Kabátková

Tiburtina Ensemble

Responsorium Descendit de cælis – Tropus Fabrica mundi

$3.40

Lectio Iube Domine – Consurge

Artist(s)

Barbora Kabátková

Tiburtina Ensemble

Lectio Iube Domine – Consurge

$2.30

Benedicamen Nos respectu gracie

Artist(s)

Daniela Čermáková

Benedicamen Nos respectu gracie

$2.30

Introitus Lux fulgebit – Tropus Lumen clarum rite

Artist(s)

Barbora Kabátková

Tiburtina Ensemble

Introitus Lux fulgebit – Tropus Lumen clarum rite

$2.30

Cantio Gaude quam magnificat

Artist(s)

Barbora Kabátková

Tiburtina Ensemble

Cantio Gaude quam magnificat

$2.30

Sanctus super Gaude quam magnificat

Artist(s)

Barbora Kabátková

Tiburtina Ensemble

Sanctus super Gaude quam magnificat

$2.30

Benedicamen Patrem parit filia

Artist(s)

Barbora Kabátková

Tiburtina Ensemble

Benedicamen Patrem parit filia

$2.30

Motet Exordium quadruplate – Nate Dei – Concrepet infanti – Verbum caro

Artist(s)

Barbora Kabátková

Tiburtina Ensemble

Motet Exordium quadruplate – Nate Dei – Concrepet infanti – Verbum caro

$2.30
Total running time: 60 minutes.
Album information

Explore the beautiful repertory for the Advent and Christmas period that have survived in the sources of Prague Cathedral and the Benedictine abbey of Prague Castle.

Prague has always been regarded as one of the most beautiful cities in the world. The name 'Cor Europae' (Heart of Europe) probably dates from the country's early history, in the thirteenth century, when the Kingdom of Bohemia stretched from the Baltic to the Mediterranean.

This was a period of great prosperity, especially under King Wenceslaus II Přemyslid, and culminated with the reign of Charles IV, who was both King of Bohemia and Holy Roman Emperor. Despite the fact that Bohemia was the centre of Europe and benefited from the presence of many scholars (more especially after the foundation of the university in 1348), the local culture also preserved an older tradition there. These sources make it possible to reconstruct the liturgy of the Feast of the Nativity as it was celebrated there, with organa and tropes in the tradition of twelfth-century music, at a time when the new Ars Nova style was flourishing elsewhere in Europe. It is this music that the wonderful voices of the Tiburtina Ensemble bring to life for us.
Related Artists
Reviews