Filters
Corelli: Opus 6: Concerti Grossi
Corelli: Opus 6: Concerti Grossi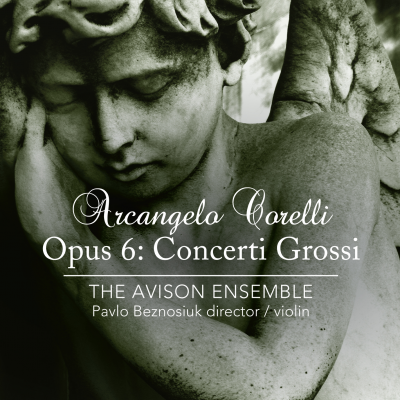 Inlay available for download
Booklet available for download
Cto Grosso in D, No. 1 - I.

Composer(s)

Arcangelo Corelli

Artist(s)

Pavlo Beznosiuk

The Avison Ensemble

Cto Grosso in D, No. 1 - I.

$2.30

Cto Grosso in D, No. 1 - II.

Composer(s)

Arcangelo Corelli

Artist(s)

Pavlo Beznosiuk

The Avison Ensemble

Cto Grosso in D, No. 1 - II.

$2.30

Cto Grosso in D, No. 1 - III.

Composer(s)

Arcangelo Corelli

Artist(s)

Pavlo Beznosiuk

The Avison Ensemble

Cto Grosso in D, No. 1 - III.

$2.30

Cto Grosso in D, No. 1 - IV.

Composer(s)

Arcangelo Corelli

Artist(s)

Pavlo Beznosiuk

The Avison Ensemble

Cto Grosso in D, No. 1 - IV.

$2.30

Cto Grosso in F, No. 2 - I.

Composer(s)

Arcangelo Corelli

Artist(s)

Pavlo Beznosiuk

The Avison Ensemble

Cto Grosso in F, No. 2 - I.

$2.30

Cto Grosso in F, No. 2 - II.

Composer(s)

Arcangelo Corelli

Artist(s)

Pavlo Beznosiuk

The Avison Ensemble

Cto Grosso in F, No. 2 - II.

$2.30

Cto Grosso in F, No. 2 - III.

Composer(s)

Arcangelo Corelli

Artist(s)

Pavlo Beznosiuk

The Avison Ensemble

Cto Grosso in F, No. 2 - III.

$2.30

Cto Grosso in F, No. 2 - IV.

Composer(s)

Arcangelo Corelli

Artist(s)

Pavlo Beznosiuk

The Avison Ensemble

Cto Grosso in F, No. 2 - IV.

$2.30

Cto Grosso in Cm, No. 3 - I.

Composer(s)

Arcangelo Corelli

Artist(s)

Pavlo Beznosiuk

The Avison Ensemble

Cto Grosso in Cm, No. 3 - I.

$2.30

Cto Grosso in Cm, No. 3 - II.

Composer(s)

Arcangelo Corelli

Artist(s)

Pavlo Beznosiuk

The Avison Ensemble

Cto Grosso in Cm, No. 3 - II.

$2.30

Cto Grosso in Cm, No. 3 - III.

Composer(s)

Arcangelo Corelli

Artist(s)

Pavlo Beznosiuk

The Avison Ensemble

Cto Grosso in Cm, No. 3 - III.

$2.30

Cto Grosso in Cm, No. 3 - IV.

Composer(s)

Arcangelo Corelli

Artist(s)

Pavlo Beznosiuk

The Avison Ensemble

Cto Grosso in Cm, No. 3 - IV.

$2.30

Cto Grosso in Cm, No. 3 - V.

Composer(s)

Arcangelo Corelli

Artist(s)

Pavlo Beznosiuk

The Avison Ensemble

Cto Grosso in Cm, No. 3 - V.

$2.30

Cto Grosso in D, No. 4 - I.

Composer(s)

Arcangelo Corelli

Artist(s)

Pavlo Beznosiuk

The Avison Ensemble

Cto Grosso in D, No. 4 - I.

$2.30

Cto Grosso in D, No. 4 - II.

Composer(s)

Arcangelo Corelli

Artist(s)

Pavlo Beznosiuk

The Avison Ensemble

Cto Grosso in D, No. 4 - II.

$2.30

Cto Grosso in D, No. 4 - III.

Composer(s)

Arcangelo Corelli

Artist(s)

Pavlo Beznosiuk

The Avison Ensemble

Cto Grosso in D, No. 4 - III.

$2.30

Cto Grosso in D, No. 4 - IV.

Composer(s)

Arcangelo Corelli

Artist(s)

Pavlo Beznosiuk

The Avison Ensemble

Cto Grosso in D, No. 4 - IV.

$2.30

Cto Grosso in B-flat, No. 5 - I.

Composer(s)

Arcangelo Corelli

Artist(s)

Pavlo Beznosiuk

The Avison Ensemble

Cto Grosso in B-flat, No. 5 - I.

$2.30

Cto Grosso in B-flat, No. 5 - II.

Composer(s)

Arcangelo Corelli

Artist(s)

Pavlo Beznosiuk

The Avison Ensemble

Cto Grosso in B-flat, No. 5 - II.

$2.30

Cto Grosso in B-flat, No. 5 - III.

Composer(s)

Arcangelo Corelli

Artist(s)

Pavlo Beznosiuk

The Avison Ensemble

Cto Grosso in B-flat, No. 5 - III.

$2.30

Cto Grosso in B-flat, No. 5 - IV.

Composer(s)

Arcangelo Corelli

Artist(s)

Pavlo Beznosiuk

The Avison Ensemble

Cto Grosso in B-flat, No. 5 - IV.

$2.30

Cto Grosso in F, No. 6 - I.

Composer(s)

Arcangelo Corelli

Artist(s)

Pavlo Beznosiuk

The Avison Ensemble

Cto Grosso in F, No. 6 - I.

$2.30

Cto Grosso in F, No. 6 - II.

Composer(s)

Arcangelo Corelli

Artist(s)

Pavlo Beznosiuk

The Avison Ensemble

Cto Grosso in F, No. 6 - II.

$2.30

Cto Grosso in F, No. 6 - III.

Composer(s)

Arcangelo Corelli

Artist(s)

Pavlo Beznosiuk

The Avison Ensemble

Cto Grosso in F, No. 6 - III.

$2.30

Cto Grosso in F, No. 6 - IV.

Composer(s)

Arcangelo Corelli

Artist(s)

Pavlo Beznosiuk

The Avison Ensemble

Cto Grosso in F, No. 6 - IV.

$2.30

Cto Grosso in F, No. 6 - V.

Composer(s)

Arcangelo Corelli

Artist(s)

Pavlo Beznosiuk

The Avison Ensemble

Cto Grosso in F, No. 6 - V.

$2.30

Cto Grosso in D, No. 7 - I.

Composer(s)

Arcangelo Corelli

Artist(s)

Pavlo Beznosiuk

The Avison Ensemble

Cto Grosso in D, No. 7 - I.

$2.30

Cto Grosso in D, No. 7 - II.

Composer(s)

Arcangelo Corelli

Artist(s)

Pavlo Beznosiuk

The Avison Ensemble

Cto Grosso in D, No. 7 - II.

$2.30

Cto Grosso in D, No. 7 - III.

Composer(s)

Arcangelo Corelli

Artist(s)

Pavlo Beznosiuk

The Avison Ensemble

Cto Grosso in D, No. 7 - III.

$2.30

Cto Grosso in D, No. 7 - IV.

Composer(s)

Arcangelo Corelli

Artist(s)

Pavlo Beznosiuk

The Avison Ensemble

Cto Grosso in D, No. 7 - IV.

$2.30

Cto Grosso in D, No. 7 - V.

Composer(s)

Arcangelo Corelli

Artist(s)

Pavlo Beznosiuk

The Avison Ensemble

Cto Grosso in D, No. 7 - V.

$2.30

Cto Grosso in Gm, No. 8 - I.

Composer(s)

Arcangelo Corelli

Artist(s)

Pavlo Beznosiuk

The Avison Ensemble

Cto Grosso in Gm, No. 8 - I.

$2.30

Cto Grosso in Gm, No. 8 - II.

Composer(s)

Arcangelo Corelli

Artist(s)

Pavlo Beznosiuk

The Avison Ensemble

Cto Grosso in Gm, No. 8 - II.

$2.30

Cto Grosso in Gm, No. 8 - III.

Composer(s)

Arcangelo Corelli

Artist(s)

Pavlo Beznosiuk

The Avison Ensemble

Cto Grosso in Gm, No. 8 - III.

$2.30

Cto Grosso in Gm, No. 8 - IV.

Composer(s)

Arcangelo Corelli

Artist(s)

Pavlo Beznosiuk

The Avison Ensemble

Cto Grosso in Gm, No. 8 - IV.

$2.30

Cto Grosso in Gm, No. 8 - V.

Composer(s)

Arcangelo Corelli

Artist(s)

Pavlo Beznosiuk

The Avison Ensemble

Cto Grosso in Gm, No. 8 - V.

$2.30

Cto Grosso in Gm, No. 8 - VI.

Composer(s)

Arcangelo Corelli

Artist(s)

Pavlo Beznosiuk

The Avison Ensemble

Cto Grosso in Gm, No. 8 - VI.

$2.30

Cto Grosso in F, No. 9 - I.

Composer(s)

Arcangelo Corelli

Artist(s)

Pavlo Beznosiuk

The Avison Ensemble

Cto Grosso in F, No. 9 - I.

$2.30

Cto Grosso in F, No. 9 - II.

Composer(s)

Arcangelo Corelli

Artist(s)

Pavlo Beznosiuk

The Avison Ensemble

Cto Grosso in F, No. 9 - II.

$2.30

Cto Grosso in F, No. 9 - III.

Composer(s)

Arcangelo Corelli

Artist(s)

Pavlo Beznosiuk

The Avison Ensemble

Cto Grosso in F, No. 9 - III.

$2.30

Cto Grosso in F, No. 9 - IV.

Composer(s)

Arcangelo Corelli

Artist(s)

Pavlo Beznosiuk

The Avison Ensemble

Cto Grosso in F, No. 9 - IV.

$2.30

Cto Grosso in F, No. 9 - V.

Composer(s)

Arcangelo Corelli

Artist(s)

Pavlo Beznosiuk

The Avison Ensemble

Cto Grosso in F, No. 9 - V.

$2.30

Cto Grosso in F, No. 9 - VI.

Composer(s)

Arcangelo Corelli

Artist(s)

Pavlo Beznosiuk

The Avison Ensemble

Cto Grosso in F, No. 9 - VI.

$2.30

Cto Grosso in C, No. 10 - I.

Composer(s)

Arcangelo Corelli

Artist(s)

Pavlo Beznosiuk

The Avison Ensemble

Cto Grosso in C, No. 10 - I.

$2.30

Cto Grosso in C, No. 10 - II.

Composer(s)

Arcangelo Corelli

Artist(s)

Pavlo Beznosiuk

The Avison Ensemble

Cto Grosso in C, No. 10 - II.

$2.30

Cto Grosso in C, No. 10 - III.

Composer(s)

Arcangelo Corelli

Artist(s)

Pavlo Beznosiuk

The Avison Ensemble

Cto Grosso in C, No. 10 - III.

$2.30

Cto Grosso in C, No. 10 - IV.

Composer(s)

Arcangelo Corelli

Artist(s)

Pavlo Beznosiuk

The Avison Ensemble

Cto Grosso in C, No. 10 - IV.

$2.30

Cto Grosso in C, No. 10 - V.

Composer(s)

Arcangelo Corelli

Artist(s)

Pavlo Beznosiuk

The Avison Ensemble

Cto Grosso in C, No. 10 - V.

$2.30

Cto Grosso in C, No. 10 - VI.

Composer(s)

Arcangelo Corelli

Artist(s)

Pavlo Beznosiuk

The Avison Ensemble

Cto Grosso in C, No. 10 - VI.

$2.30

Cto Grosso in B-flat, No. 11 - I.

Composer(s)

Arcangelo Corelli

Artist(s)

Pavlo Beznosiuk

The Avison Ensemble

Cto Grosso in B-flat, No. 11 - I.

$2.30

Cto Grosso in B-flat, No. 11 - II.

Composer(s)

Arcangelo Corelli

Artist(s)

Pavlo Beznosiuk

The Avison Ensemble

Cto Grosso in B-flat, No. 11 - II.

$2.30

Cto Grosso in B-flat, No. 11 - III.

Composer(s)

Arcangelo Corelli

Artist(s)

Pavlo Beznosiuk

The Avison Ensemble

Cto Grosso in B-flat, No. 11 - III.

$2.30

Cto Grosso in B-flat, No. 11 - IV.

Composer(s)

Arcangelo Corelli

Artist(s)

Pavlo Beznosiuk

The Avison Ensemble

Cto Grosso in B-flat, No. 11 - IV.

$2.30

Cto Grosso in B-flat, No. 11 - V.

Composer(s)

Arcangelo Corelli

Artist(s)

Pavlo Beznosiuk

The Avison Ensemble

Cto Grosso in B-flat, No. 11 - V.

$2.30

Cto Grosso in F, No. 12 - I.

Composer(s)

Arcangelo Corelli

Artist(s)

Pavlo Beznosiuk

The Avison Ensemble

Cto Grosso in F, No. 12 - I.

$2.30

Cto Grosso in F, No. 12 - II.

Composer(s)

Arcangelo Corelli

Artist(s)

Pavlo Beznosiuk

The Avison Ensemble

Cto Grosso in F, No. 12 - II.

$2.30

Cto Grosso in F, No. 12 - III.

Composer(s)

Arcangelo Corelli

Artist(s)

Pavlo Beznosiuk

The Avison Ensemble

Cto Grosso in F, No. 12 - III.

$2.30

Cto Grosso in F, No. 12 - IV.

Composer(s)

Arcangelo Corelli

Artist(s)

Pavlo Beznosiuk

The Avison Ensemble

Cto Grosso in F, No. 12 - IV.

$2.30

Cto Grosso in F, No. 12 - V.

Composer(s)

Arcangelo Corelli

Artist(s)

Pavlo Beznosiuk

The Avison Ensemble

Cto Grosso in F, No. 12 - V.

$2.30
Total running time: 127 minutes.
Album information

The UK's leading period instrument ensemble, The Avison Ensemble, presents the first recording in their series celebrating the chamber music of Arcangelo Corelli. 

Directed by Pavlo Beznosiuk the ensemble explores the inspirational works of the Italian composer, including a captivating interpretation of the much-loved Christmas Concerto.

Corelli: Opus 6: Concerti Grossi is the third album in The Avison Ensemble's critically acclaimed series of recordings with Linn, and the first in their celebration of Corelli's chamber music. Released to mark the 300th anniversary of the death of the composer the ensemble's greatly anticipated set will explore the six opera of the eminent Italian's chamber music: the concerti grossi, violin sonatas, chamber sonatas and church sonatas.
Related Artists
Reviews