Filters
Handel: Concerti Grossi Opus 6
Handel: Concerti Grossi Opus 6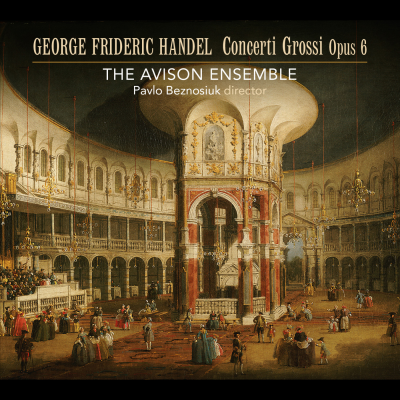 Inlay available for download
Booklet available for download
Opus 6 No. 1 in G Major (HWV 319) - I. A tempo giusto

Composer(s)

George Frideric Handel

Artist(s)

Pavlo Beznosiuk

The Avison Ensemble

Opus 6 No. 1 in G Major (HWV 319) - I. A tempo giusto

$2.30

Opus 6 No. 1 in G Major (HWV 319) - II. Allegro

Composer(s)

George Frideric Handel

Artist(s)

Pavlo Beznosiuk

The Avison Ensemble

Opus 6 No. 1 in G Major (HWV 319) - II. Allegro

$2.30

Opus 6 No. 1 in G Major (HWV 319) - III. Adagio

Composer(s)

George Frideric Handel

Artist(s)

Pavlo Beznosiuk

The Avison Ensemble

Opus 6 No. 1 in G Major (HWV 319) - III. Adagio

$2.30

Opus 6 No. 1 in G Major (HWV 319) - IV. Allegro

Composer(s)

George Frideric Handel

Artist(s)

Pavlo Beznosiuk

The Avison Ensemble

Opus 6 No. 1 in G Major (HWV 319) - IV. Allegro

$2.30

Opus 6 No. 1 in G Major (HWV 319) - V. Allegro

Composer(s)

George Frideric Handel

Artist(s)

Pavlo Beznosiuk

The Avison Ensemble

Opus 6 No. 1 in G Major (HWV 319) - V. Allegro

$2.30

Opus 6 No. 2 in F Major (HWV 320) - I. Andante larghetto

Composer(s)

George Frideric Handel

Artist(s)

Pavlo Beznosiuk

The Avison Ensemble

Opus 6 No. 2 in F Major (HWV 320) - I. Andante larghetto

$2.30

Opus 6 No. 2 in F Major (HWV 320) - II. Allegro

Composer(s)

George Frideric Handel

Artist(s)

Pavlo Beznosiuk

The Avison Ensemble

Opus 6 No. 2 in F Major (HWV 320) - II. Allegro

$2.30

Opus 6 No. 2 in F Major (HWV 320) - III. Largo

Composer(s)

George Frideric Handel

Artist(s)

Pavlo Beznosiuk

The Avison Ensemble

Opus 6 No. 2 in F Major (HWV 320) - III. Largo

$2.30

Opus 6 No. 2 in F Major (HWV 320) - IV. Allegro, ma non troppo

Composer(s)

George Frideric Handel

Artist(s)

Pavlo Beznosiuk

The Avison Ensemble

Opus 6 No. 2 in F Major (HWV 320) - IV. Allegro, ma non troppo

$2.30

Opus 6 No. 3 in E minor (HWV 321) - I. Larghetto affettuoso

Composer(s)

George Frideric Handel

Artist(s)

Pavlo Beznosiuk

The Avison Ensemble

Opus 6 No. 3 in E minor (HWV 321) - I. Larghetto affettuoso

$2.30

Opus 6 No. 3 in E minor (HWV 321) - II. Andante

Composer(s)

George Frideric Handel

Artist(s)

Pavlo Beznosiuk

The Avison Ensemble

Opus 6 No. 3 in E minor (HWV 321) - II. Andante

$2.30

Opus 6 No. 3 in E minor (HWV 321) - III. Allegro

Composer(s)

George Frideric Handel

Artist(s)

Pavlo Beznosiuk

The Avison Ensemble

Opus 6 No. 3 in E minor (HWV 321) - III. Allegro

$2.30

Opus 6 No. 3 in E minor (HWV 321) - IV. Polonaise: Andante

Composer(s)

George Frideric Handel

Artist(s)

Pavlo Beznosiuk

The Avison Ensemble

Opus 6 No. 3 in E minor (HWV 321) - IV. Polonaise: Andante

$2.30

Opus 6 No. 3 in E minor (HWV 321) - V. Allegro, ma non troppo

Composer(s)

George Frideric Handel

Artist(s)

Pavlo Beznosiuk

The Avison Ensemble

Opus 6 No. 3 in E minor (HWV 321) - V. Allegro, ma non troppo

$2.30

Opus 6 No. 4 in A minor (HWV 322) - I. Larghetto affettuoso

Composer(s)

George Frideric Handel

Artist(s)

Pavlo Beznosiuk

The Avison Ensemble

Opus 6 No. 4 in A minor (HWV 322) - I. Larghetto affettuoso

$2.30

Opus 6 No. 4 in A minor (HWV 322) - II. Allegro

Composer(s)

George Frideric Handel

Artist(s)

Pavlo Beznosiuk

The Avison Ensemble

Opus 6 No. 4 in A minor (HWV 322) - II. Allegro

$2.30

Opus 6 No. 4 in A minor (HWV 322) - III. Largo, e piano

Composer(s)

George Frideric Handel

Artist(s)

Pavlo Beznosiuk

The Avison Ensemble

Opus 6 No. 4 in A minor (HWV 322) - III. Largo, e piano

$2.30

Opus 6 No. 4 in A minor (HWV 322) - IV. Allegro

Composer(s)

George Frideric Handel

Artist(s)

Pavlo Beznosiuk

The Avison Ensemble

Opus 6 No. 4 in A minor (HWV 322) - IV. Allegro

$2.30

Opus 6 No. 5 in D Major (HWV 323) - I. (no marking)

Composer(s)

George Frideric Handel

Artist(s)

Pavlo Beznosiuk

The Avison Ensemble

Opus 6 No. 5 in D Major (HWV 323) - I. (no marking)

$2.30

Opus 6 No. 5 in D Major (HWV 323) - II. Allegro

Composer(s)

George Frideric Handel

Artist(s)

Pavlo Beznosiuk

The Avison Ensemble

Opus 6 No. 5 in D Major (HWV 323) - II. Allegro

$2.30

Opus 6 No. 5 in D Major (HWV 323) - III. Presto

Composer(s)

George Frideric Handel

Artist(s)

Pavlo Beznosiuk

The Avison Ensemble

Opus 6 No. 5 in D Major (HWV 323) - III. Presto

$2.30

Opus 6 No. 5 in D Major (HWV 323) - IV. Largo

Composer(s)

George Frideric Handel

Artist(s)

Pavlo Beznosiuk

The Avison Ensemble

Opus 6 No. 5 in D Major (HWV 323) - IV. Largo

$2.30

Opus 6 No. 5 in D Major (HWV 323) - V. Allegro

Composer(s)

George Frideric Handel

Artist(s)

Pavlo Beznosiuk

The Avison Ensemble

Opus 6 No. 5 in D Major (HWV 323) - V. Allegro

$2.30

Opus 6 No. 5 in D Major (HWV 323) - VI. Menuet

Composer(s)

George Frideric Handel

Artist(s)

Pavlo Beznosiuk

The Avison Ensemble

Opus 6 No. 5 in D Major (HWV 323) - VI. Menuet

$2.30

Opus 6 No. 6 in G minor (HWV 324) - I. Larghetto e affettuoso

Composer(s)

George Frideric Handel

Artist(s)

Pavlo Beznosiuk

The Avison Ensemble

Opus 6 No. 6 in G minor (HWV 324) - I. Larghetto e affettuoso

$2.30

Opus 6 No. 6 in G minor (HWV 324) - II. Allegro, ma non troppo

Composer(s)

George Frideric Handel

Artist(s)

Pavlo Beznosiuk

The Avison Ensemble

Opus 6 No. 6 in G minor (HWV 324) - II. Allegro, ma non troppo

$2.30

Opus 6 No. 6 in G minor (HWV 324) - III. Musette: Larghetto

Composer(s)

George Frideric Handel

Artist(s)

Pavlo Beznosiuk

The Avison Ensemble

Opus 6 No. 6 in G minor (HWV 324) - III. Musette: Larghetto

$2.30

Opus 6 No. 6 in G minor (HWV 324) - IV. Allegro

Composer(s)

George Frideric Handel

Artist(s)

Pavlo Beznosiuk

The Avison Ensemble

Opus 6 No. 6 in G minor (HWV 324) - IV. Allegro

$2.30

Opus 6 No. 6 in G minor (HWV 324) - V. Allegro

Composer(s)

George Frideric Handel

Artist(s)

Pavlo Beznosiuk

The Avison Ensemble

Opus 6 No. 6 in G minor (HWV 324) - V. Allegro

$2.30

Opus 6 No. 7 in B-flat Major (HWV 325) - I. Largo

Composer(s)

George Frideric Handel

Artist(s)

Pavlo Beznosiuk

The Avison Ensemble

Opus 6 No. 7 in B-flat Major (HWV 325) - I. Largo

$2.30

Opus 6 No. 7 in B-flat Major (HWV 325) - II. Allegro

Composer(s)

George Frideric Handel

Artist(s)

Pavlo Beznosiuk

The Avison Ensemble

Opus 6 No. 7 in B-flat Major (HWV 325) - II. Allegro

$2.30

Opus 6 No. 7 in B-flat Major (HWV 325) - III. Largo, e piano

Composer(s)

George Frideric Handel

Artist(s)

Pavlo Beznosiuk

The Avison Ensemble

Opus 6 No. 7 in B-flat Major (HWV 325) - III. Largo, e piano

$2.30

Opus 6 No. 7 in B-flat Major (HWV 325) - IV. Andante

Composer(s)

George Frideric Handel

Artist(s)

Pavlo Beznosiuk

The Avison Ensemble

Opus 6 No. 7 in B-flat Major (HWV 325) - IV. Andante

$2.30

Opus 6 No. 7 in B-flat Major (HWV 325) - V. Hornpipe

Composer(s)

George Frideric Handel

Artist(s)

Pavlo Besnosiuk

The Avison Ensemble

Opus 6 No. 7 in B-flat Major (HWV 325) - V. Hornpipe

$2.30

Opus 6 No. 8 in C minor (HWV 326) - I. Allemande

Composer(s)

George Frideric Handel

Artist(s)

Pavlo Beznosiuk

The Avison Ensemble

Opus 6 No. 8 in C minor (HWV 326) - I. Allemande

$2.30

Opus 6 No. 8 in C minor (HWV 326) - II. Grave

Composer(s)

George Frideric Handel

Artist(s)

Pavlo Beznosiuk

The Avison Ensemble

Opus 6 No. 8 in C minor (HWV 326) - II. Grave

$2.30

Opus 6 No. 8 in C minor (HWV 326) - III. Andante allegro

Composer(s)

George Frideric Handel

Artist(s)

Pavlo Beznosiuk

The Avison Ensemble

Opus 6 No. 8 in C minor (HWV 326) - III. Andante allegro

$2.30

Opus 6 No. 8 in C minor (HWV 326) - IV. Adagio

Composer(s)

George Frideric Handel

Artist(s)

Pavlo Beznosiuk

The Avison Ensemble

Opus 6 No. 8 in C minor (HWV 326) - IV. Adagio

$2.30

Opus 6 No. 8 in C minor (HWV 326) - V. Siciliana

Composer(s)

George Frideric Handel

Artist(s)

Pavlo Beznosiuk

The Avison Ensemble

Opus 6 No. 8 in C minor (HWV 326) - V. Siciliana

$2.30

Opus 6 No. 8 in C minor (HWV 326) - VI. Allegro

Composer(s)

George Frideric Handel

Artist(s)

Pavlo Beznosiuk

The Avison Ensemble

Opus 6 No. 8 in C minor (HWV 326) - VI. Allegro

$2.30

Opus 6 No. 9 in F Major (HWV 327) - I. Largo

Composer(s)

George Frideric Handel

Artist(s)

Pavlo Beznosiuk

The Avison Ensemble

Opus 6 No. 9 in F Major (HWV 327) - I. Largo

$2.30

Opus 6 No. 9 in F Major (HWV 327) - II. Allegro

Composer(s)

George Frideric Handel

Artist(s)

Pavlo Beznosiuk

The Avison Ensemble

Opus 6 No. 9 in F Major (HWV 327) - II. Allegro

$2.30

Opus 6 No. 9 in F Major (HWV 327) - III. Larghetto

Composer(s)

George Frideric Handel

Artist(s)

Pavlo Beznosiuk

The Avison Ensemble

Opus 6 No. 9 in F Major (HWV 327) - III. Larghetto

$2.30

Opus 6 No. 9 in F Major (HWV 327) - IV. Allegro

Composer(s)

George Frideric Handel

Artist(s)

Pavlo Beznosiuk

The Avison Ensemble

Opus 6 No. 9 in F Major (HWV 327) - IV. Allegro

$2.30

Opus 6 No. 9 in F Major (HWV 327) - V. Menuet

Composer(s)

George Frideric Handel

Artist(s)

Pavlo Beznosiuk

The Avison Ensemble

Opus 6 No. 9 in F Major (HWV 327) - V. Menuet

$2.30

Opus 6 No. 9 in F Major (HWV 327) - VI. Gigue

Composer(s)

George Frideric Handel

Artist(s)

Pavlo Beznosiuk

The Avison Ensemble

Opus 6 No. 9 in F Major (HWV 327) - VI. Gigue

$2.30

Opus 6 No. 10 in D minor (HWV 328) - I. Ouverture

Composer(s)

George Frideric Handel

Artist(s)

Pavlo Beznosiuk

The Avison Ensemble

Opus 6 No. 10 in D minor (HWV 328) - I. Ouverture

$2.30

Opus 6 No. 10 in D minor (HWV 328) - II. Allegro

Composer(s)

George Frideric Handel

Artist(s)

Pavlo Beznosiuk

The Avison Ensemble

Opus 6 No. 10 in D minor (HWV 328) - II. Allegro

$2.30

Opus 6 No. 10 in D minor (HWV 328) - III. Lento

Composer(s)

George Frideric Handel

Artist(s)

Pavlo Beznosiuk

The Avison Ensemble

Opus 6 No. 10 in D minor (HWV 328) - III. Lento

$2.30

Opus 6 No. 10 in D minor (HWV 328) - IV. Allegro

Composer(s)

George Frideric Handel

Artist(s)

Pavlo Beznosiuk

The Avison Ensemble

Opus 6 No. 10 in D minor (HWV 328) - IV. Allegro

$2.30

Opus 6 No. 10 in D minor (HWV 328) - V. Allegro

Composer(s)

George Frideric Handel

Artist(s)

Pavlo Beznosiuk

The Avison Ensemble

Opus 6 No. 10 in D minor (HWV 328) - V. Allegro

$2.30

Opus 6 No. 10 in D minor (HWV 328) - VI. Allegro moderato

Composer(s)

George Frideric Handel

Artist(s)

Pavlo Beznosiuk

The Avison Ensemble

Opus 6 No. 10 in D minor (HWV 328) - VI. Allegro moderato

$2.30

Opus 6 No. 11 in A Major (HWV 329) - I. Andante larghetto, e staccato

Composer(s)

George Frideric Handel

Artist(s)

Pavlo Beznosiuk

The Avison Ensemble

Opus 6 No. 11 in A Major (HWV 329) - I. Andante larghetto, e staccato

$2.30

Opus 6 No. 11 in A Major (HWV 329) - II. Allegro

Composer(s)

George Frideric Handel

Artist(s)

Pavlo Beznosiuk

The Avison Ensemble

Opus 6 No. 11 in A Major (HWV 329) - II. Allegro

$2.30

Opus 6 No. 11 in A Major (HWV 329) - III. Largo, e staccato

Composer(s)

George Frideric Handel

Artist(s)

Pavlo Beznosiuk

The Avison Ensemble

Opus 6 No. 11 in A Major (HWV 329) - III. Largo, e staccato

$2.30

Opus 6 No. 11 in A Major (HWV 329) - IV. Andante

Composer(s)

George Frideric Handel

Artist(s)

Pavlo Beznosiuk

The Avison Ensemble

Opus 6 No. 11 in A Major (HWV 329) - IV. Andante

$2.30

Opus 6 No. 11 in A Major (HWV 329) - V. Allegro

Composer(s)

George Frideric Handel

Artist(s)

Pavlo Beznosiuk

The Avison Ensemble

Opus 6 No. 11 in A Major (HWV 329) - V. Allegro

$2.30

Opus 6 No. 12 in B minor (HWV 330) - I. Largo

Composer(s)

George Frideric Handel

Artist(s)

Pavlo Beznosiuk

The Avison Ensemble

Opus 6 No. 12 in B minor (HWV 330) - I. Largo

$2.30

Opus 6 No. 12 in B minor (HWV 330) - II. Allegro

Composer(s)

George Frideric Handel

Artist(s)

Pavlo Beznosiuk

The Avison Ensemble

Opus 6 No. 12 in B minor (HWV 330) - II. Allegro

$2.30

Opus 6 No. 12 in B minor (HWV 330) - III. Larghetto, e piano

Composer(s)

George Frideric Handel

Artist(s)

Pavlo Beznosiuk

The Avison Ensemble

Opus 6 No. 12 in B minor (HWV 330) - III. Larghetto, e piano

$2.30

Opus 6 No. 12 in B minor (HWV 330) - IV. Largo

Composer(s)

George Frideric Handel

Artist(s)

Pavlo Beznosiuk

The Avison Ensemble

Opus 6 No. 12 in B minor (HWV 330) - IV. Largo

$2.30

Opus 6 No. 12 in B minor (HWV 330) - V. Allegro

Composer(s)

George Frideric Handel

Artist(s)

Pavlo Beznosiuk

The Avison Ensemble

Opus 6 No. 12 in B minor (HWV 330) - V. Allegro

$2.30
Total running time: 159 minutes.







Album information

The Avison Ensemble, directed by Pavlo Beznosiuk, present George Frideric Handel's complete Opus 6 Concerti Grossi.  This work is widely regarded as the composer's greatest contribution to the Baroque period.

Handel: Concerti Grossi Opus 6 marks the Linn debut of the outstanding period instrument orchestra, The Avison Ensemble. Directed by Pavlo Beznosiuk, Britain's foremost Baroque violin virtuosi, the ensemble presents a fresh and insightful performance of the Baroque masterpiece.

George Frideric Handel's Concerti Grossi Opus 6 is widely considered as one of the definitive examples of the concerto grosso form: their symphonic variety of colour, texture and emotion sets them apart from other examples. Inspired by the concertos of Corelli and regarded as one of Handel's greatest contributions to the Baroque period, Opus 6 is highly innovative and demonstrates the composer's inexhaustible ability for invention and variation.

The Avison Ensemble has performed these works many times since it's formation in 1985, this recording representing a culmination of their experience. Director Pavlo Beznosiuk stated: "These new readings are a chance to revisit old and familiar friends and to reacquaint ourselves with Handel's genius, but above all, to joyously revel in some of the greatest string music ever penned."
Related Artists
Reviews