Filters
Couleurs de l'Incendie (Original Motion Picture Soundtrack)
Couleurs de l'Incendie (Original Motion Picture Soundtrack)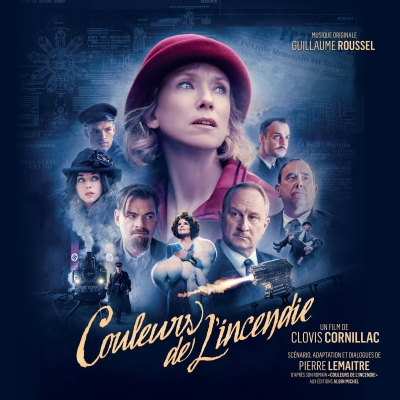 Inlay available for download
Booklet available for download
Un secret

Composer(s)

Guillaume Roussel

Un secret

$2.30

Saut de l'ange

Composer(s)

Guillaume Roussel

Artist(s)

Guillaume Roussel

Saut de l'ange

$2.30

Nouveau départ

Composer(s)

Guillaume Roussel

Artist(s)

Guillaume Roussel

Nouveau départ

$2.30

Joubert et le coffre

Composer(s)

Guillaume Roussel

Artist(s)

Guillaume Roussel

Joubert et le coffre

$2.30

Lettre et invitation à l'opéra

Composer(s)

Guillaume Roussel

Artist(s)

Guillaume Roussel

Lettre et invitation à l'opéra

$2.30

Paul rencontre Solange

Composer(s)

Guillaume Roussel

Artist(s)

Guillaume Roussel

Paul rencontre Solange

$2.30

La vérité sombre

Composer(s)

Guillaume Roussel

Artist(s)

Guillaume Roussel

La vérité sombre

$2.30

Une nouvelle vie modeste

Composer(s)

Guillaume Roussel

Artist(s)

Guillaume Roussel

Une nouvelle vie modeste

$2.30

Dupré mène l'enquête

Composer(s)

Guillaume Roussel

Artist(s)

Guillaume Roussel

Dupré mène l'enquête

$2.30

Complicité

Composer(s)

Guillaume Roussel

Artist(s)

Guillaume Roussel

Complicité

$2.30

Madeleine engage Léonce

Composer(s)

Guillaume Roussel

Artist(s)

Guillaume Roussel

Madeleine engage Léonce

$2.30

Léonce et Robert

Composer(s)

Guillaume Roussel

Artist(s)

Guillaume Roussel

Léonce et Robert

$2.30

Pulsion soudaine

Composer(s)

Guillaume Roussel

Artist(s)

Guillaume Roussel

Pulsion soudaine

$2.30

Plaisir d'amour

Composer(s)

Jean-Paul-Égide Martini

Artist(s)

Sandrine Piau

Randy Kerber

Plaisir d'amour

$2.30

Chanter pour le Führer

Composer(s)

Guillaume Roussel

Artist(s)

Guillaume Roussel

Chanter pour le Führer

$2.30

Paul quitte Solange

Composer(s)

Guillaume Roussel

Artist(s)

Guillaume Roussel

Paul quitte Solange

$2.30

Robert sabote le moteur

Composer(s)

Guillaume Roussel

Artist(s)

Guillaume Roussel

Robert sabote le moteur

$2.30

Un banquier appâté

Composer(s)

Guillaume Roussel

Artist(s)

Guillaume Roussel

Un banquier appâté

$2.30

Le coffre forcé

Composer(s)

Guillaume Roussel

Artist(s)

Guillaume Roussel

Le coffre forcé

$2.30

Départ pour Berlin

Composer(s)

Guillaume Roussel

Artist(s)

Guillaume Roussel

Départ pour Berlin

$2.30

Nabucco, Act III: Choir. "Va piensero"

Composer(s)

Giuseppe Verdi

Nabucco, Act III: Choir. "Va piensero"

$2.30

Solange

Composer(s)

Guillaume Roussel

Artist(s)

Guillaume Roussel

Solange

$2.30

Retour à Paris

Composer(s)

Guillaume Roussel

Artist(s)

Guillaume Roussel

Retour à Paris

$2.30

Arrestation banquier

Composer(s)

Guillaume Roussel

Artist(s)

Guillaume Roussel

Arrestation banquier

$2.30

Arrestation André

Composer(s)

Guillaume Roussel

Artist(s)

Guillaume Roussel

Arrestation André

$2.30

Arrestation Joubert

Composer(s)

Guillaume Roussel

Artist(s)

Guillaume Roussel

Arrestation Joubert

$2.30

Les pêcheurs de perles, GB 4, act I: 4. "Je crois entendre encore"

Composer(s)

Georges Bizet

Artist(s)

Joseph Calleja

Academy of St. Martin in the Fields

Carlo Rizzi

Les pêcheurs de perles, GB 4, act I: 4. "Je crois entendre encore"

$2.30

Si j'ai parlé... Si j'ai aimé

Composer(s)

Théodore Dubois

Artist(s)

Sandrine Piau

Le Concert de la Loge

Julien Chauvin

Si j'ai parlé... Si j'ai aimé

$2.30
Total running time: 61 minutes.
Album information

Composer Guillaume Roussel has written the original music for the film Couleurs de l'incendie directed by and featuring Clovis Cornillac with co-stars Léa Drucker, Benoît Poelvoorde, Alice Isaaz and Olivier Gourmet.

The film is based on the novel by Pierre Lemaitre, who received the Prix Goncourt for his book Au revoir là-haut. The movie adaptation of the latter by Albert Dupontel in 2017 (See You Up There) was a huge success and won several Césars. In Couleurs de l'Incendie, Fanny Ardant plays the role of a heroic opera singer; her singing voice in the film is that of the soprano Sandrine Piau. In addition to the music by Guillaume Roussel (who, among other things, wrote the soundtrack for Cédric Jimenez's film Bac Nord), we hear Verdi, Saint-Saëns and other classics from the French repertoire, including Plaisir d'amour.
Related Artists