Filters
Soaked in Colour. From Purcell to Queen
Soaked in Colour. From Purcell to Queen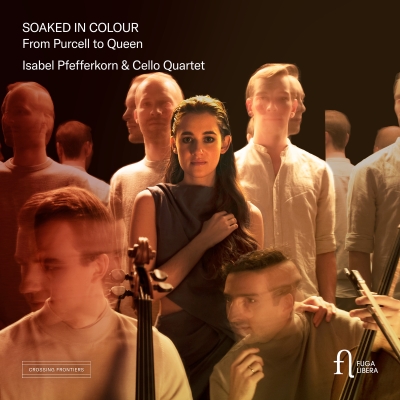 Inlay available for download
Booklet available for download
King Arthur, Z. 628, Act III Scene 2: The Cold Song

Composer(s)

Henry Purcell

Artist(s)

Paul Handschke

Payam Taghadossi

Anton Mecht Spronk

Zoltán Despond

Isabel Pfefferkorn

King Arthur, Z. 628, Act III Scene 2: The Cold Song

$2.30

Dido and Aeneas, Z. 626, Act III: Dido's Lament

Composer(s)

Henry Purcell

Artist(s)

Paul Handschke

Payam Taghadossi

Anton Mecht Spronk

Zoltán Despond

Isabel Pfefferkorn

Dido and Aeneas, Z. 626, Act III: Dido's Lament

$2.30

Matthäus-Passion, BWV 244, Pt. 2: Erbarme dich, mein Gott

Composer(s)

Johann Sebastian Bach

Artist(s)

Paul Handschke

Payam Taghadossi

Anton Mecht Spronk

Zoltán Despond

Isabel Pfefferkorn

Matthäus-Passion, BWV 244, Pt. 2: Erbarme dich, mein Gott

$3.40

Winterreise, D. 911: No. 7, Auf dem Flusse

Composer(s)

Franz Schubert

Artist(s)

Paul Handschke

Payam Taghadossi

Anton Mecht Spronk

Zoltán Despond

Isabel Pfefferkorn

Winterreise, D. 911: No. 7, Auf dem Flusse

$2.30

Myrthen, Op. 25: No. 7, Die Lotosblume

Composer(s)

Robert Schumann

Artist(s)

Paul Handschke

Payam Taghadossi

Anton Mecht Spronk

Zoltán Despond

Isabel Pfefferkorn

Myrthen, Op. 25: No. 7, Die Lotosblume

$2.30

3 Lieder, Op. 29: No. 3, Nachtgang

Composer(s)

Richard Strauss

Artist(s)

Paul Handschke

Payam Taghadossi

Anton Mecht Spronk

Zoltán Despond

Isabel Pfefferkorn

3 Lieder, Op. 29: No. 3, Nachtgang

$2.30

Four Songs, Op. 13: No. 3, Sure on this shining night

Composer(s)

Samuel Barber

Artist(s)

Paul Handschke

Payam Taghadossi

Anton Mecht Spronk

Zoltán Despond

Isabel Pfefferkorn

Four Songs, Op. 13: No. 3, Sure on this shining night

$2.30

Siete canciones populares españolas: No. 3, Asturiana

Composer(s)

Manuel de Falla

Artist(s)

Paul Handschke

Payam Taghadossi

Anton Mecht Spronk

Zoltán Despond

Isabel Pfefferkorn

Siete canciones populares españolas: No. 3, Asturiana

$2.30

Siete canciones populares españolas: No. 7, Polo

Composer(s)

Manuel de Falla

Artist(s)

Paul Handschke

Payam Taghadossi

Anton Mecht Spronk

Zoltán Despond

Isabel Pfefferkorn

Siete canciones populares españolas: No. 7, Polo

$2.30

Carmen, Act I: Habanera

Composer(s)

Georges Bizet

Artist(s)

Paul Handschke

Payam Taghadossi

Anton Mecht Spronk

Zoltán Despond

Isabel Pfefferkorn

Carmen, Act I: Habanera

$2.30

Oblivion

Composer(s)

Astor Piazzolla

Artist(s)

Paul Handschke

Payam Taghadossi

Anton Mecht Spronk

Zoltán Despond

Isabel Pfefferkorn

Oblivion

$2.30

Temptation

Artist(s)

Paul Handschke

Payam Taghadossi

Anton Mecht Spronk

Zoltán Despond

Isabel Pfefferkorn

Temptation

$2.30

Over the Rainbow (From "The Wizard of Oz")

Artist(s)

Paul Handschke

Payam Taghadossi

Anton Mecht Spronk

Zoltán Despond

Isabel Pfefferkorn

Over the Rainbow (From "The Wizard of Oz")

$2.30

Colors of the Wind (from Disney's "Pocahontas")

Artist(s)

Paul Handschke

Payam Taghadossi

Anton Mecht Spronk

Zoltán Despond

Isabel Pfefferkorn

Colors of the Wind (from Disney's "Pocahontas")

$2.30

Love of My Life

Composer(s)

Freddie Mercury

Artist(s)

Paul Handschke

Payam Taghadossi

Anton Mecht Spronk

Zoltán Despond

Isabel Pfefferkorn

Love of My Life

$2.30

Cry Me a River

Composer(s)

Justin Timberlake

Artist(s)

Paul Handschke

Payam Taghadossi

Anton Mecht Spronk

Zoltán Despond

Isabel Pfefferkorn

Cry Me a River

$2.30

Strange

Composer(s)

Stephen Samuel Wrabel

Artist(s)

Paul Handschke

Payam Taghadossi

Anton Mecht Spronk

Zoltán Despond

Isabel Pfefferkorn

Strange

$2.30

Toxic

Composer(s)

Pontus Winnberg

Artist(s)

Paul Handschke

Payam Taghadossi

Anton Mecht Spronk

Zoltán Despond

Isabel Pfefferkorn

Toxic

$2.30

Skyfall (From "Skyfall")

Composer(s)

Paul Richard Epworth

Artist(s)

Paul Handschke

Payam Taghadossi

Anton Mecht Spronk

Zoltán Despond

Isabel Pfefferkorn

Skyfall (From "Skyfall")

$2.30

Painting my Chest

Composer(s)

Isabel Pfefferkorn

Artist(s)

Paul Handschke

Payam Taghadossi

Anton Mecht Spronk

Zoltán Despond

Isabel Pfefferkorn

Painting my Chest

$2.30
Total running time: 74 minutes.
Album information

Soaked In Colour is a collection of music from different eras and genres, interpreted by the special line-up of four cellists and one singer.

Early music meets jazz, art song meets pop song. The collective wanders through different epochs and styles of music history and each piece is specially orchestrated. Soaked In Colour takes you through a colourful mix of sounds, dives into the depths, surges once more into the air, and refreshes the senses.
Related Artists