Filters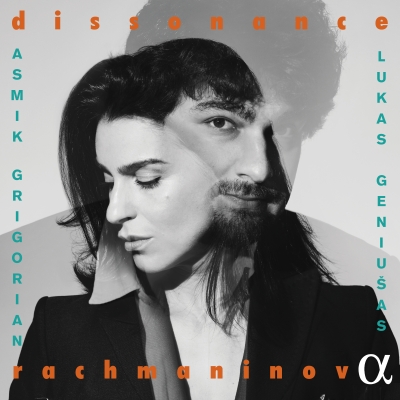 Inlay available for download
Booklet available for download
14 Romances, Op. 34: XIII. Dissonance

Composer(s)

Sergei Rachmaninov

Artist(s)

Asmik Grigorian

Lukas Geniušas

14 Romances, Op. 34: XIII. Dissonance

$2.30

6 Romances, Op. 8: II. Child! Thou Art as Beautiful as a Flower

Composer(s)

Sergei Rachmaninov

Artist(s)

Asmik Grigorian

Lukas Geniušas

6 Romances, Op. 8: II. Child! Thou Art as Beautiful as a Flower

$2.30

12 Romances, Op. 14: I. I Wait for Thee

Composer(s)

Sergei Rachmaninov

Artist(s)

Asmik Grigorian

Lukas Geniušas

12 Romances, Op. 14: I. I Wait for Thee

$2.30

12 Romances, Op. 14: VIII. Oh, Do not Grieve!

Composer(s)

Sergei Rachmaninov

Artist(s)

Asmik Grigorian

Lukas Geniušas

12 Romances, Op. 14: VIII. Oh, Do not Grieve!

$2.30

15 Romances, Op. 26: II. He Took All from Me

Composer(s)

Sergei Rachmaninov

Artist(s)

Asmik Grigorian

Lukas Geniušas

15 Romances, Op. 26: II. He Took All from Me

$2.30

12 Romances, Op. 21: III. Twilight

Composer(s)

Sergei Rachmaninov

Artist(s)

Asmik Grigorian

Lukas Geniušas

12 Romances, Op. 21: III. Twilight

$2.30

12 Romances, Op. 21: IV. They Answered

Composer(s)

Sergei Rachmaninov

Artist(s)

Asmik Grigorian

Lukas Geniušas

12 Romances, Op. 21: IV. They Answered

$2.30

12 Romances, Op. 14: VII. Believe Me Not, Friend!

Composer(s)

Sergei Rachmaninov

Artist(s)

Asmik Grigorian

Lukas Geniušas

12 Romances, Op. 14: VII. Believe Me Not, Friend!

$2.30

12 Romances, Op. 21: VII. How Fair this Spot

Composer(s)

Sergei Rachmaninov

Artist(s)

Asmik Grigorian

Lukas Geniušas

12 Romances, Op. 21: VII. How Fair this Spot

$2.30

6 Romances, Op. 4: IV. Do not Sing, My Beauty

Composer(s)

Sergei Rachmaninov

Artist(s)

Asmik Grigorian

Lukas Geniušas

6 Romances, Op. 4: IV. Do not Sing, My Beauty

$2.30

12 Romances, Op. 21: XI. No Prophet I

Composer(s)

Sergei Rachmaninov

Artist(s)

Asmik Grigorian

Lukas Geniušas

12 Romances, Op. 21: XI. No Prophet I

$2.30

12 Romances, Op. 21: XII. How Painful for Me

Composer(s)

Sergei Rachmaninov

Artist(s)

Asmik Grigorian

Lukas Geniušas

12 Romances, Op. 21: XII. How Painful for Me

$2.30

12 Romances, Op. 21: V. Lilacs

Composer(s)

Sergei Rachmaninov

Artist(s)

Asmik Grigorian

Lukas Geniušas

12 Romances, Op. 21: V. Lilacs

$2.30

12 Romances, Op. 14: XI. Spring Waters

Composer(s)

Sergei Rachmaninov

Artist(s)

Asmik Grigorian

Lukas Geniušas

12 Romances, Op. 14: XI. Spring Waters

$2.30

6 Romances, Op. 8: V. The Dream

Composer(s)

Sergei Rachmaninov

Artist(s)

Asmik Grigorian

Lukas Geniušas

6 Romances, Op. 8: V. The Dream

$2.30

14 Romances, Op. 34: XII. What Happiness

Composer(s)

Sergei Rachmaninov

Artist(s)

Asmik Grigorian

Lukas Geniušas

14 Romances, Op. 34: XII. What Happiness

$2.30

6 Romances, Op. 4: III. In the Silence of the Secret Night

Composer(s)

Sergei Rachmaninov

Artist(s)

Asmik Grigorian

Lukas Geniušas

6 Romances, Op. 4: III. In the Silence of the Secret Night

$2.30

12 Romances, Op. 21: VI. Fragment from Musset

Composer(s)

Sergei Rachmaninov

Artist(s)

Asmik Grigorian

Lukas Geniušas

12 Romances, Op. 21: VI. Fragment from Musset

$2.30

15 Romances, Op. 26: III. Let Us Rest

Composer(s)

Sergei Rachmaninov

Artist(s)

Asmik Grigorian

Lukas Geniušas

15 Romances, Op. 26: III. Let Us Rest

$2.30
Total running time: 45 minutes.











Album information

Having triumphed on the stage, Asmik Grigorian now brings her artistry to the recording studio with the release of her eagerly awaited first recording with pianist Lukas Geniušas, Dissonance. It won the Song Award at the 2022 Gramophone Awards and the Vocal Music Award at the 2023 ICMAs.

Devoted to one of her favourite composers, Sergei Rachmaninov, the Lithuanian soprano chose to present his intimate yet highly emotional romances written for voice and piano. "Most of Rachmaninov's romances really demand operatic power. In fact, he wrote 'mini-operas' which last a few minutes." Present throughout the album in many senses of the word, the theme of Dissonance refers to the romance Opus 34, to the contrast present on this album in general, and to the "internal conflicts" that mark these songs.

In collaboration with her compatriot, pianist Lukas Geniušas, the powerful artistry of these two musicians is on full display, and, in contrast with the album's title, in complete harmony.
Related Artists
Reviews