Filters
Rachmaninoff: Piano Sonata No. 1 (Original Version) & Preludes Op. 32
Rachmaninoff: Piano Sonata No. 1 (Original Version) & Preludes Op. 32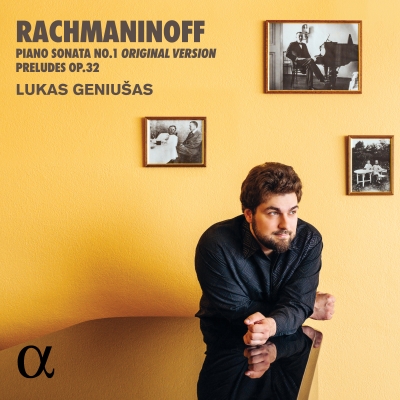 Inlay available for download
Booklet available for download
Piano Sonata No. 1, Op. 28: I. Allegro moderato

Composer(s)

Sergei Rachmaninoff

Piano Sonata No. 1, Op. 28: I. Allegro moderato

$5.75

Piano Sonata No. 1, Op. 28: II. Lento

Composer(s)

Sergei Rachmaninoff

Piano Sonata No. 1, Op. 28: II. Lento

$3.40

Piano Sonata No. 1, Op. 28: III. Allegro molto

Composer(s)

Sergei Rachmaninoff

Piano Sonata No. 1, Op. 28: III. Allegro molto

$5.75

13 Preludes, Op. 32: No. 2, Allegretto

Composer(s)

Sergei Rachmaninoff

13 Preludes, Op. 32: No. 2, Allegretto

$2.30

13 Preludes, Op. 32: No. 7, Moderato

Composer(s)

Sergei Rachmaninoff

13 Preludes, Op. 32: No. 7, Moderato

$2.30

13 Preludes, Op. 32: No. 8, Vivo

Composer(s)

Sergei Rachmaninoff

13 Preludes, Op. 32: No. 8, Vivo

$2.30

13 Preludes, Op. 32: No. 13, Grave

Composer(s)

Sergei Rachmaninoff

13 Preludes, Op. 32: No. 13, Grave

$2.30
Total running time: 55 minutes.
Album information

The pianist Lukas Geniušas has recorded the original version of Rachmaninoff's Piano Sonata no.1 in the composer's Swiss home Villa Senar (Sergei & Natalia Rachmaninoff) and on his own piano, an unusually long Steinway & Sons model, presented to the composer and concert pianist by the manufacturer to mark his sixtieth birthday.

The difference between the original version of Sonata no.1 and the second version, shorter by more than 100 bars, is not just a question of length, according to Lukas Geniušas: 'There is a lot lost between the first and second editions. I know it goes against the grain, but I would name this sonata to be one of, if not the best Rachmaninoff's solo piano work. Its shattering might, its splendor and scale can only be likened to the Third piano concerto, which was written soon after.' The programme is completed by four preludes from the Op. 32 set.
Related Artists