Filters
Songs of Love and Longing (The Royal Academy of Music Bicentenary Series)
Songs of Love and Longing (The Royal Academy of Music Bicentenary Series)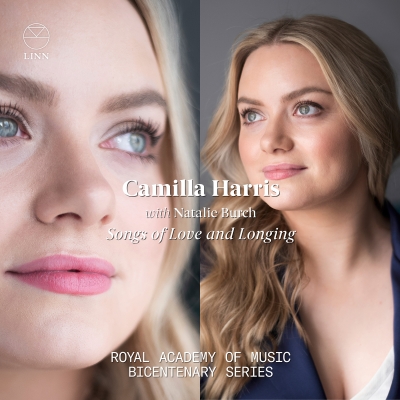 Inlay available for download
Booklet available for download
Oh! quand je dors, S. 282/2

Artist(s)

Camilla Harris

Natalie Burch

Oh! quand je dors, S. 282/2

$2.30

S'il est un charmant gazon, S. 284/1

Artist(s)

Camilla Harris

Natalie Burch

S'il est un charmant gazon, S. 284/1

$2.30

Comment, disaient-ils, S. 276/2

Artist(s)

Camilla Harris

Natalie Burch

Comment, disaient-ils, S. 276/2

$2.30

Tre sonetti di Petrarca, S. 270/1: No. 1, Pace non trovo

Artist(s)

Camilla Harris

Natalie Burch

Tre sonetti di Petrarca, S. 270/1: No. 1, Pace non trovo

$2.30

Chère nuit

Composer(s)

Alfred Bachelet

Artist(s)

Camilla Harris

Natalie Burch

Chère nuit

$2.30

Six Songs, Op. 38: No. 1, Noch'yu v sadu u menya

Composer(s)

Sergei Rachmaninoff

Artist(s)

Camilla Harris

Natalie Burch

Six Songs, Op. 38: No. 1, Noch'yu v sadu u menya

$2.30

Six Songs, Op. 38: No. 2, K ney

Composer(s)

Sergei Rachmaninoff

Artist(s)

Camilla Harris

Natalie Burch

Six Songs, Op. 38: No. 2, K ney

$2.30

Six Songs, Op. 38: No. 3, Margaritki

Composer(s)

Sergei Rachmaninoff

Artist(s)

Camilla Harris

Natalie Burch

Six Songs, Op. 38: No. 3, Margaritki

$2.30

Six Songs, Op. 38: No. 4, Krïsolov

Composer(s)

Sergei Rachmaninoff

Artist(s)

Camilla Harris

Natalie Burch

Six Songs, Op. 38: No. 4, Krïsolov

$2.30

Six Songs, Op. 38: No. 5, Son

Composer(s)

Sergei Rachmaninoff

Artist(s)

Camilla Harris

Natalie Burch

Six Songs, Op. 38: No. 5, Son

$2.30

Six Songs, Op. 38: No. 6, A-u!

Composer(s)

Sergei Rachmaninoff

Artist(s)

Camilla Harris

Natalie Burch

Six Songs, Op. 38: No. 6, A-u!

$2.30

Sechs Lieder, Op. 48: No. 6, Ein Traum

Artist(s)

Camilla Harris

Natalie Burch

Sechs Lieder, Op. 48: No. 6, Ein Traum

$2.30
Total running time: 39 minutes.
Album information

As part of the Royal Academy of Music Bicentenary Series, lyric soprano Camilla Harris makes her recording debut with a programme which interweaves the themes of love, longing and the female muse. 

Taking Rachmaninov's melancholic Six Songs, Op. 38 – inspired by the composer's duo partner and lover, soprano Nina Koshetz – as the initial catalyst, Camilla performs four settings by Liszt on the poetry of Victor Hugo, each redolent of love and longing and with several allusions to a female muse; she also treats us to two little gems: Chère nuit by the French post-Romantic composer Alfred Bachelet and Grieg's irresistible 'Ein Traum' from Sechs Lieder, Op. 48.

In 2022, four exceptional recipients of the Academy's 2020/21 Bicentenary Scholarships scheme – Julie Park, Camilla Harris, Ossian Huskinson and Charlie Lovell-Jones – will each release a new album to coincide with the Royal Academy of Music Bicentenary celebrations.
Related Artists