Filters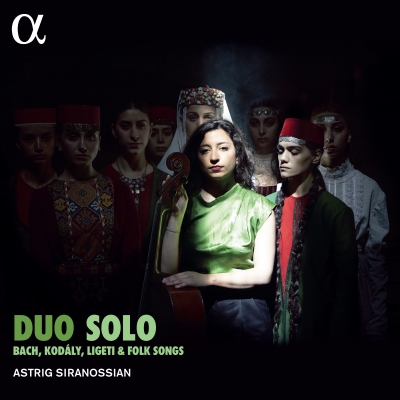 Inlay available for download
Booklet available for download
Cello Suite No. 1 in G Major, BWV 1007: I. Prélude

Composer(s)

Johann Sebastian Bach

Artist(s)

Astrig Siranossian

Cello Suite No. 1 in G Major, BWV 1007: I. Prélude

$2.30

Alakyaz

Artist(s)

Astrig Siranossian

Alakyaz

$2.30

Cello Suite No. 1 in G Major, BWV 1007: II. Allemande

Composer(s)

Johann Sebastian Bach

Artist(s)

Astrig Siranossian

Cello Suite No. 1 in G Major, BWV 1007: II. Allemande

$2.30

Noubar

Artist(s)

Astrig Siranossian

Noubar

$2.30

Cello Suite No. 1 in G Major, BWV 1007: III. Courante

Composer(s)

Johann Sebastian Bach

Artist(s)

Astrig Siranossian

Cello Suite No. 1 in G Major, BWV 1007: III. Courante

$2.30

Garuna

Artist(s)

Astrig Siranossian

Garuna

$2.30

Cello Suite No. 1 in G Major, BWV 1007: IV. Sarabande

Composer(s)

Johann Sebastian Bach

Artist(s)

Astrig Siranossian

Cello Suite No. 1 in G Major, BWV 1007: IV. Sarabande

$2.30

Chinar es

Artist(s)

Astrig Siranossian

Chinar es

$2.30

Cello Suite No. 1 in G Major, BWV 1007: V. Menuets I & II

Composer(s)

Johann Sebastian Bach

Artist(s)

Astrig Siranossian

Cello Suite No. 1 in G Major, BWV 1007: V. Menuets I & II

$2.30

Shogher djan

Artist(s)

Astrig Siranossian

Shogher djan

$2.30

Cello Suite No. 1 in G Major, BWV 1007: VI. Gigue

Composer(s)

Johann Sebastian Bach

Artist(s)

Astrig Siranossian

Cello Suite No. 1 in G Major, BWV 1007: VI. Gigue

$2.30

Cello Sonata: I. Dialogo

Composer(s)

György Ligeti

Artist(s)

Astrig Siranossian

Cello Sonata: I. Dialogo

$2.30

Cello Sonata: II. Capriccio

Composer(s)

György Ligeti

Artist(s)

Astrig Siranossian

Cello Sonata: II. Capriccio

$2.30

Sareri Hovin Mernem

Artist(s)

Astrig Siranossian

Sareri Hovin Mernem

$2.30

Sonata for Solo Cello in B Minor, Op. 8: I. Allegro maestoso ma appassionato

Composer(s)

Zoltán Kodály

Artist(s)

Astrig Siranossian

Sonata for Solo Cello in B Minor, Op. 8: I. Allegro maestoso ma appassionato

$3.40

Sonata for Solo Cello in B Minor, Op. 8: II. Adagio. Con grand' espressione

Composer(s)

Zoltán Kodály

Artist(s)

Astrig Siranossian

Sonata for Solo Cello in B Minor, Op. 8: II. Adagio. Con grand' espressione

$4.60

Sonata for Solo Cello in B Minor, Op. 8: III. Allegro molto vivace

Composer(s)

Zoltán Kodály

Artist(s)

Astrig Siranossian

Sonata for Solo Cello in B Minor, Op. 8: III. Allegro molto vivace

$4.60
Total running time: 66 minutes.
Album information

This album is the story of a dialogue between two voices: the singing voice and the voice of the cello, which has always been considered the instrument closest to the human voice. It is also the story of two worlds and the meeting of two cultures, East and West.

The East we encounter here is Armenia, its thousand-year-old culture, its music and its songs, which resonate with the compositions of Bach, Kodály and Ligeti. For the cellist Astrig Siranossian, vocal melody and the sound of the cello are two voices that she has always combined in her concerts, coupling a dance from a solo cello suite by Bach with an Armenian song that she performs with great sensitivity. East and West, Armenia and Europe: it is her roots and her emotions that the young cellist shares with us here. This recording was made on two different cellos, according to the repertory: an instrument by Francesco Ruggieri dating from 1676 and the famous Giovanni Gagliano of 1756 known as the 'Sir John Barbirolli'.
Related Artists
Reviews