Filters
Edinburgh International Festival: Orchestral Series Highlights 2021
Edinburgh International Festival: Orchestral Series Highlights 2021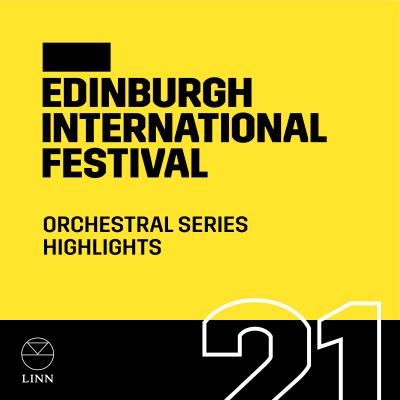 PIVOT

Artist(s)

Dalia Stasevska

BBC Symphony Orchestra

PIVOT

$2.30

Symphony No. 1 in C Major, Op. 21: IV. Finale (Adagio - Allegro molto e vivace)

Composer(s)

Ludwig van Beethoven

Artist(s)

Elim Chan

Royal Scottish National Orchestra

Symphony No. 1 in C Major, Op. 21: IV. Finale (Adagio - Allegro molto e vivace)

$2.30

Blush

Composer(s)

Ayanna Witter-Johnson

Artist(s)

William Eddins

Chineke! Orchestra

Blush

$3.40

A Spell for Green Corn

Composer(s)

Peter Maxwell Davies

Artist(s)

Marin Alsop

BBC Scottish Symphony Orchestra

A Spell for Green Corn

$7.00

A Midsummer Night's Dream, Op. 61: IX. Hochzeitmarsch (Allegro vivace)

Composer(s)

Felix Mendelssohn

Artist(s)

Thomas Søndergård

Royal Scottish National Orchestra

A Midsummer Night's Dream, Op. 61: IX. Hochzeitmarsch (Allegro vivace)

$2.30

A Midsummer Night's Dream, Op. 61: X. Allegro comodo - Andante comodo

Composer(s)

Felix Mendelssohn

Artist(s)

Thomas Søndergård

Royal Scottish National Orchestra

A Midsummer Night's Dream, Op. 61: X. Allegro comodo - Andante comodo

$2.30

A Midsummer Night's Dream, Op. 61: XI. Ein Tanz von Rüpeln - Allegro di molto

Composer(s)

Felix Mendelssohn

Artist(s)

Thomas Søndergård

Royal Scottish National Orchestra

A Midsummer Night's Dream, Op. 61: XI. Ein Tanz von Rüpeln - Allegro di molto

$2.30

A Midsummer Night's Dream, Op. 61: XII. Allegro vivace come I - Finale (Allegro di molto)

Composer(s)

Felix Mendelssohn

Artist(s)

Thomas Søndergård

Rowan Pierce

Royal Scottish National Orchestra

Edinburgh Festival Chorus

A Midsummer Night's Dream, Op. 61: XII. Allegro vivace come I - Finale (Allegro di molto)

$3.40
Total running time: 59 minutes.
Album information

Linn Records presents all the highlights from the 2021 Edinburgh International Festival Orchestral Series, the first in a series of five recordings from this year's festival.

Dalia Stasevska and the BBC Symphony Orchestra launched the 2021 Edinburgh International Festival's orchestral series with a performance of PIVOT, a brand new work specially commissioned by the International Festival from London-born, New York-based Anna Clyne, one of today's most immediate and emotionally involving composers.

Fiery Hong Kong-born conductor Elim Chan has made a big impact since becoming the Royal Scottish National Orchestra's Principal Guest Conductor with her electric direction. She conducts the orchestra in the last movement of Beethoven's pioneering First Symphony.

Since its founding in 2015, Chineke! has become one of the UK's most exciting musical ensembles, celebrating diversity and championing change by providing crucial opportunities for established and emerging Black and ethnically diverse classical musicians. Here, the full forces of the Chineke! Orchestra assemble under inspirational US conductor William Eddins for the groundbreaking work Blush by English composer Ayanna Witter-Johnson.

A regular and much-admired International Festival visitor, Marin Alsop has recorded with the BBC Scottish Symphony Orchestra A Spell of Green Corn by Orkney resident composer Peter Maxwell Davies. The work celebrates the islands' ancient tradition of a fiddler blessing the furrow with a tune before crops are planted. It's shot through with Scottish folk music and vivid evocations of storm-lashed Orcadian landscapes, building to a scene of celebration.

Mendelssohn's magical A Midsummer Night's Dream is the last recorded work of the 2021 Edinburgh International Festival's orchestral highlights. Together with the RSNO and members of the Edinburgh Festival Chorus, Thomas Søndergård performs the last part of the incidental music, starting with the famous Wedding March.
Related Artists
Reviews