Filters
Emily Nebel - The Royal Academy of Music Bicentenary Series
Emily Nebel - The Royal Academy of Music Bicentenary Series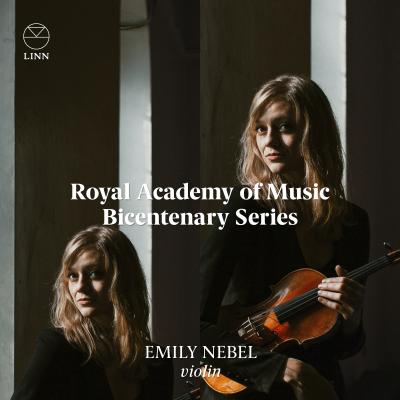 Inlay available for download
Booklet available for download
Violin Sonata in G Minor: I. Allegro vivo

Composer(s)

Claude Debussy

Artist(s)

Emily Nebel

Jean-Sélim Abdelmoula

Violin Sonata in G Minor: I. Allegro vivo

$2.30

Violin Sonata in G Minor: II. Intermède - Fantasque et léger

Composer(s)

Claude Debussy

Artist(s)

Emily Nebel

Jean-Sélim Abdelmoula

Violin Sonata in G Minor: II. Intermède - Fantasque et léger

$2.30

Violin Sonata in G Minor: III. Finale - Très animé

Composer(s)

Claude Debussy

Artist(s)

Emily Nebel

Jean-Sélim Abdelmoula

Violin Sonata in G Minor: III. Finale - Très animé

$2.30

Violin Sonata No. 2 in G Major: I. Allegretto

Composer(s)

Maurice Ravel

Artist(s)

Emily Nebel

Jean-Sélim Abdelmoula

Violin Sonata No. 2 in G Major: I. Allegretto

$3.40

Violin Sonata No. 2 in G Major: II. Blues - Moderato

Composer(s)

Maurice Ravel

Artist(s)

Emily Nebel

Jean-Sélim Abdelmoula

Violin Sonata No. 2 in G Major: II. Blues - Moderato

$2.30

Violin Sonata No. 2 in G Major: III. Perpetuum mobile - Allegro

Composer(s)

Maurice Ravel

Artist(s)

Emily Nebel

Jean-Sélim Abdelmoula

Violin Sonata No. 2 in G Major: III. Perpetuum mobile - Allegro

$2.30

Violin Sonata No. 1 in A Major, Op. 13: I. Allegro molto

Composer(s)

Gabriel Fauré

Artist(s)

Emily Nebel

Jean-Sélim Abdelmoula

Violin Sonata No. 1 in A Major, Op. 13: I. Allegro molto

$3.40

Violin Sonata No. 1 in A Major, Op. 13: II. Andante

Composer(s)

Gabriel Fauré

Artist(s)

Emily Nebel

Jean-Sélim Abdelmoula

Violin Sonata No. 1 in A Major, Op. 13: II. Andante

$2.30

Violin Sonata No. 1 in A Major, Op. 13: III. Allegro vivo

Composer(s)

Gabriel Fauré

Artist(s)

Emily Nebel

Jean-Sélim Abdelmoula

Violin Sonata No. 1 in A Major, Op. 13: III. Allegro vivo

$2.30

Violin Sonata No. 1 in A Major, Op. 13: IV. Allegro quasi presto

Composer(s)

Gabriel Fauré

Artist(s)

Emily Nebel

Jean-Sélim Abdelmoula

Violin Sonata No. 1 in A Major, Op. 13: IV. Allegro quasi presto

$2.30
Total running time: 57 minutes.
Album information

Emily Nebel makes her recording debut, as part of the Royal Academy of Music Bicentenary Series, with an album of violin sonatas by Fauré, Debussy and Ravel. 

Whilst the composers come from the same cultural fabric, the sonatas stand apart from each other in striking ways, each contributing to a redefinition and revolution of the sonata genre. Fauré's Violin Sonata No. 1 in A major is a lesson in lyricism, boasting unending melodic lines that soar above the piano's rich harmonic texture. The G minor sonata by Debussy, composed forty years later, is a concise and evocative illustration of impressionism at its finest, featuring both the ecstatic and intimate ends of the spectrum. Ravel's Sonata No. 2 in G major takes the listener on a journey from a sparse landscape, to a smoky Blues bar, finishing with a brilliantly breathless Perpetuum mobile. Together with pianist Jean-Sélim Abdelmoula, Nebel explores these renowned works and highlights the ways in which they are unique.

The Royal Academy of Music Bicentenary Series also includes debut recordings by Anna Geniushene (piano), Claudia Lucia Lamanna (harp) and Yoanna Prodanova (cello).
Related Artists