Filters
Fastes de la grande écurie
Fastes de la grande écurie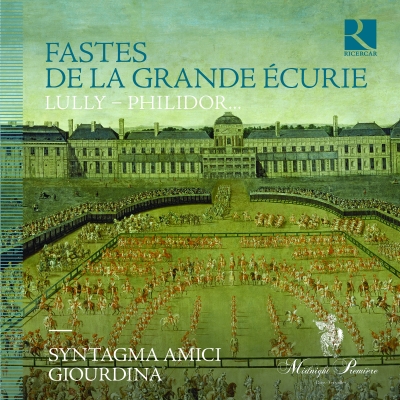 Inlay available for download
Booklet available for download
Concert des grands hautbois pour les chevaliers faits par Henry III

Artist(s)

Giourdina

Syntagma Amici

Concert des grands hautbois pour les chevaliers faits par Henry III

$2.30

Pavane La Petitte Guaire faite pour les cornets en 1601

Artist(s)

Giourdina

Syntagma Amici

Pavane La Petitte Guaire faite pour les cornets en 1601

$2.30

Primo ballo della Notte d'Amore

Composer(s)

Lorenzo Allegri

Artist(s)

Giourdina

Syntagma Amici

Primo ballo della Notte d'Amore

$2.30

Pavane faite pour le mariage de Henry le Grand en 1600

Artist(s)

Giourdina

Syntagma Amici

Pavane faite pour le mariage de Henry le Grand en 1600

$2.30

Bourée d'Avignon & La bourrée

Artist(s)

Giourdina

Syntagma Amici

Bourée d'Avignon & La bourrée

$2.30

Dixiesme Fantasie sur Requiem æternam à 4

Composer(s)

Eustache Du Caurroy

Artist(s)

Giourdina

Syntagma Amici

Dixiesme Fantasie sur Requiem æternam à 4

$2.30

Pavane pour les hautbois faite au sacre du Roy le 17e Octobre 1610

Artist(s)

Giourdina

Syntagma Amici

Pavane pour les hautbois faite au sacre du Roy le 17e Octobre 1610

$2.30

Pavane du mariage du Roy

Artist(s)

Giourdina

Syntagma Amici

Pavane du mariage du Roy

$2.30

Ballet à cheval fait pour le grand Carouselle fait à la Place Royale

Artist(s)

Giourdina

Syntagma Amici

Ballet à cheval fait pour le grand Carouselle fait à la Place Royale

$2.30

Les pleurs d'Orfée ayant perdu sa femme

Artist(s)

Giourdina

Syntagma Amici

Les pleurs d'Orfée ayant perdu sa femme

$2.30

Fantaisie à 5 sur le jeu des hautbois

Composer(s)

Louis Couperin

Artist(s)

Giourdina

Syntagma Amici

Fantaisie à 5 sur le jeu des hautbois

$2.30

Autre suitte faite pour Mr le Compte sic Darcours

Artist(s)

Giourdina

Syntagma Amici

Autre suitte faite pour Mr le Compte sic Darcours

$2.30

8e Caprice

Composer(s)

François Roberday

Artist(s)

Giourdina

Syntagma Amici

8e Caprice

$2.30

Bruit de guerre

Composer(s)

André Danican Philidor

Artist(s)

Giourdina

Syntagma Amici

Bruit de guerre

$2.30

Marche liégeoise

Composer(s)

André Danican Philidor

Artist(s)

Giourdina

Syntagma Amici

Marche liégeoise

$2.30

Marche du régiment du Prince Charles de Brandebourg

Composer(s)

André Danican Philidor

Artist(s)

Giourdina

Syntagma Amici

Marche du régiment du Prince Charles de Brandebourg

$2.30

La retraitte

Composer(s)

André Danican Philidor

Artist(s)

Giourdina

Syntagma Amici

La retraitte

$2.30

Carrousel de Monseigneur en 1686

Composer(s)

Jean-Baptiste Lully

Artist(s)

Giourdina

Syntagma Amici

Carrousel de Monseigneur en 1686

$2.30

Marche de timbales

Composer(s)

André Danican Philidor

Artist(s)

Giourdina

Syntagma Amici

Marche de timbales

$2.30

Les Folies d'Espagne

Composer(s)

Jean-Baptiste Lully

Artist(s)

Giourdina

Syntagma Amici

Les Folies d'Espagne

$2.30

Pièces de symphonie à quatre parties

Composer(s)

Charles Desmazures

Artist(s)

Giourdina

Syntagma Amici

Pièces de symphonie à quatre parties

$2.30

La marche royalle

Composer(s)

André Danican Philidor

Artist(s)

Giourdina

Syntagma Amici

La marche royalle

$2.30

Marche des fusilliez, LWV 75/13

Composer(s)

Jean-Baptiste Lully

Artist(s)

Giourdina

Syntagma Amici

Marche des fusilliez, LWV 75/13

$2.30

Pièce à double trompette et de différent ton et le gros basson

Composer(s)

André Danican Philidor

Artist(s)

Giourdina

Syntagma Amici

Pièce à double trompette et de différent ton et le gros basson

$2.30

Marche du régiment du Roy

Composer(s)

Jean-Baptiste Lully

Artist(s)

Giourdina

Syntagma Amici

Marche du régiment du Roy

$2.30

Marche Royalle à 3 dessus de hautbois pour la marche françoise

Composer(s)

André Danican Philidor

Artist(s)

Giourdina

Syntagma Amici

Marche Royalle à 3 dessus de hautbois pour la marche françoise

$2.30

Menuet pour les trompettes

Composer(s)

André Danican Philidor

Artist(s)

Giourdina

Syntagma Amici

Menuet pour les trompettes

$2.30

Marche des pompes funèbres

Composer(s)

André Danican Philidor

Artist(s)

Giourdina

Syntagma Amici

Marche des pompes funèbres

$2.30

Chaconne à 4

Composer(s)

Charles Desmazures

Artist(s)

Giourdina

Syntagma Amici

Chaconne à 4

$2.30
Total running time: 69 minutes.
Album information

Immerse yourself in the music of La Grande Écurie at the French courts of Henri IV through to Louis XIV.

By following the evolution of instrument making this programme offers a welcome opportunity to hear the specific and little-known tone colours of each period; enjoy the first recording of the reconstructed Bande de Grands Hautbois of the early seventeenth century in its complete formation of twelve double-reed instruments.
Reviews