Filters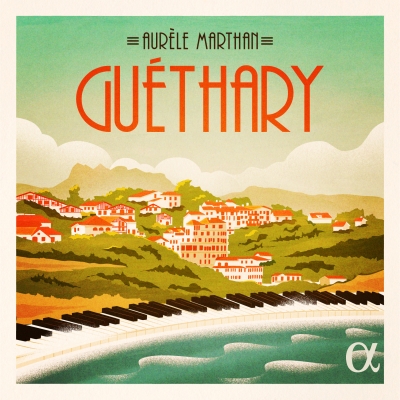 Inlay available for download
Booklet available for download
The Fog of War: Invitatio

The Fog of War: Invitatio

$2.30

Guéthary

Composer(s)

David Chalmin

Guéthary

$2.30

Le carnaval des animaux, R. 125: VII. Aquarium

Composer(s)

Camille Saint-Saëns

Le carnaval des animaux, R. 125: VII. Aquarium

$2.30

O Night Divine (From "O Night Divine")

Composer(s)

Alberto Iglesias

O Night Divine (From "O Night Divine")

$2.30

Piano Concerto in G Major, M. 83: I. Allegramente

Composer(s)

Maurice Ravel

Artist(s)

Caroline Sypniewski

Aurèle Marthan

Adrien Boisseau

Dmitry Smirnov

Piano Concerto in G Major, M. 83: I. Allegramente

$3.40

Piano Concerto in G Major, M. 83: II. Adagio assai

Composer(s)

Maurice Ravel

Artist(s)

Caroline Sypniewski

Aurèle Marthan

Adrien Boisseau

Dmitry Smirnov

Piano Concerto in G Major, M. 83: II. Adagio assai

$3.40

Piano Concerto in G Major, M. 83: III. Presto

Composer(s)

Maurice Ravel

Artist(s)

Caroline Sypniewski

Aurèle Marthan

Adrien Boisseau

Dmitry Smirnov

Piano Concerto in G Major, M. 83: III. Presto

$2.30

Piano Bar y coro infantil (From "Dolor y Gloria")

Composer(s)

Alberto Iglesias

Piano Bar y coro infantil (From "Dolor y Gloria")

$2.30

Petrushka, K012, Pt. 1, The Shrovetide Fair: IV. Russian Dance

Composer(s)

Igor Stravinsky

Petrushka, K012, Pt. 1, The Shrovetide Fair: IV. Russian Dance

$2.30

21 Preludios vascos: No. 6, Oñazez! - Dolor

Composer(s)

José Antonio de Donostia

21 Preludios vascos: No. 6, Oñazez! - Dolor

$2.30

Recuerdos de viaje, Op.71: No. 7, En la playa

Composer(s)

Isaac Albéniz

Recuerdos de viaje, Op.71: No. 7, En la playa

$2.30

Suite in G Major, RCT 6: No. 14, Les Sauvages

Composer(s)

Jean-Philippe Rameau

Suite in G Major, RCT 6: No. 14, Les Sauvages

$2.30

Prière et berceuse, Op. 17

Composer(s)

Pablo de Sarasate

Artist(s)

Aurèle Marthan

Dmitry Smirnov

Prière et berceuse, Op. 17

$2.30

Second livre de pièces de clavecin, Septième ordre: No. 3, La Basque

Composer(s)

François Couperin

Second livre de pièces de clavecin, Septième ordre: No. 3, La Basque

$2.30

Gerstein's Theme (From "Amen")

Artist(s)

Aurèle Marthan

Dmitry Smirnov

Gerstein's Theme (From "Amen")

$2.30

Andante / Reflection (From "Waltz With Bashir")

Artist(s)

Caroline Sypniewski

Aurèle Marthan

Adrien Boisseau

Dmitry Smirnov

Andante / Reflection (From "Waltz With Bashir")

$2.30
Total running time: 62 minutes.
Album information

Pianist Aurèle Marthan pays homage to his splendid hometown Guéthary, on the Basque coast, where he founded the festival Classic à Guéthary.

Ravel and the Basque Country have always been one and the same. His Concerto in G major is the central work of this album and is presented here in an original arrangement for piano and small ensemble. All of the works recorded here illustrate the richness of a region that has been cherished by so many artists: Stravinsky arranged his Petrouchka in Biarritz, Pablo de Sarasate chose to reside there and Isaac Albéniz opted to spend his last days there. Another Basque celebrity, although on the Spanish side, is Alberto Iglesias, director Pedro Almodóvar's house composer.

The Basque coast is often compared to California because of its excellent beaches for surfing; Aurèle Marthan evokes the Eagles as well as his passion for the American minimalists (Glass) and for cinema, with music from the films Amen and Waltz with Bashir; he also provides a piano version of the Biarritz-based rock band La Femme's hit Sur la planche. This album covers more than three centuries of music and includes music by Rameau and Couperin — the composer of La Basque!

Guéthary was written especially for this recording by composer David Chalmin, who also produced the recording in his studio in the Basque Country.
Related Artists
Reviews