Filters
Haydn 2032, Vol. 10: Les heures du jour
Haydn 2032, Vol. 10: Les heures du jour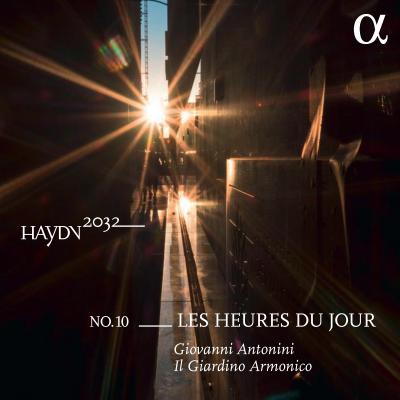 Inlay available for download
Booklet available for download
Symphony No. 6 in D Major, Hob.I:6 "Le Matin": I. Adagio - Allegro

Composer(s)

Franz Joseph Haydn

Artist(s)

Giovanni Antonini

Il Giardino Armonico

Symphony No. 6 in D Major, Hob.I:6 "Le Matin": I. Adagio - Allegro

$2.30

Symphony No. 6 in D Major, Hob.I:6 "Le Matin": II. Adagio - Andante - Adagio

Composer(s)

Franz Joseph Haydn

Artist(s)

Giovanni Antonini

Il Giardino Armonico

Symphony No. 6 in D Major, Hob.I:6 "Le Matin": II. Adagio - Andante - Adagio

$2.30

Symphony No. 6 in D Major, Hob.I:6 "Le Matin": III. Menuetto - Trio

Composer(s)

Franz Joseph Haydn

Artist(s)

Giovanni Antonini

Il Giardino Armonico

Symphony No. 6 in D Major, Hob.I:6 "Le Matin": III. Menuetto - Trio

$2.30

Symphony No. 6 in D Major, Hob.I:6 "Le Matin": IV. Finale (Allegro)

Composer(s)

Franz Joseph Haydn

Artist(s)

Giovanni Antonini

Il Giardino Armonico

Symphony No. 6 in D Major, Hob.I:6 "Le Matin": IV. Finale (Allegro)

$2.30

Symphony No. 7 in C Major, Hob.1:7 "Le Midi": I. Adagio - Allegro

Composer(s)

Franz Joseph Haydn

Artist(s)

Giovanni Antonini

Il Giardino Armonico

Symphony No. 7 in C Major, Hob.1:7 "Le Midi": I. Adagio - Allegro

$3.40

Symphony No. 7 in C Major, Hob.1:7 "Le Midi": II. Recitativo

Composer(s)

Franz Joseph Haydn

Artist(s)

Giovanni Antonini

Il Giardino Armonico

Symphony No. 7 in C Major, Hob.1:7 "Le Midi": II. Recitativo

$2.30

Symphony No. 7 in C Major, Hob.1:7 "Le Midi": II. Adagio

Composer(s)

Franz Joseph Haydn

Artist(s)

Giovanni Antonini

Il Giardino Armonico

Symphony No. 7 in C Major, Hob.1:7 "Le Midi": II. Adagio

$2.30

Symphony No. 7 in C Major, Hob.1:7 "Le Midi": III. Menuetto - Trio

Composer(s)

Franz Joseph Haydn

Artist(s)

Giovanni Antonini

Il Giardino Armonico

Symphony No. 7 in C Major, Hob.1:7 "Le Midi": III. Menuetto - Trio

$2.30

Symphony No. 7 in C Major, Hob.1:7 "Le Midi": IV. Finale (Allegro)

Composer(s)

Franz Joseph Haydn

Artist(s)

Giovanni Antonini

Il Giardino Armonico

Symphony No. 7 in C Major, Hob.1:7 "Le Midi": IV. Finale (Allegro)

$2.30

Symphony No. 8 in G Major, Ho.I:8 "Le Soir": I. Allegro molto

Composer(s)

Franz Joseph Haydn

Artist(s)

Giovanni Antonini

Il Giardino Armonico

Symphony No. 8 in G Major, Ho.I:8 "Le Soir": I. Allegro molto

$2.30

Symphony No. 8 in G Major, Ho.I:8 "Le Soir": II. Andante

Composer(s)

Franz Joseph Haydn

Artist(s)

Giovanni Antonini

Il Giardino Armonico

Symphony No. 8 in G Major, Ho.I:8 "Le Soir": II. Andante

$3.40

Symphony No. 8 in G Major, Ho.I:8 "Le Soir": III. Menuetto - Trio

Composer(s)

Franz Joseph Haydn

Artist(s)

Giovanni Antonini

Il Giardino Armonico

Symphony No. 8 in G Major, Ho.I:8 "Le Soir": III. Menuetto - Trio

$2.30

Symphony No. 8 in G Major, Ho.I:8 "Le Soir": IV. La Tempesta (Presto)

Composer(s)

Franz Joseph Haydn

Artist(s)

Giovanni Antonini

Il Giardino Armonico

Symphony No. 8 in G Major, Ho.I:8 "Le Soir": IV. La Tempesta (Presto)

$2.30

Serenade No. 6 in D Major, K. 239 "Serenata Notturna": I. Marcia

Composer(s)

Wolfgang Amadeus Mozart

Artist(s)

Giovanni Antonini

Il Giardino Armonico

Serenade No. 6 in D Major, K. 239 "Serenata Notturna": I. Marcia

$2.30

Serenade No. 6 in D Major, K. 239 "Serenata Notturna": II. Menuetto - Trio

Composer(s)

Wolfgang Amadeus Mozart

Artist(s)

Giovanni Antonini

Il Giardino Armonico

Serenade No. 6 in D Major, K. 239 "Serenata Notturna": II. Menuetto - Trio

$2.30

Serenade No. 6 in D Major, K. 239 "Serenata Notturna": III. Rondeau

Composer(s)

Wolfgang Amadeus Mozart

Artist(s)

Giovanni Antonini

Il Giardino Armonico

Serenade No. 6 in D Major, K. 239 "Serenata Notturna": III. Rondeau

$2.30
Total running time: 78 minutes.







Album information

The HAYDN2032 edition celebrates the release of the tenth volume in the complete recording of Haydn's 107 symphonies. Entitled 'The Times of Day', this programme is devoted to Symphonies nos. 6, 7 and 8, whose individual names translate as 'Morning', 'Noon' and 'Evening'. 

Prince Paul Anton Esterházy, who commissioned the work, is said to have wanted to show his guests that his orchestra was of excellent quality and that 'his' Haydn was highly inventive. Giovanni Antonini's orchestra, Il Giardino Armonico, once again rises to the challenge! This triptych following the sun's course is prolonged into the night by the work of another composer: Mozart's Serenade in D major, nicknamed Serenata notturna, probably written for a masked ball at Salzburg Town Hall in February 1776.

Jérôme Sessini of the Magnum agency, who has won awards for his work on the cartel wars in Mexico and the opioid crisis in the United States, took the photographs featured in this volume.
Related Artists
Reviews